China
<![if !vml]>

<![endif]>
A poet may say one thing and mean another.
He (or she) often means more than what he says, after all poetry is art.
The reader can even find another meaning in the poem than what the poet meant...
The reed
Green, green the reed,
Dew and frost gleam.
Where's she I need?
Beyond the stream.

Upstream I go;
The way is long.
Downstream I go;
She's thereamong.
White, white the reed,
Dew not yet dried;
Where's she I need?
On the other side.
Upstream I go;
Hard is the way.
Downstream I go;
She's far away.
Bright, bright the reed,
Dew and frost blend.
Where's she I need?
At river's end.
Upstream I go;
The way does wind.
Downstream I go;
She's far behind.
The moon rise
The moon shines bright;
My love's snow-white.
She looks so cute.
Can I be mute?
The bright moon gleams;
My dear love beams.
Her face so fair,
Can I not care?
The bright moon turns;
With love she burns.
Her hands so fine,
Can I not pine?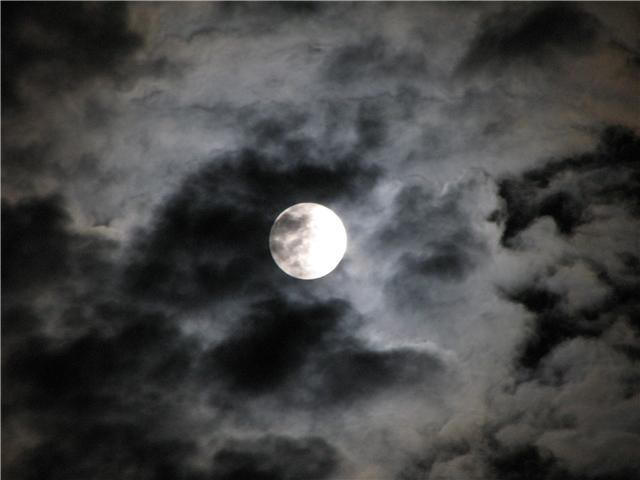 photo © Anatta
Quiet Night Reverie - by Li Bai
床前明月光,
疑是地上霜。
舉頭望明月,
低頭思故鄉。

Next to my bed the moon casts its light
Could it be frost on the ground
Tilting my head I gaze at the shiny moon
Lowering my head I reminisce my old hometown
( transl. Franz Li )
http://en.wikipedia.org/wiki/Li_Bai
The pledge
Oh Heaven high!
I will love him forever till I die,
Till mountains crumble,
Rivers run dry,
In winter thunder rumble,
In summer snow fall far and nigh,
And the earth mingle with the sky,
Not till then will my love die.
Reminiscence – in reply to my brother ZiYou at the Min pond – by Su Shi (1037-1101, Song Dynasty)
宋.蘇軾〈和子由澠池懷舊〉詩

人生到處知何似?應似飛鴻踏雪泥。泥上偶然留指爪,鴻飛那復計東西。
老僧已死成新塔,壞壁無由見舊題。往日崎嶇還記否,路長人困蹇驢嘶。
A notion of one's journeys through life?
Must be like a goose waddling through mud and snow.
Occasionally imprints are left on the mud.
It had flown away. East? West? Who knows?
The old monk is dead. A new memorial pagoda erected.
Over crumbling walls old poetic scribbles are nowhere to be seen.
Remember those arduous passages we traversed?
The road is long. The travelers weary. The lame donkey shrieks.
(translated by Franz Li)
http://en.wikipedia.org/wiki/Su_Shi
Su Shi ( 蘇軾 ) (January 8, 1037 – August 24, 1101), was a writer, poet, artist, calligrapher, pharmacologist, and statesman of the Song Dynasty, and one of the major poets of the Song era.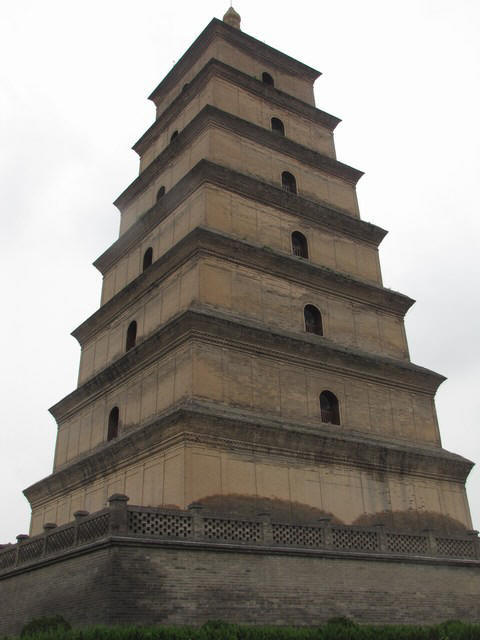 photo © awagenvoorde, pagoda Xi'an

A rare tree - Anonymous
A rare tree stands in courtyard qquiet;
Among green leaves flowers run riot
I bend a branch and pluck its bloom
To send to my far-off dear groom.
Its fragrance fills my breast and sleeves;
Unsent so far away, it grieves.
I value not the bloom sweet-hearted,
But I am grieved so long we've parted.
(translated by Xu Yuanchong)

Changsha
- to the tune of Qin Yuan Chun
1925
Alone I stand in the autumn cold
on the tip of Orange Island,
The Xiang flowing northward;
I see a thousand hills crimsoned through
By their serried woods deep-dyed,
And a hundred barges vying
Over crystal blue waters.
Eagles cleave the air,
Fish glide in the limpid deep;
Under freezing skies a million creatures contend in freedom.
Brooding over this immensity,
I ask, on this boundless land
Who rules over man's destiny?
I was here with a throng of companions,
Vivid yet those crowded months and years.
Young we were, schoolmates,
At life's full flowering;
Filled with student enthusiasm
Boldly we cast all restraints aside.
Pointing to our mountains and rivers,
Setting people afire with our words,
We counted the mighty no more than muck.
Remember still
How, venturing midstream, we struck the waterrs
And waves stayed the speeding boats?
Mao Zedong
Book of Poetry
An Elegy
Vine grows over the thorn tree;
Woods in the field overspread.
The man I love is dead.
Who'd dwell with me?
Vine grows over jujube tree;
Weeds over the graveyard spread.
The man I love is dead.
Who'd stay with me?
How fair the pillow of horn
and the embroidered bed!
The man I love is dead.
Who'd stay with me till morn?
Long is the summer day;
Cold winter night will loom.
I'd meet him in his tomb
When I have passed away.
Cold winter night will loom;
Long is the summer day.
When I have passed away,
We'd dwell in the same tomb.


Sorrow after departure
I sigh and wipe away my tears, oh!
I'm grieved at a life full of woes.
Good and just, I hear only jeers, oh!
Morning and night I suffer blows.
I make a belt of grasses sweet. oh!
And add to it clovers and thymes.
My heart tells me it's good and meet. oh!
I won't regret to die nine times.
Qu Yuan (340BC-278BC)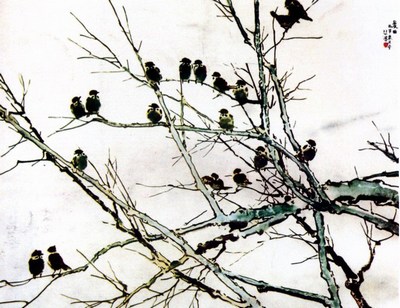 Xu Bei Hong (1895-1953), detail


Poem from Tang Dynasty (618-907)
Prince Teng's Pavilion
By riverside stands high Prince Teng's Pavilion proud;
No more ringing bells punctuate dancers's refrain.
At dawn its painted beams bar the south-flying cloud;
At dusk its uprolled screens reveal western hills' rain.
Leisurely clouds hang o'er still waters all day long;
Stars move from spring to autumn in a changeless sky.
Where is the prince who once enjoyed here wine and song?
Beyond the rails the silent river still rolls by.
Wang Bo
Don't hesitate to send your translated Chinese poems to cedars.letters@live.nl, mentioning 'poems China'.
Tell us the title, the name of the poet and the name of the translater if possible, so that we can add this information.
Texts, pictures, etc. are the property of their respective owners.
Cedar Gallery is a non-profit site. All works and articles are published on this site purely for educational reasons, for the purpose of information and with good intentions. If the legal representatives ask us to remove a text or picture from the site, this will be done immediately. We guarantee to fulfill such demands within 72 hours. (Cedar Gallery reserves the right to investigate whether the person submitting that demand is authorized to do so or not).
The contents of this website (texts, pictures and other material) are protected by copyright. You are welcome to visit the site and enjoy it, but you are not allowed to use it, copy it, spread it. If you like to use a picture or text, first send your request to