<![if !vml]>

<![endif]>

When we think of women in Japan, the image of small ladies in beautiful kimono comes up.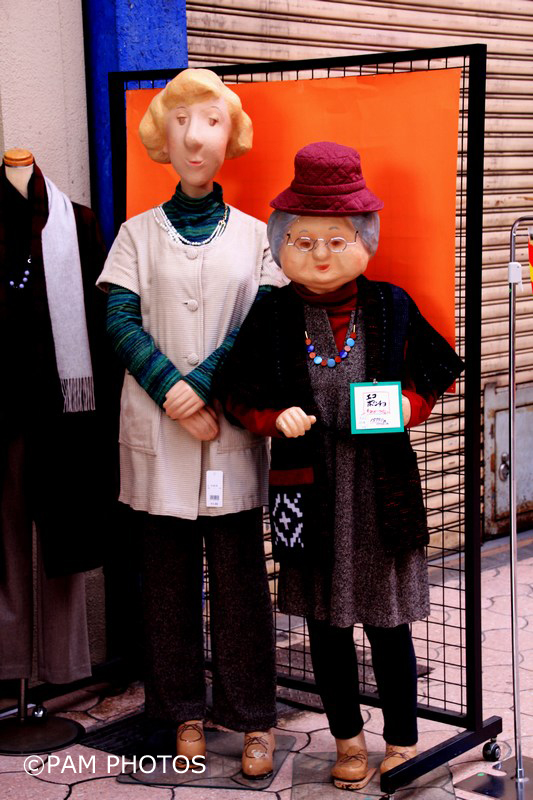 And many people in the West know the word "geisha", but what a geisha actually is, there are quite a few misunderstandings about it.
What we did during our two visits to Japan was observing. Photographing. And sometimes having a 'difficult' conversation. Difficult, because we don't know Japanese.
The changes in the status of women can often be linked with other trends. From the 6th century onward the growing acceptance of Confusion and Buddhist precepts were a reason for maintaining women's inferiority. This reinforced a shift toward patriarchal family structure.
It took a long while, but since World War II the educational and employment opportunities allowed women more intellectual and financial autonomy.
Still, we heard other stories. The patriarchal family structure seemed still alive.

The photos will give you a picture of women in Japan that we met in 2010 and 2013.

Photographers: Cees & Aly Wagenvoorde ©PAM PHOTOS
Delden, 2018
© All Rights Reserved. NO!- Neither Facebook and Instagram nor any other visitor may use my name or any of my content without my permission.
You can contact me at cedars@live.nl

- - - - - - - - - - - - - - - - - - - - - - - - - - - - - - - - - - - - - - - - - - - - - - - - - - - - - - - - - - - - - - - - - - - - -
Artists: Yayoi Kusama - Mariko Mori

City life - religion & pilgrimage - shichi-go-san - tea ceremony - wedding
- - - - - - - - - - - - - - - - - - - - - - - - - - - - - - - - - - - - - - - - - - - - - - - - - - - - - - - - - - - - - - - - - - - - -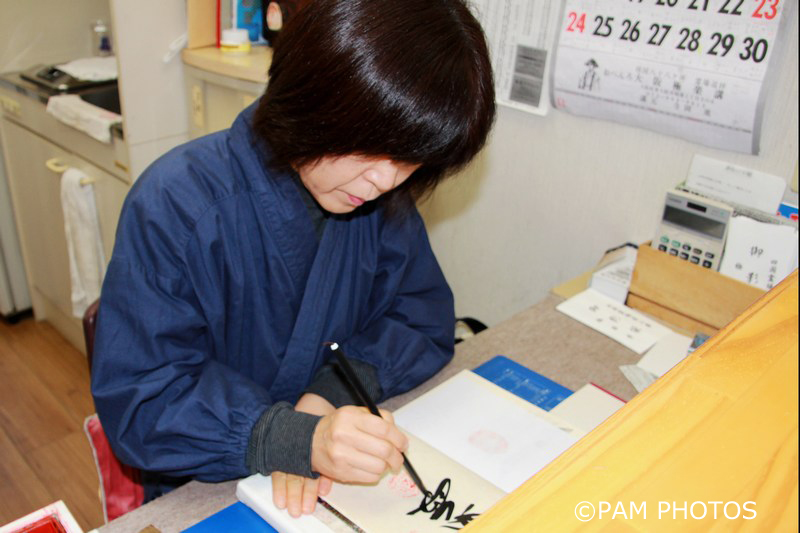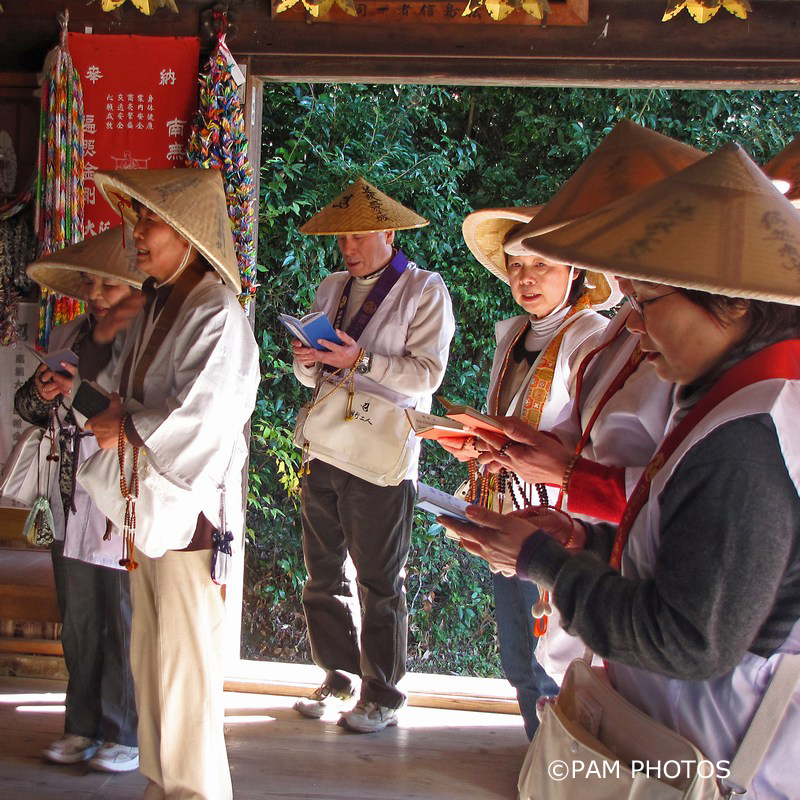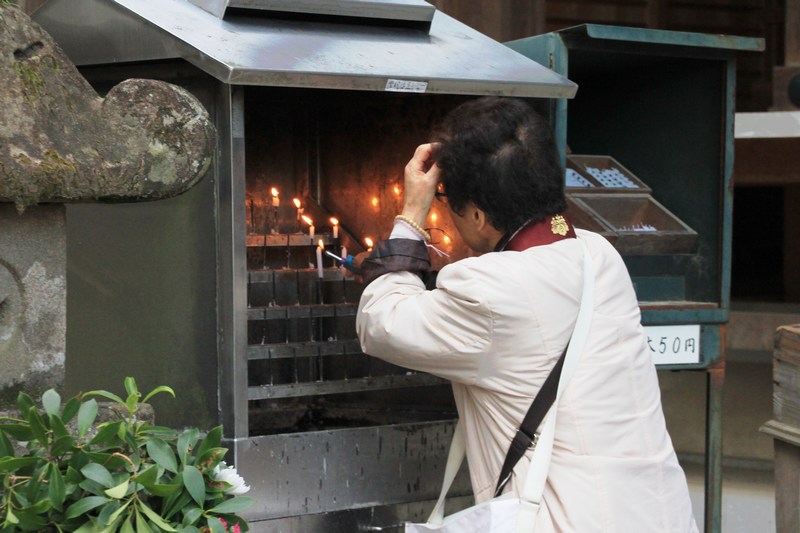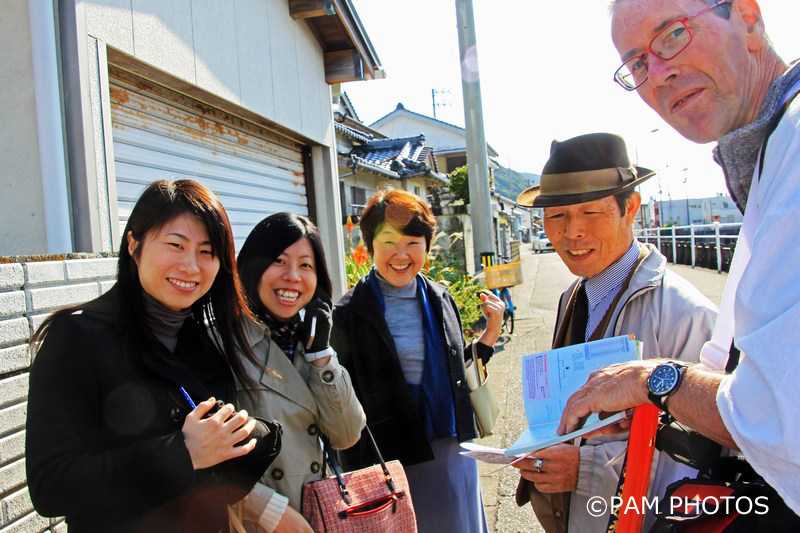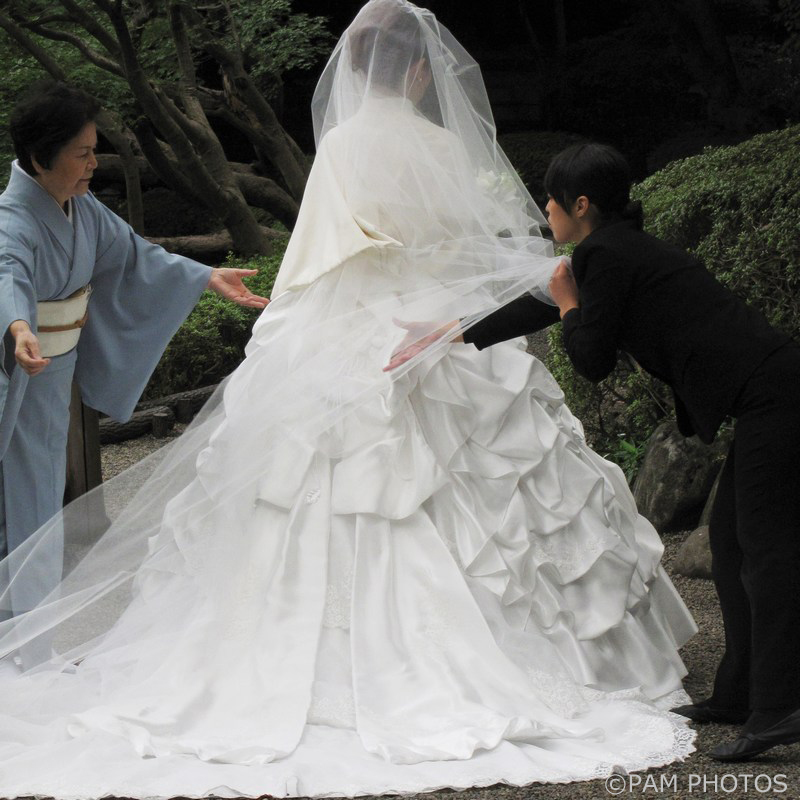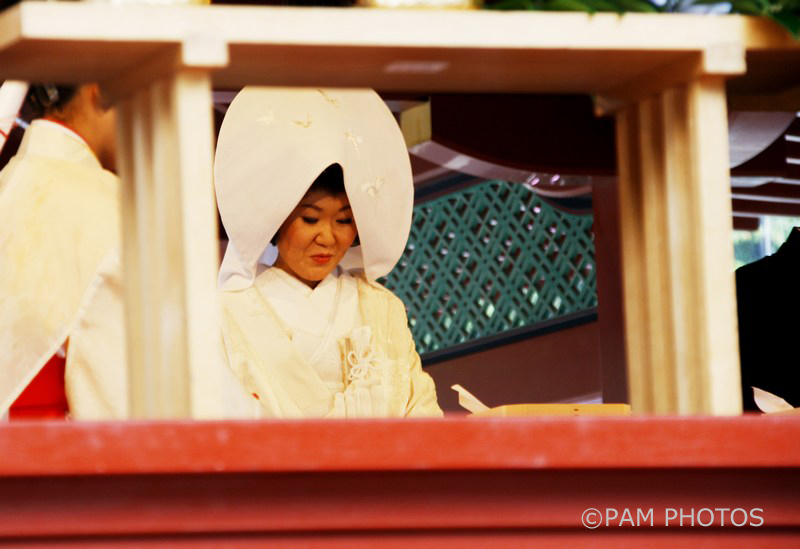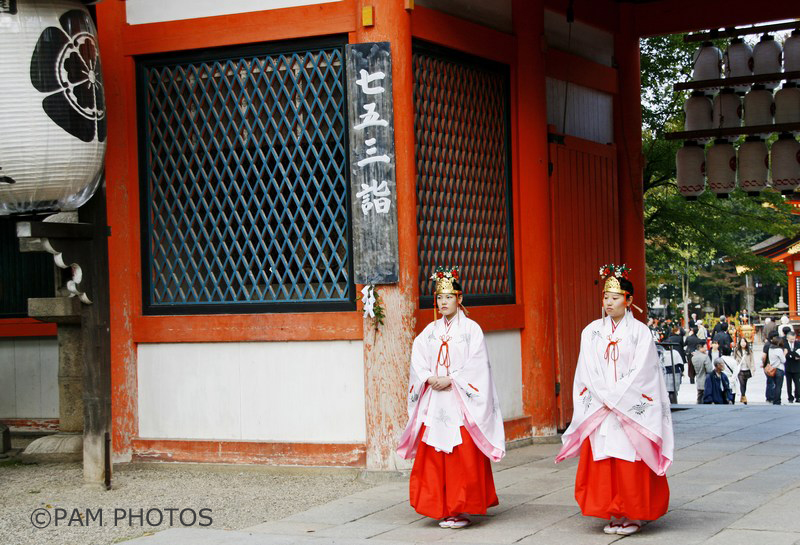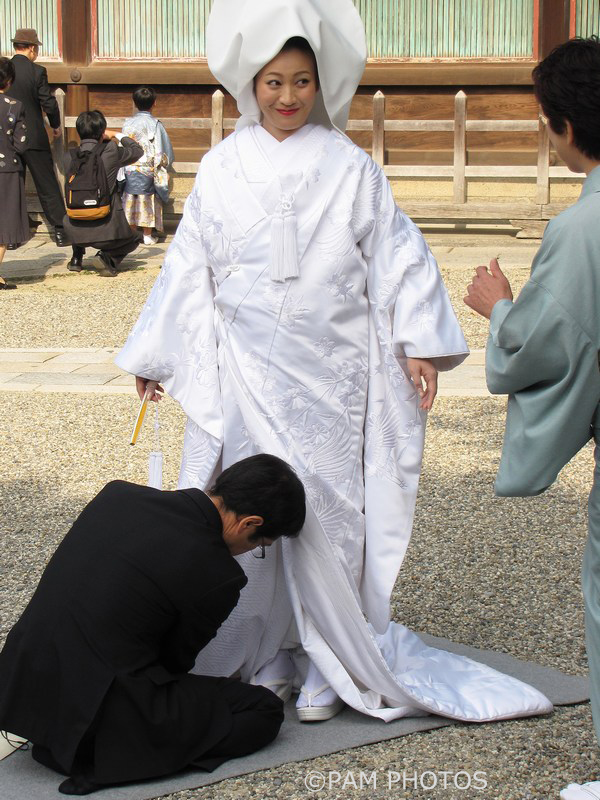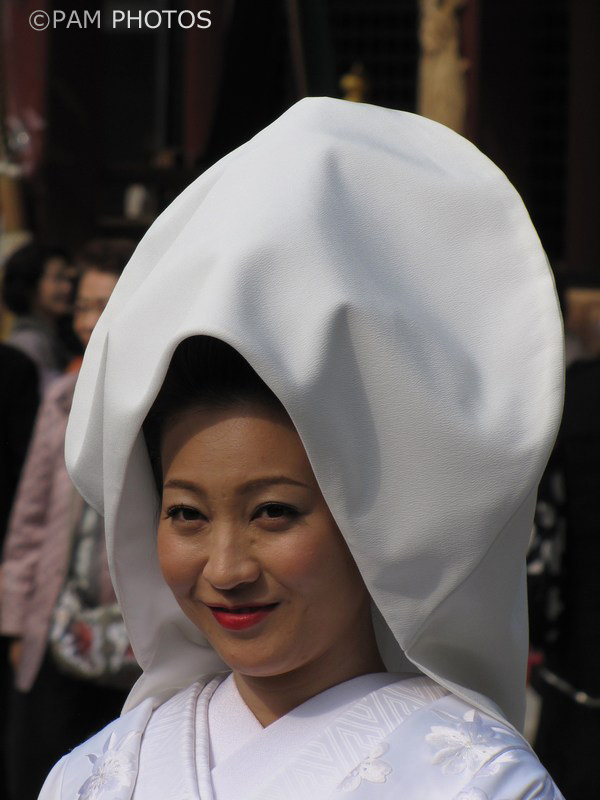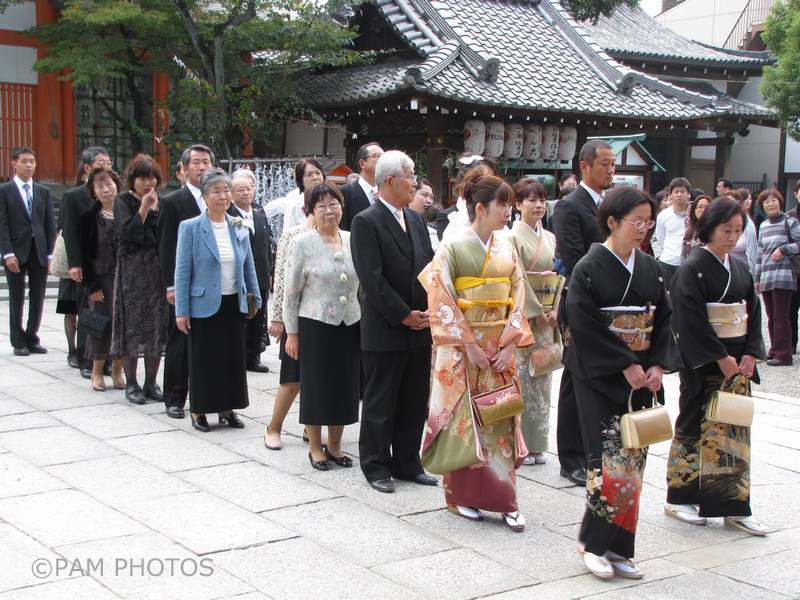 Shichigosan, literally 'seven-five-three', is the custom of taking three- and five year old boys and three and seven year old girls to a Sinto shrine. They do so in mid November, as we saw in 2010 in Tokyo and in Kyoto.
The family of the child prays at the shrine for a safe and healthy future for their child.
For many children today, Shichigosan is their only chance to get dressed up in traditional attire. And the women wear beautiful kimono.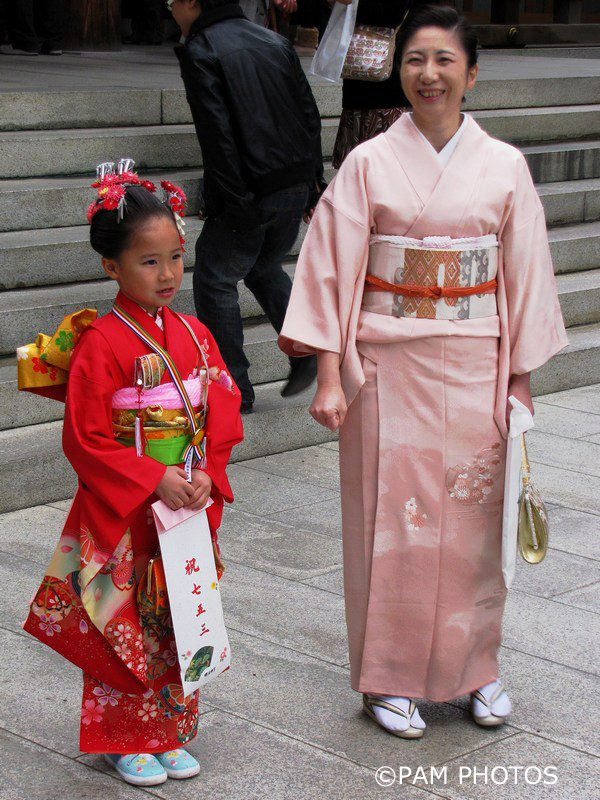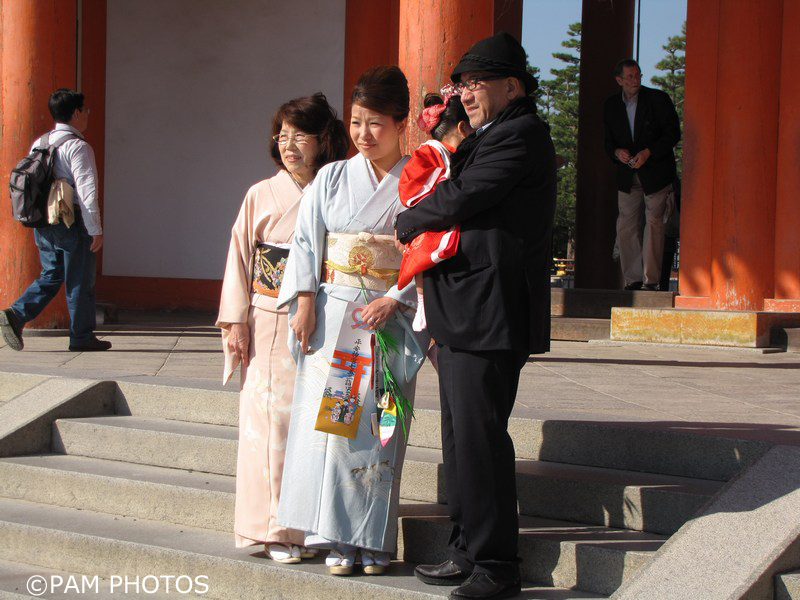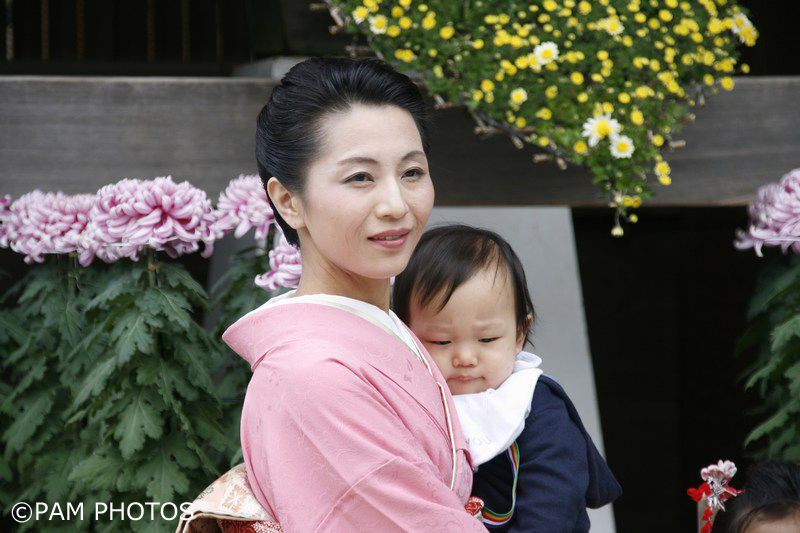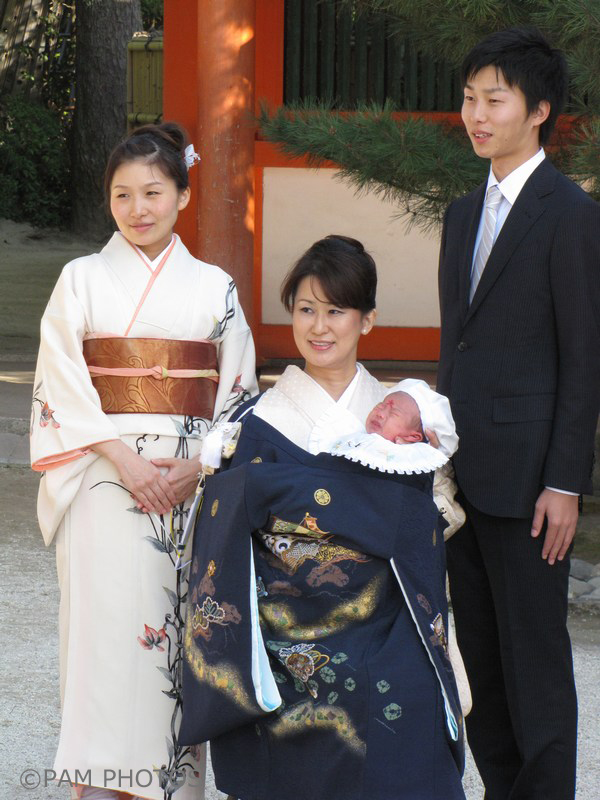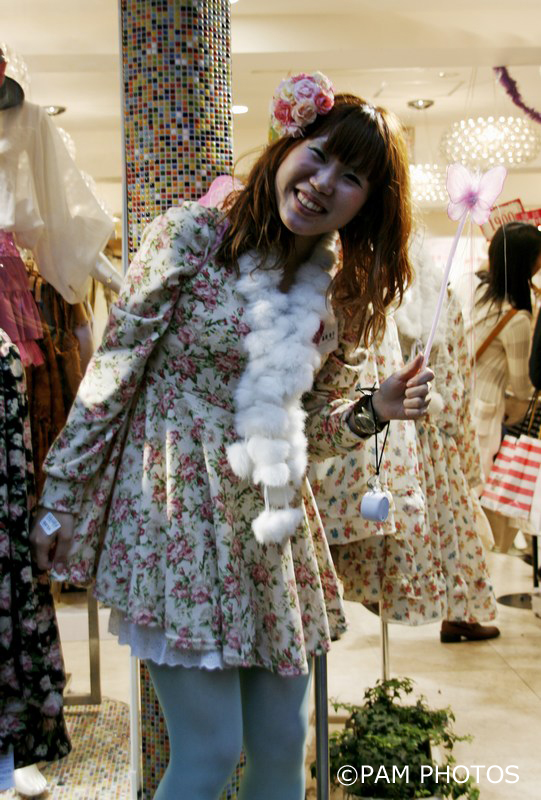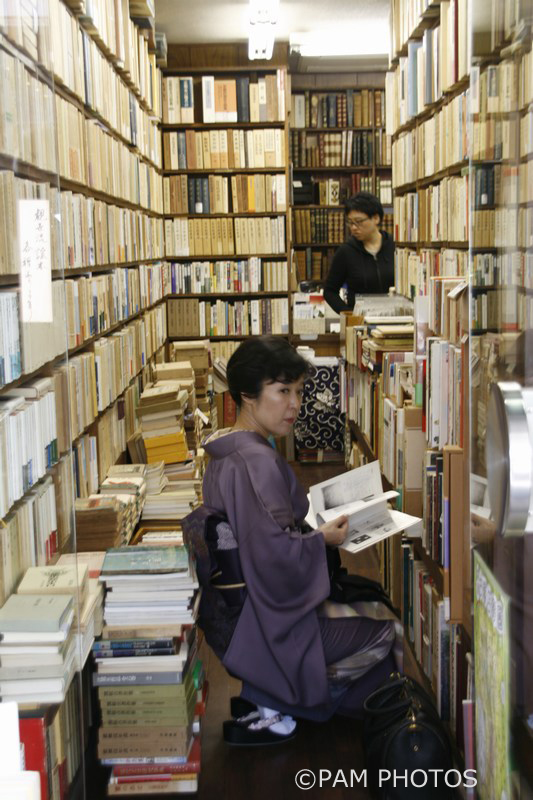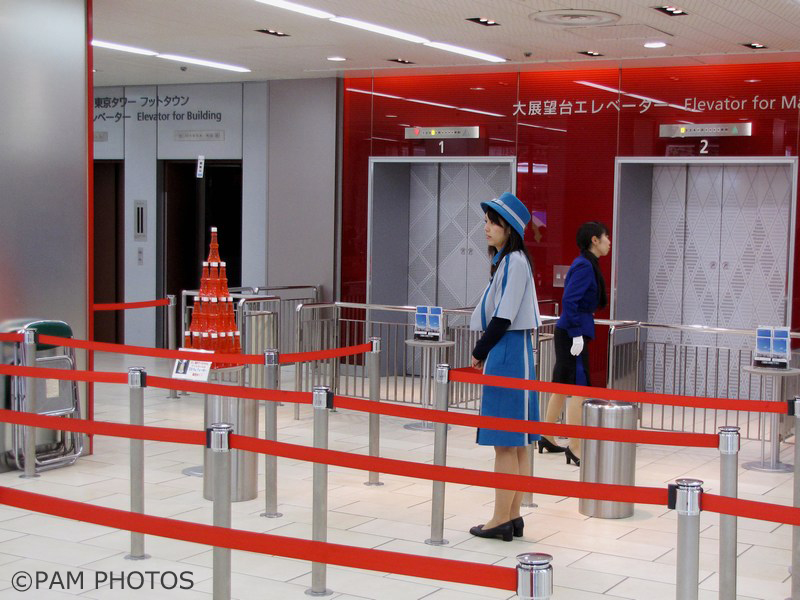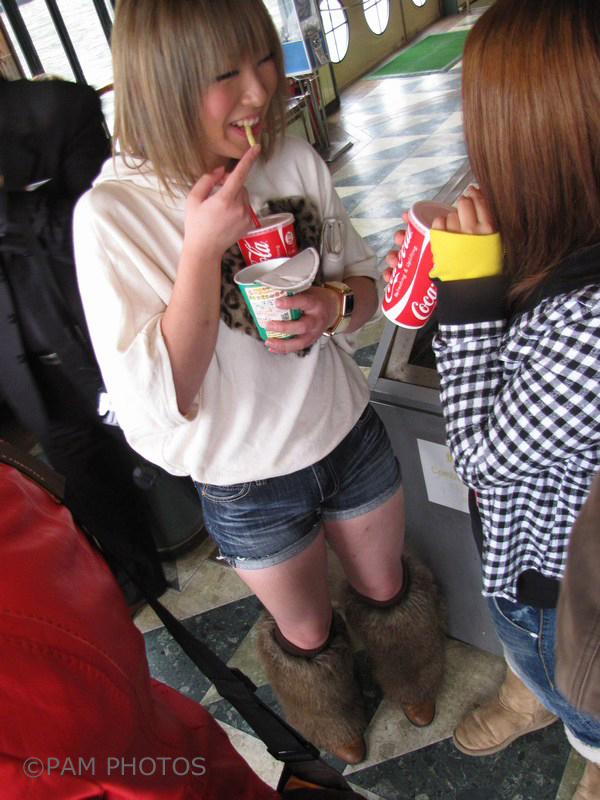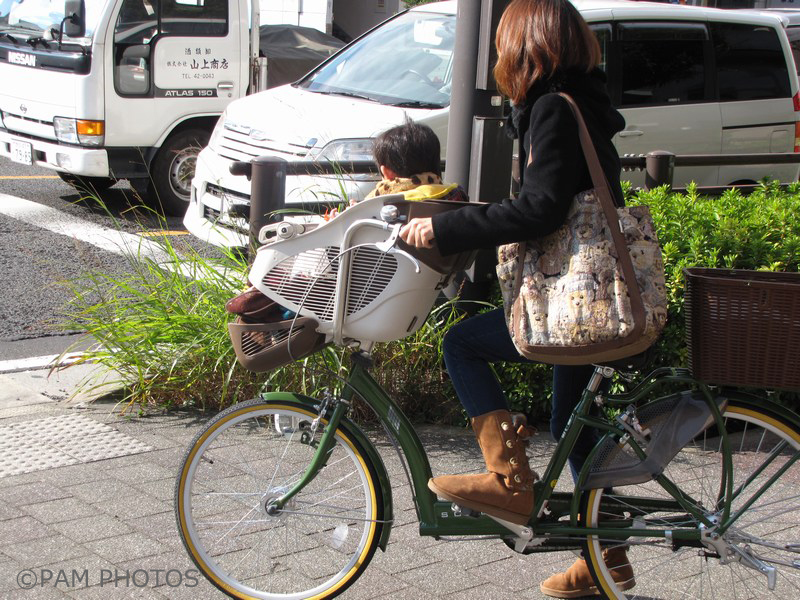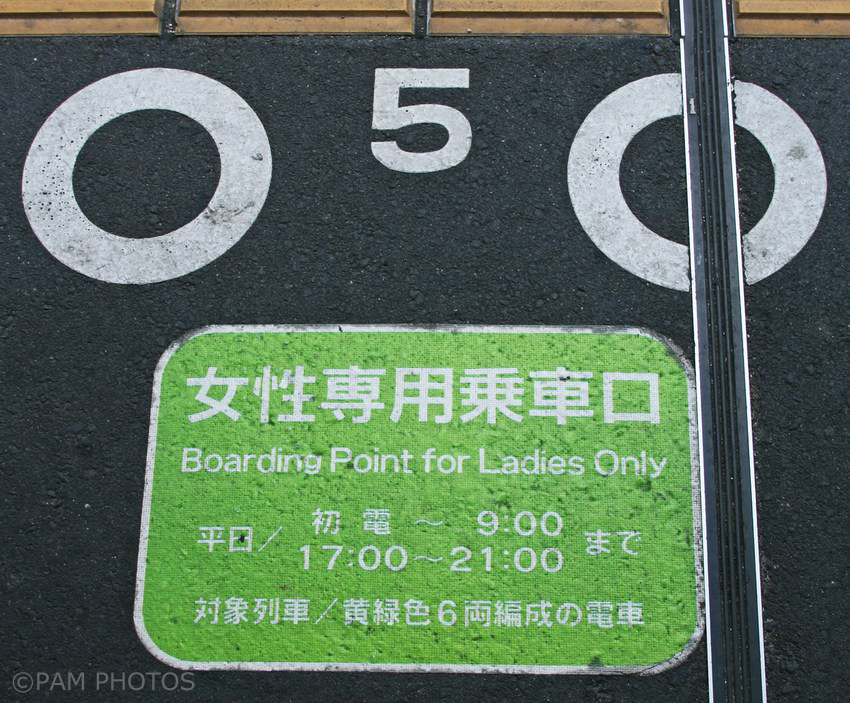 Traveling by train, on the platform:
Boarding Point for Ladies Only, 17.00 - 21.00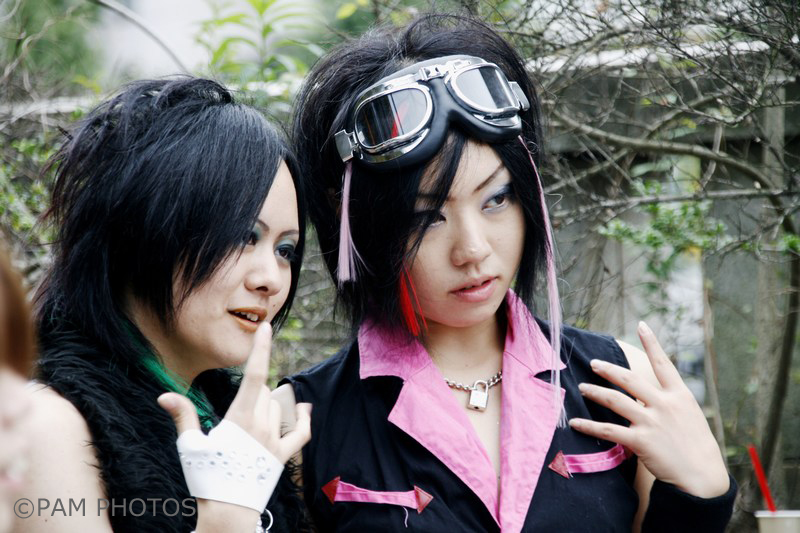 The tea ceremony is a highly structured method of preparing powdered green tea, in the company of guests. It is totally different from having tea in my country, Holland. We may see the Japanese tea ceremony as the culmination of a mix of artistic creativity, sensitivity to nature, religious thought, and social interchange.
There were masters of tea, with heirs and followers who eventually gathered into schools. So it is not something that someone can just do.
The actual making of the tea is called temae. That is what is shown at the following pictures.
The tea is prepared and served in a specially designated and designed room, the tea room. It is devoid of decoration, except a hanging scroll and some flowers in a vase.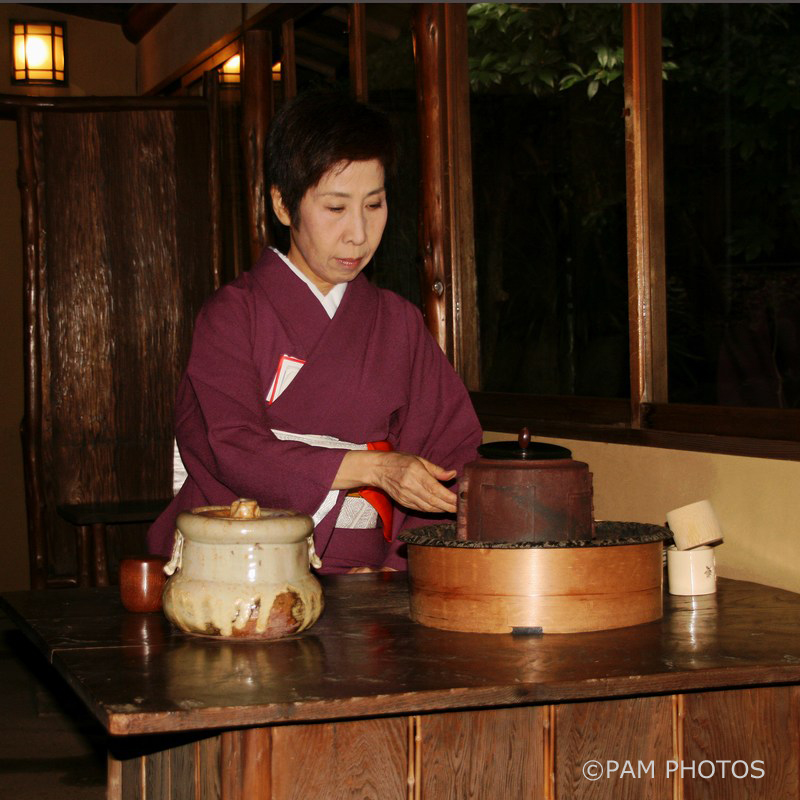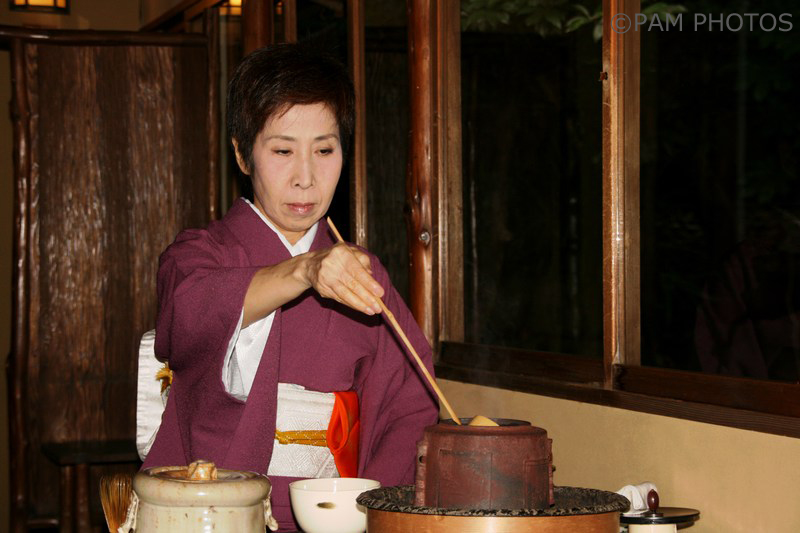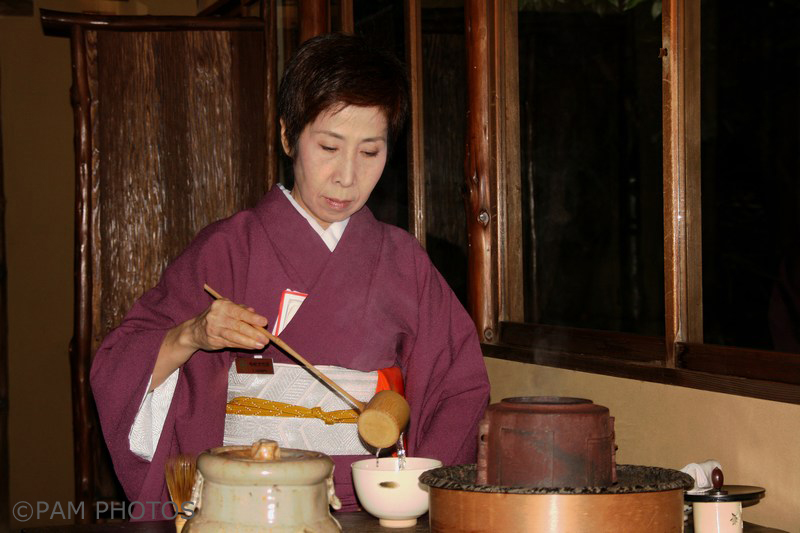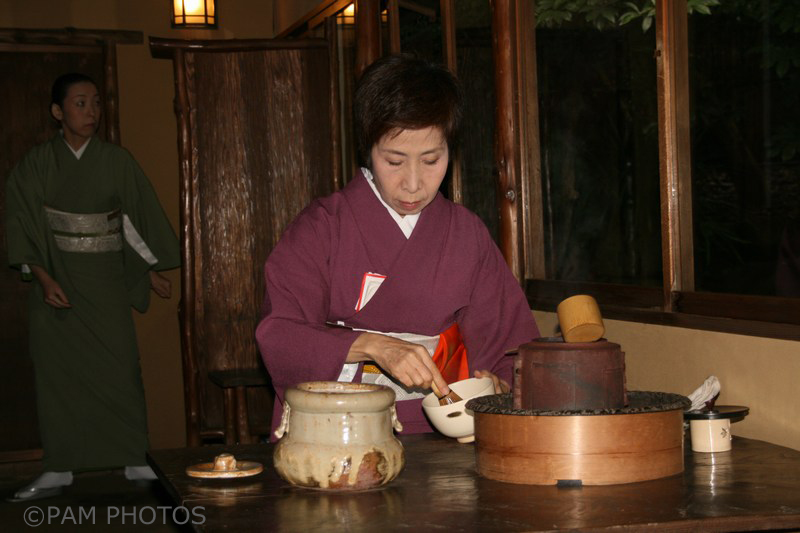 FEMALE JAPANESE ARTISTS

In this section I'd like to share some of Japan's most fascinating women artists.
The first one is: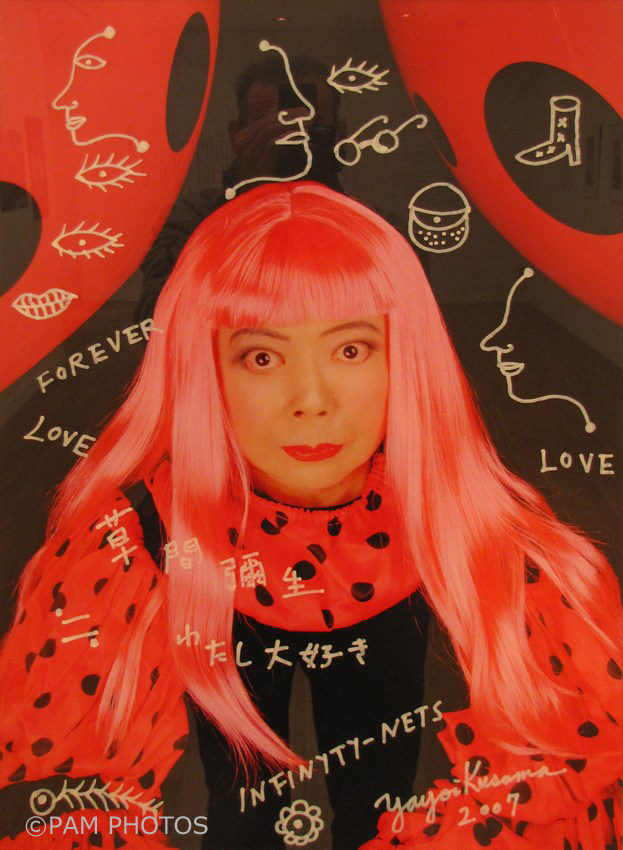 Yayoi Kusama is a Japanese contemporary artist who works primarily in sculpture and installation, but is also active in painting, performance, film, fashion, poetry, fiction, and other arts. Maybe she also is the most famous female artist at this moment.
Since 2017 she has her own museum in Shinjuku, Tokyo.


Biography of the first part of her life (until 1973)
She is born on 22 March 1929 in Matsumoto City, Nagano Prefecture
She started to paint using dots and nets as motifs at around the age of ten
1952 Had her first solo exhibition at Matsumoto City.
1955 Sent a letter to Georgia O'Keeffe and received a reply. (O'Keeffe was an American artist. She was best known for her paintings of enlarged flowers, New York skyscrapers, and New Mexico landscapes. O'Keeffe has been recognized as the 'Mother of American modernism'.)
1957 Left for the United States. First Solo Exhibition in U.S. held in Seattle
1958 Moved to New York
1959 First solo exhibition in New York, with 5 Net-Paintings.
1960 'Monochrome Malerei' at Leverkusen Museum introduced Kusama's paintings to Europe
1962 Exhibited first soft sculptures on the theme of sex and food
…………
1966 'In Yayoi Kusama's Walking Piece (1966), a performance that was documented in a series of eighteen color slides, Kusama walks along the streets of New York City in a traditional Japanese kimono with a parasol. The kimono suggests traditional roles for women in Japanese custom. The parasol, however, is made to look inauthentic as it is really a black umbrella painted white on the exterior and decorated with fake flowers. Kusama walks down unoccupied streets in an unknown quest. She then turns and cries without reason, and eventually walks away and vanishes from view. This performance, through the association of the kimono, involves the stereotypes that Asian American women continue to face.' (source: Wikipedia)
1967 Organized numerous happenings
1968 The film Kusama's Self-Obliteration which Kusama produced and starred in won a prize at the Fourth International Experimental Film Competition in Belgium, and also prizes at other Film Festivals
1969 Opened fashion boutique in New York
1972 Joseph Cornell died (Kusama had a passionate, but platonic, relationship with this American surrealist artist and filmmaker)
1973 Returned to Japan
- - - - - - - - - - - - - - - - -
Eternity of Eternal Eternity
Exhibition in Kochi (Shikoku), in 2013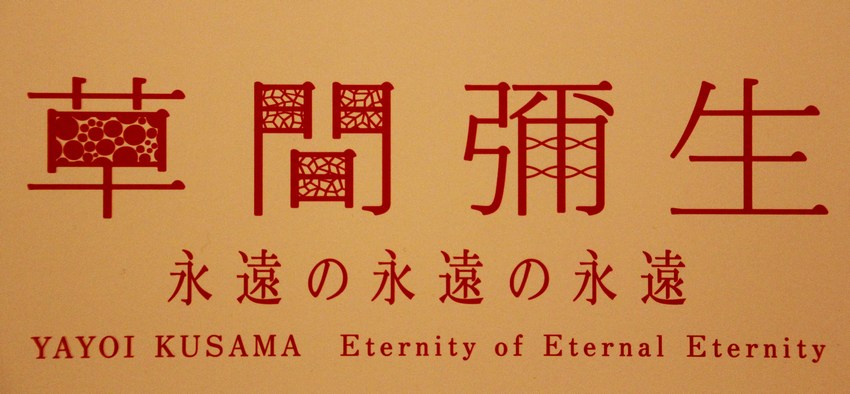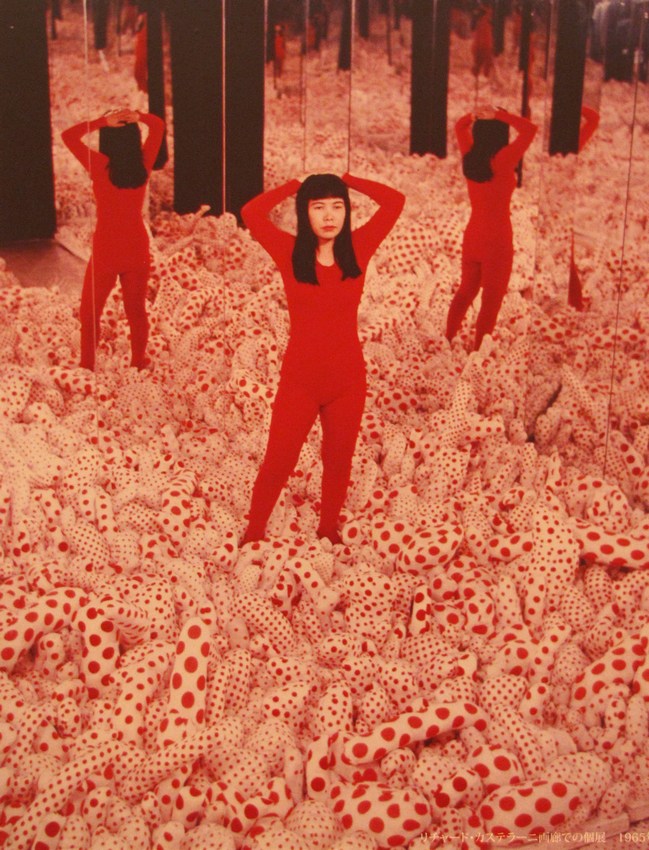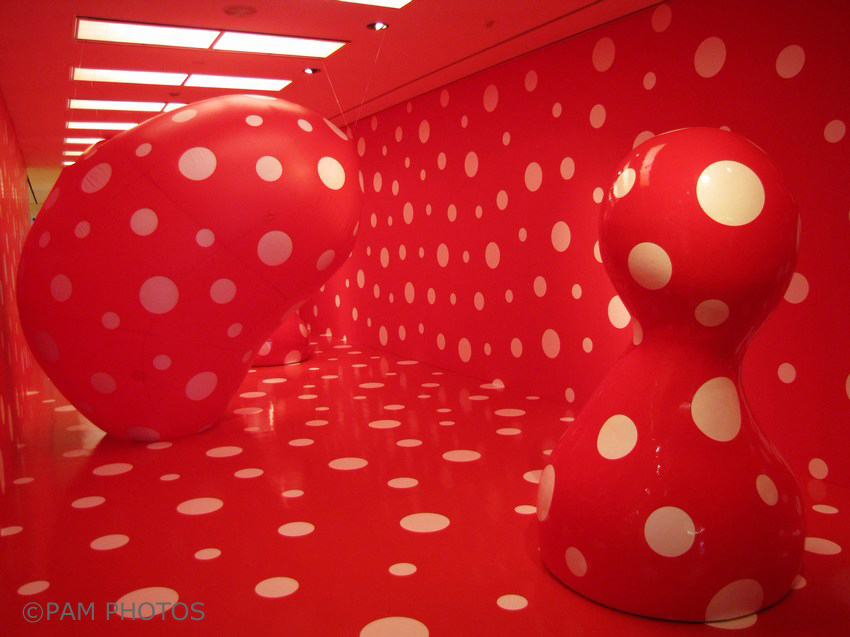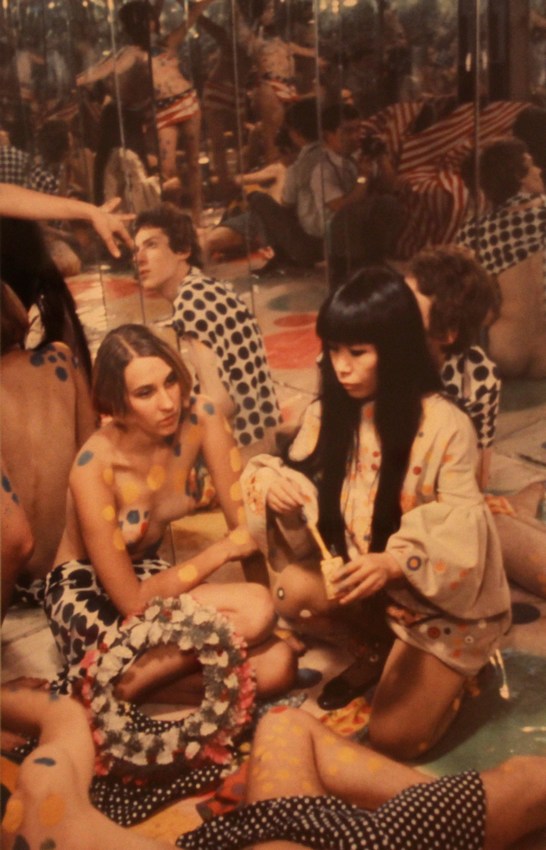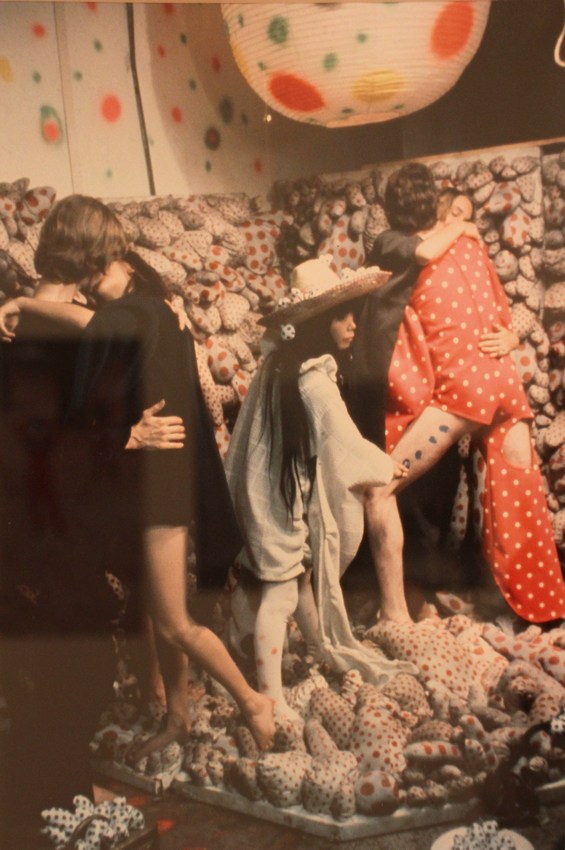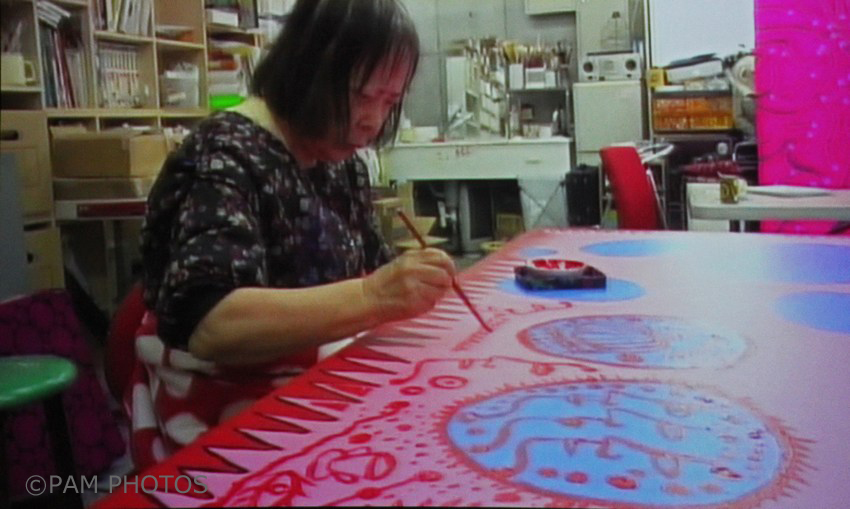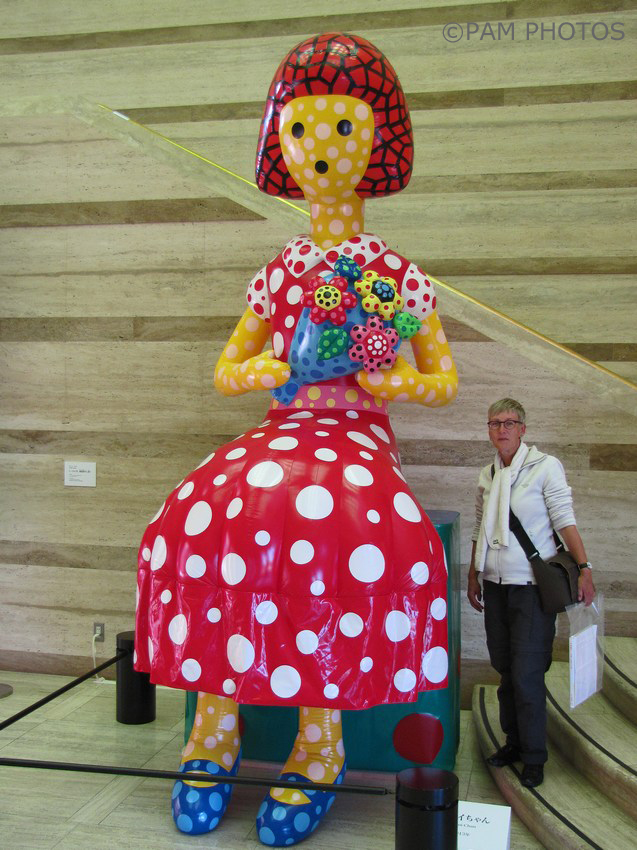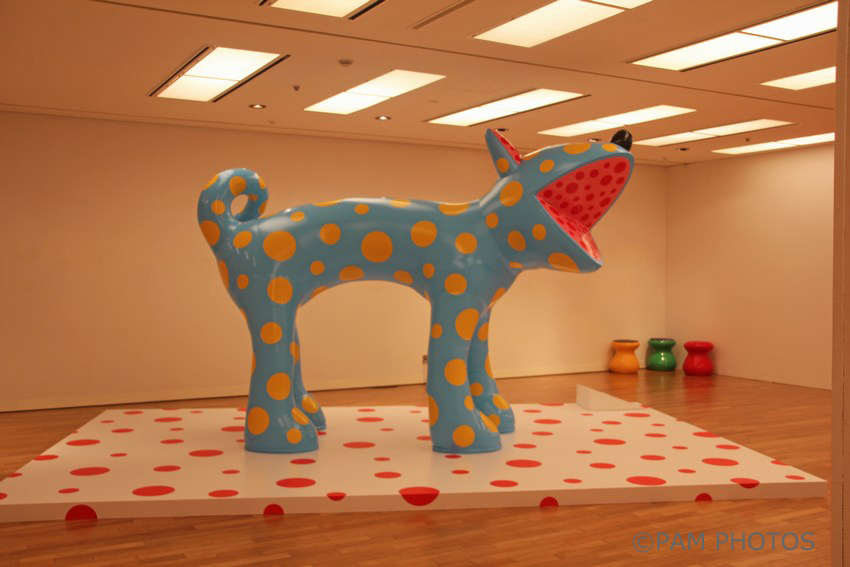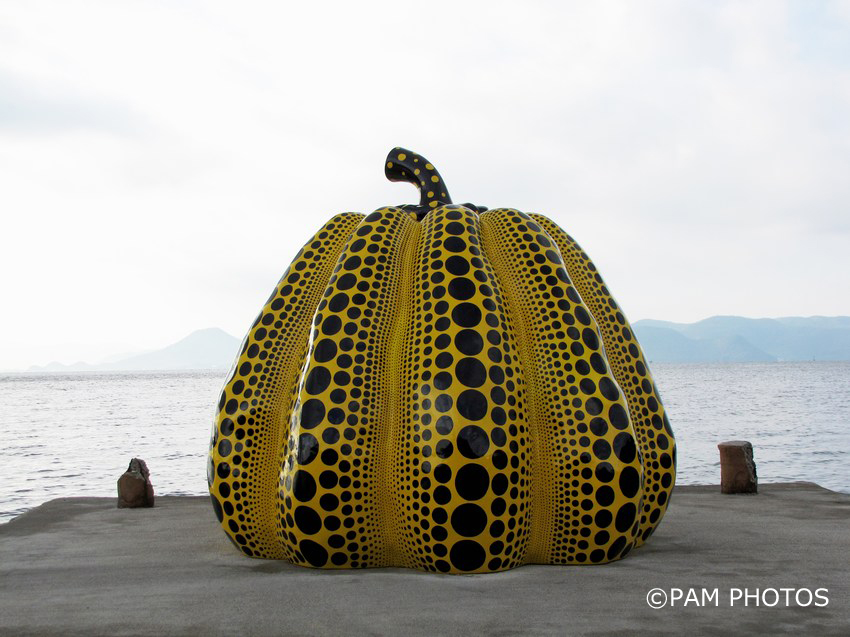 All photos are taken at the exhibition in Kochi, but the last one.
I saw this Yellow Pumpkin on the beach of Naoshima, a beautiful island and art site that I visited in 2010.
(to be continued)
Texts, pictures, etc. are the property of their respective owners.
Cedar Gallery is a non-profit site. All works and articles are published on this site purely for educational reasons, for the purpose of information and with good intentions. If the legal representatives ask us to remove a text or picture from the site, this will be done immediately. We guarantee to fulfill such demands within 72 hours. (Cedar Gallery reserves the right to investigate whether the person submitting that demand is authorized to do so or not).
The contents of this website (texts, pictures and other material) are protected by copyright. You are welcome to visit the site and enjoy it, but you are not allowed to use it, copy it, spread it. If you like to use a picture or text, first send your request to