PAINTERS
PAINTING is a mode of expression and the forms are numerous. Drawing, composition or abstraction and other aesthetics may serve to manifest the expressive and conceptual intention of the practitioner. Paintings can be naturalistic and representational (as in a still life or landscape painting), photographic, abstract, be loaded with narrative content, symbolism, emotion or be political in nature.
A portion of the history of painting in both Eastern and Western art is dominated by spiritual motifs and ideas; examples of this kind of painting range from artwork depicting mythological figures on pottery to Biblical scenes rendered on the interior walls and ceiling of The Sistine Chapel, to scenes from the life of Buddha or other scenes of eastern religious origin.
WHO are the persons, who make these paintings? And what does this specific painter create?

Paul S Brown - Marlene Dumas - Robert Mangold - Christian Schad - Matthias Weischer -
In 2008 we visited the exhibition of interiors, painted by Matthias Weischer, in the Gemeentemuseum in The Hague. Matthias Weischer (1973, Elte, Westphalia) came to prominence in the late '90s as a member of the Neue Leipziger Schule. Weischer spent some time at the Villa Massimo in Rome.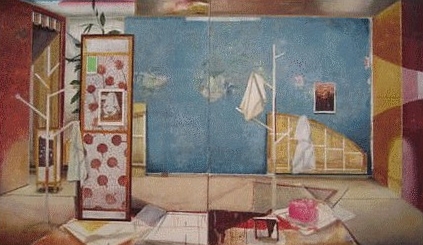 Matthias Weischer studied from 1995 to the end of 2003 at the Hochschule für Grafik und Buchkunst in the Eastern German city of Leipzig, where he was influenced by Neo Rauch and met artists like David Schnell. Here some likeminded artists formed the group known as the Neue Leipziger Schule. Artists regarded as members of this group are conspicuous chiefly for the theatrical nature and large size of their canvases.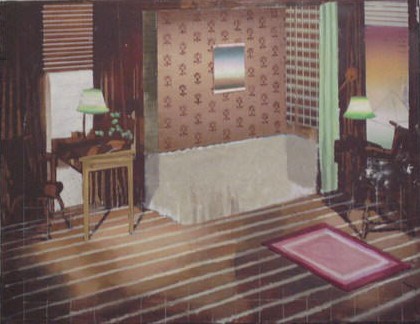 Weischer's paintings are typically depictions of worn interiors that remind us of times gone by. He composes these inviting interiors like theatre sets, using a variety of objects in an unconventional way. It has an alienating effect on us. If you see these paintings, you will probably become aware of Weischer's fascination with colour, form, composition and structure.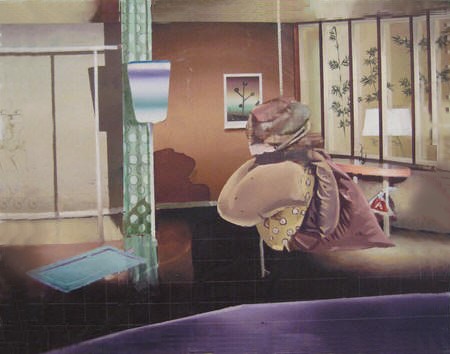 Are these real rooms or do they just exist in the imagination of Matthias Weischer?
Weischer draws inspiration for these canvases from illustrations in books of cultural history or interior design magazines of the 1950s and '60s.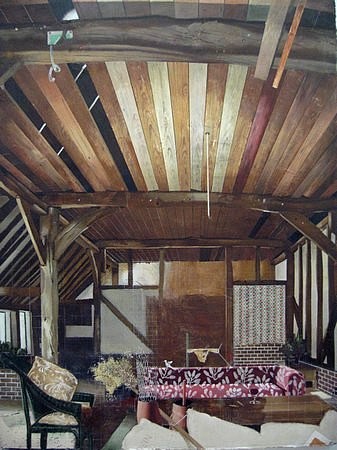 Lounge 2005, Matthias Weischer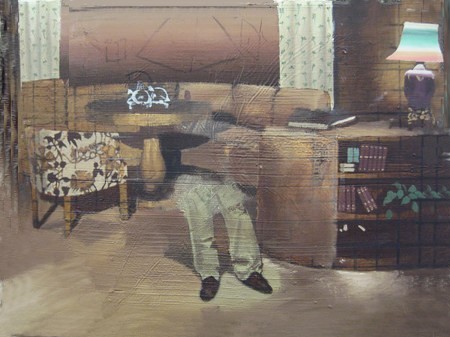 Trousers 2005, Matthias Weischer
In 2007, a scholarship enabled Weischer to work for a year at the Villa Massimo in Rome. This has brought about interesting changes in his work. His latest paintings are much smaller and tend to depict almost unfurnished interiors. His palette is now reminiscent of medieval Italian frescos, with colours like pale blue and pink predominating. His compositions have become increasingly free, intuitive and spontaneous. The previous superabundance of objects has been replaced by a single tree trunk, mat or skull. The starting point is no longer magazine photos, but a theatre that Weischer built for himself in his room in order to try out new and ever-changing compositions. In the space of just a couple of years, Weischer's artistic development has taken an unexpected turn, with the meticulously planned paintings being replaced by more casually organised pictures and the large, complex compositions turning into small, poetic tableaux.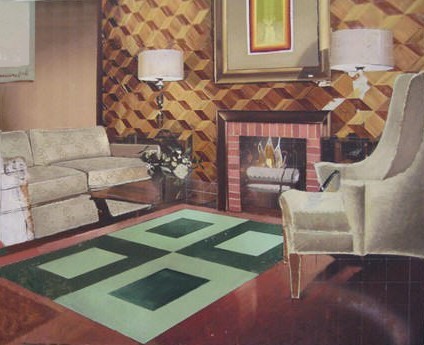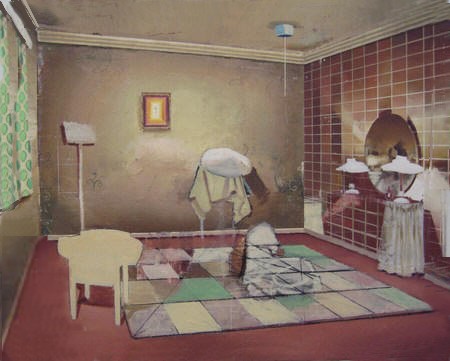 Pipe 2007, Matthias Weischer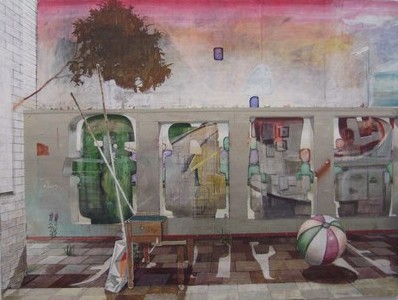 - - - - - - - - - - - - - - - - - - - - - - - - - T O P - - - - - - - - - - - - - - - - - - - - - - - - -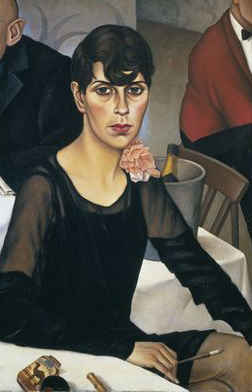 Sonja, 1928
Christian Schad (1894-1982) is best known for his important role in the German Neue Sachlichkeit (New Objectivity) movement. Examples of his work in this field are found in leading collections all over the world. Their coolness, smooth surface, erotic charge and conspicuously large eyes ('mirrors of the soul') make his portraits icons of the 1920s. Schad's ability to capture both the decadence and the underlying malaise of the 'roaring twenties' is unequalled. In this exhibition too, the main emphasis is on Schad's key achievements of the inter-war period. His earlier work, influenced by Cubism and Dadaism, is less well-known but equally lauded. Schad was one of the inventors of the photogram, which the Dadaist Tristan Tzara dubbed the 'Schadograph': a photograph made by placing objects on photographic paper and directly exposed to light (without the use of a camera). His photographs were an example to contemporaries like Man Ray, László Maholy-Nagy and El Lissitzky and continue to inspire countless artists even today.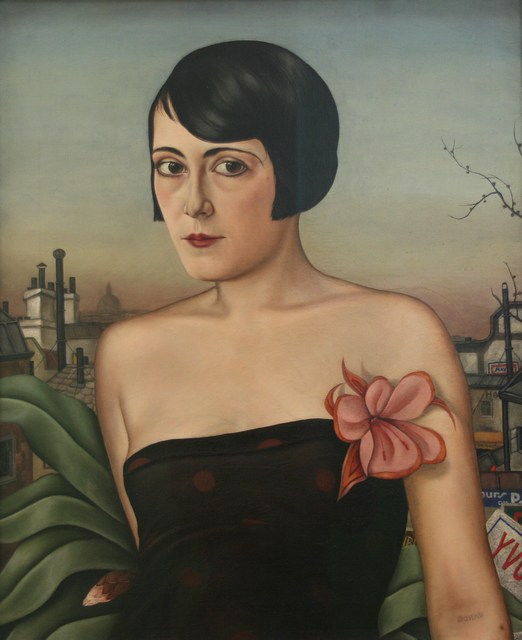 Maika, 1929
After the Nazis seized power in Germany, Schad adopted a low profile and tried to earn a living by drawing conservative, soft-focus portraits. In 1942, one such portrait commission took him to Aschaffenburg in northwest Bavaria, where he was to settle and remain until his death forty years later. The little-known works that he produced there in the 1950s are marked by a tendency towards abstraction. During that period he broke new ground in his printmaking and with his Resopal paintings. In the 1960s and '70s het produced what he himself described as Magic Realism: masterly realistic paintings enriched by fantastic and illogical elements. Contemporary with international art movements like Pop Art and Photorealism, these works show how Schad was still keeping pace with new developments well into his seventies. But even in his revisiting of Dadaist techniques and art forms, Schad's work shows interesting similarities with that of young artists of the period.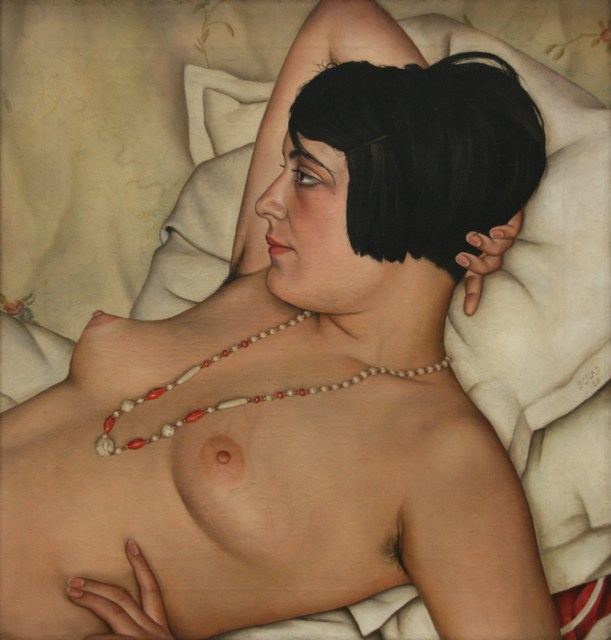 For a period after the Second World War, naturalistic painting was taboo in West Germany - following the country's experience of totalitarianism, there was a belief that the art of a democratic society should necessarily be abstract.
For that reason, Schad was better known during that time in East Germany, where his work was exhibited as early as 1956. Although he lived to a great age, he himself derived little benefit from his later discovery and the growing acclaim for his late as well as earlier work.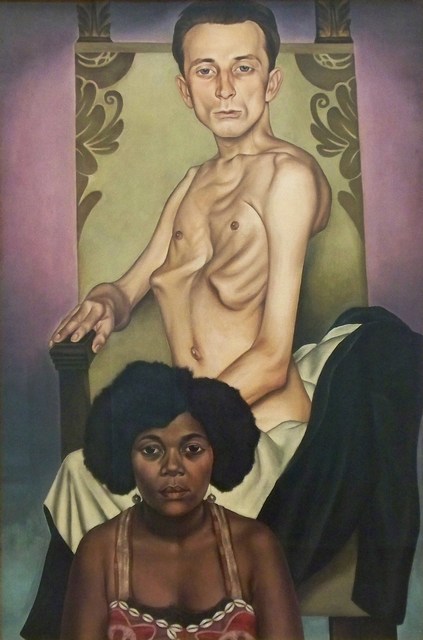 The frozen immobility of this double portrait is typical of Schad's work at this period. The unprecendentedly meticulous depiction of the skin and, more particularly, the cold gaze of the subjects show Schad's unflinching virtuosity at its best. Despite the strong focus on the eyes, the dominant impression is one of the impassive detachment and absence of emotion. Agosta, a medical curiosity, exhibited his deformities at the Onkel Pelle fairground in the Wedding area of Berlin. Because of his deformed thorax, he was also used for teaching purposes at Berlin's university hospital, the Charité. Rasha was a negress who presented an act with a boa constrictor.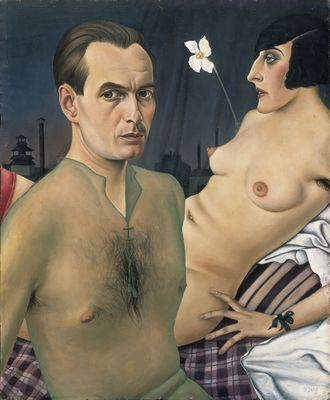 Self portrait with model, 1927
Schad's Self-Portrait with Model is among the most renowned paintings of the New Objectivity movement. It is an icon of the pervasive disenchantment of the period. Schad portrays himself not – as perhaps might be expected – as an artist, but as a protagonist in a provocative sex drama. The picture shows him sitting in front of a naked woman, in an apparently post-coital situation, subjecting himself to his own merciless scrutiny. His transparent green shirt acts as a protective carapace and in his fascinated self-absorption he totally ignores the woman behind him. The voile shirt actually intensifies the impression of nakedness, symbolising both sensuality and imperviousness to emotion. The artist's expression is defensive and the atmosphere frigid. The protagonists have nothing to say to each other. His body is turned to the right, hers to the left, as if deliberately averted from each other.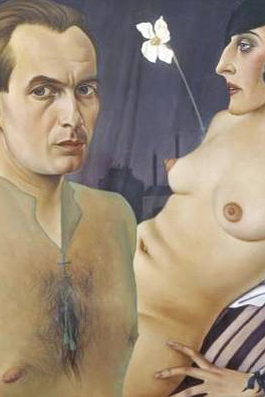 Between their heads rears a narcissus, perhaps symbolizing the narcissism of the two protagonists. The woman's dark hair is arranged in a page-boy style with a side parting. She represents a type of woman much in vogue in the 1920s: not particularly attractive but not exactly ugly. Her left cheek bears a sfregio, a scar of the kind that jealous men in southern Italy were in the habit of inflicting on their women. Schad knew of this phenomenon from his time in Naples. The backdrop is the dark silhouette of a city against a night sky with factory chimneys.
The absence of perspective gives the scene a dreamlike quality while the exaggerated stress on individual details, the razor-sharp delineation of the various elements and the austere linearity of the depiction create the atmosphere of glassy unreality that is so typical of this phase of Schad's career, of which this portrait is the culminating achievement.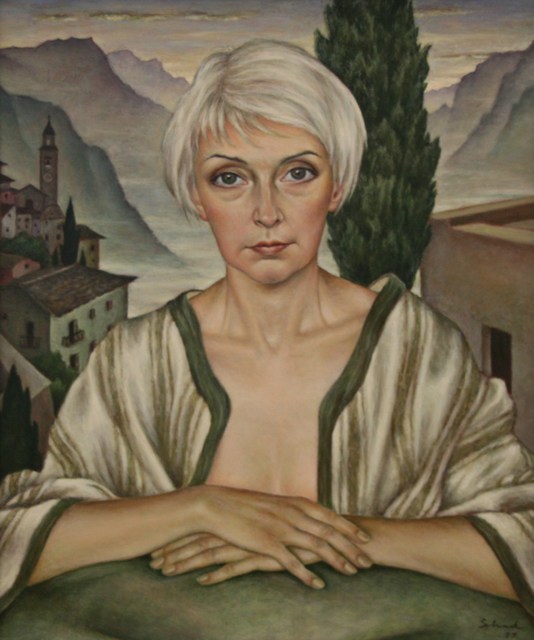 Bettina (his last wife), 1977

Post-war works
Schad's post-war work is relatively little known. The period begins with a complete change of style compared with the 1940s and an interest in international developments. Schad's work is now clearly influenced by his friendship with Francis Picabia, his admiration for Jean Cocteau and Pablo Picasso, and his involvement with an exhibition of work by Ernst Ludwig Kirchner. In the GDR, he became well-known and a number of East German artists regarded his portraits as exemplary. However, he refused a post at the academy of art in East Berlin. In the late '60s, he produced a series of collages which have to this day never been published but which show similarities to Pop Art.
His highly simplified woodcuts of the late '60s and early '70s also find parallels in American Pop Art and commercial graphics.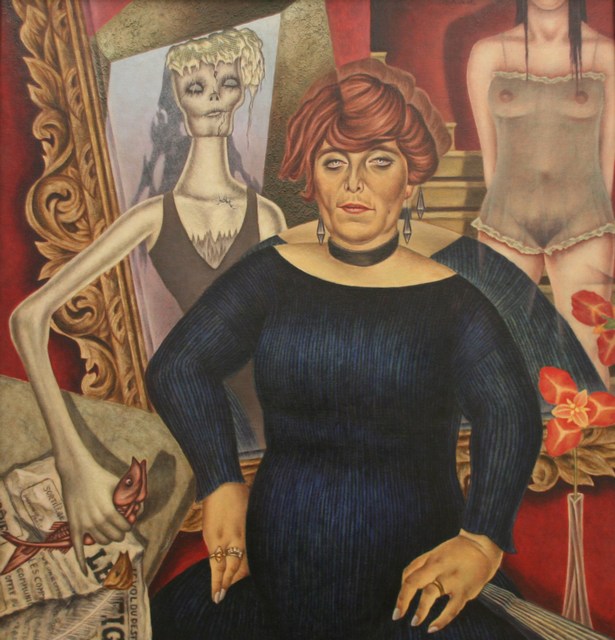 Pavonia, 1966
Although he continued to experiment eagerly on paper, the few canvases he produced over the last two decades of his life (at a rate around one or two a year) remain true to the Realist tradition. In the 1960s, he reverted to Magic Realism and the themes of his Berlin period, producing paintings like Engel im Separee (Angel in the Private Room) and Pavonia, which allude symbolically to the sexuality of bohemia. The clarity of these late paintings surpasses even that of his work from the 1920s and makes them, for that very reason, appear excruciatingly slick. Schad's entirely individual portrait style, his Old Masterly painting technique, the almost trompe l óeil representation of skin and – last but not least – the latent eroticism of his pictures still remain sources of inspiration for artists today.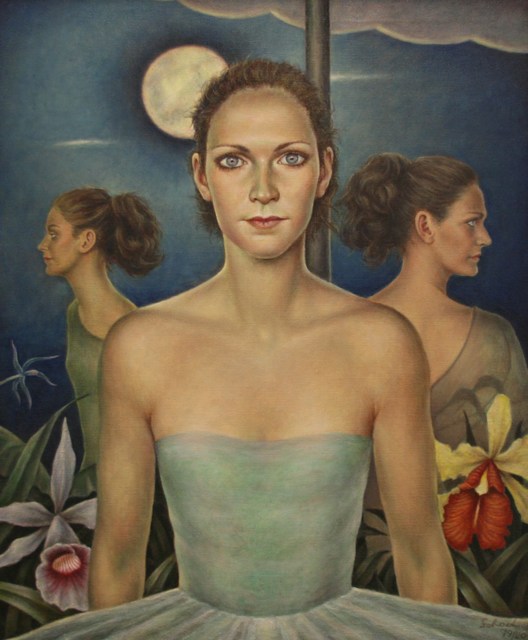 Werdandi, 1979
We are grateful for the information we got from the Gemeentemuseum in The Hague, Holland
- - - - - - - - - - - - - - - - - - - - - - - - - T O P - - - - - - - - - - - - - - - - - - - - - - - - -
ROBERT MANGOLD

1937 North Tonawanda (NY) – Washingtonville (NY)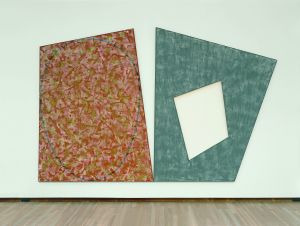 The generation to which Mangold belongs is influenced strongly by the Abstract Expressionism of artists such as Barnett Newman.
Barnett Newman (January 29, 1905 – July 4, 1970) was an American artist. He was born in New York City, the son of Jewish immigrants from Poland. He studied philosophy at the City College of New York and worked in his father's business manufacturing clothing. He later made a living as a teacher, writer and critic. From the 1930s he made paintings, said to be in an expressionist style, but eventually destroyed all these works.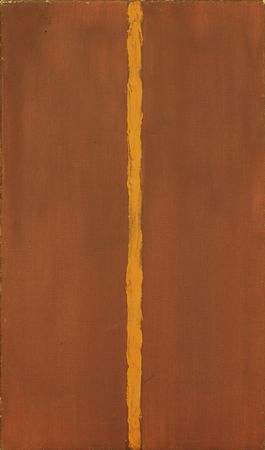 Typical of Newman's later work, is the use of pure and vibrant color and the zip. The zip remained a constant feature of Newman's work throughout his life. In some paintings of the 1950s, such as The Wild, which is eight feet tall by one and a half inches wide (2.4 meters by 2 centimeters), the zip is all there is to the work. The zips define the spatial structure of the painting, while simultaneously dividing and uniting the composition. Newman also made a few sculptures which are essentially three-dimensional zips.
Although Newman's paintings appear to be purely abstract, and many of them were originally untitled, the names he later gave them hinted at specific subjects being addressed, often with a Jewish theme. Two paintings from the early 1950s, for example, are called Adam and Eve, and there is also Abraham (1949), a very dark painting, which as well as being the name of a biblical patriarch, was also the name of Newman's father, who had died in 1947.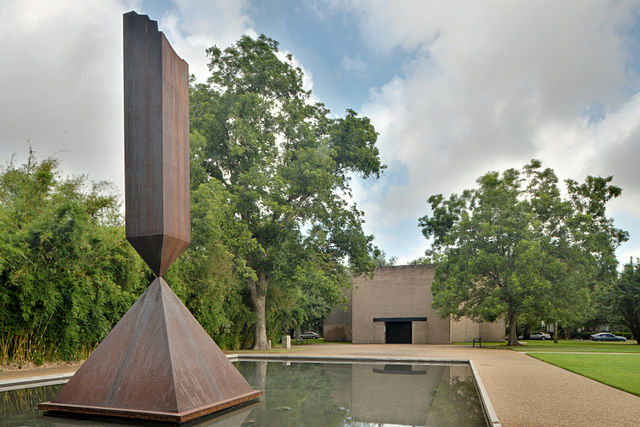 The outdoor sculpture, "Broken Obelisk" by Barnett Newman, is permanently installed in the reflecting pool on the grounds of Rothko Chapel in Houston, Texas, USA.
The Stations of the Cross series of black and white paintings (1958–66), begun shortly after Newman had recovered from a heart attack, is usually regarded as the peak of his achievement. The series is subtitled "Lema sabachthani" - "why have you forsaken me" - the last words spoken by Jesus on the cross, according to the New Testament. Newman saw these words as having universal significance in his own time. The series has also been seen as a memorial to the victims of the holocaust. As this is about Robert Mangold, the last thing I mention about Barnett Newman is, that he is seen as one of the major figures in Abstract Expressionism and one of the foremost of the Color Field painters.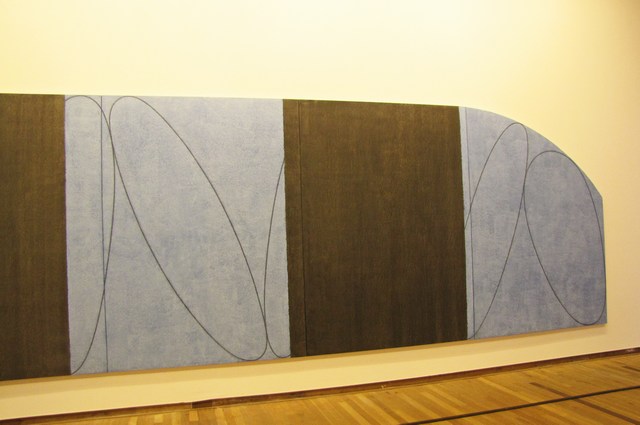 As said before, the generation of Mangold is influenced strongly by Abstract Expressionism. Movements like Minimal and Conceptual Art arose in reaction to this.
In his work, Mangold has always adhered to the same strict formula of striving for a balance between surface, colour, line and form. His work is characterized by his use of the 'shaped canvas'. The artists, however, regards his works as paintings rather than objects, even though he claims not to be interested in painting techniques.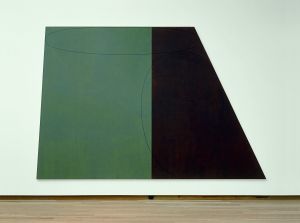 Mangold starts each of his works by drawing quick sketches, in which he makes the most important decisions intuitively. The best ideas are developed on a larger scale, in graphite and pastel on paper, after which several versions are created on canvas.
In pencil on the shaped canvas, he creates a grid structure, which he uses to draw the thicker lines: ovals, waves, scrolls and circles. The lines appear mathematical in the precision of their execution, but from close up you can see that they are drawn by hand, over and over again until the right thickness has been achieved. The element of line – linear configurations drawn in pencil – is as important in his work as colour. To emphasize this, Mangold opted for the visible pencil line rather than the line drawn in the paint layer, in which the line is part of the paint and not an autonomous form. In his early works the linear image was determined only by the dividing line between the panels.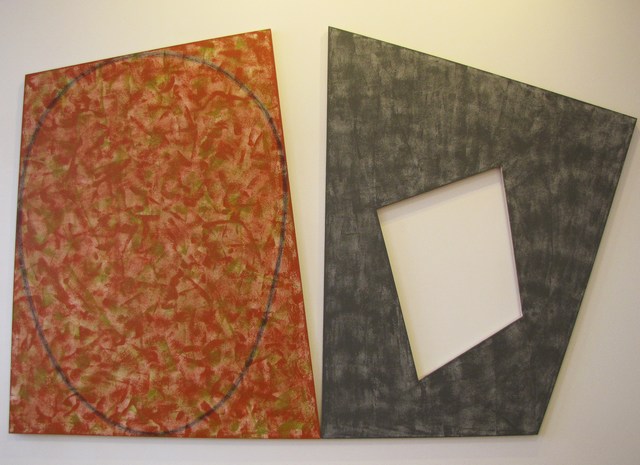 Although colours play an important role, they are inconspicuous and neutral, and expressly in balance with the shape of the canvas. In order to restrict the personal touch as far as possible, the paint is usually applied with a roller in several thin layers.
Although Mangold's works can be taken in at a glance (something the artist aims for), they only fully reveal themselves on longer contemplation.
There is a paradox between what is there and what is not there, and a role is also played by the remaining space between the panels and the recesses.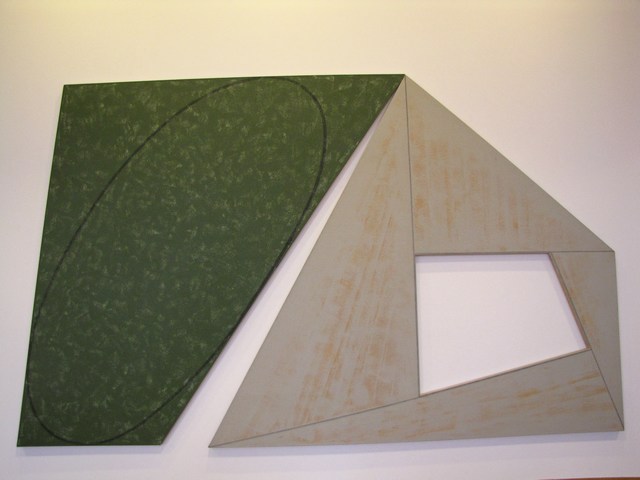 ©pictures: wagenvoorde & bonnefantenmuseum
© picture 'Broken Obelisk': Ed Uthman, Houston, Texas, USA

We are grateful for the information we got from the Bonnefantenmuseum, Maastricht and from Paula Cooper Gallery, New York
- - - - - - - - - - - - - - - - - - - - - - - - - T O P - - - - - - - - - - - - - - - - - - - - - - - - -
Paul S. Brown was born in 1967 and raised in North Carolina. He has lived and worked in London since 1994. He's a classical realist artist. He hand makes his oil paints with carefully selected pigments and oils, uses old master techniques and mediums and works from life in the naturalist tradition.
He enjoys painting all subjects, concentrating on the nude and still life as well as portraits and landscapes.
Unfortunately there are no pictures available. To get an impression of his art, you can try the following links.

An impression of his
Still life paintings: http://www.paulbrownpaintings.com/still-life/others/
Figurative paintings: http://www.paulbrownpaintings.com/figurative/figurative/
Landscapes: http://www.paulbrownpaintings.com/landscapes/
- - - - - - - - - - - - - - - - - - - - - - - - - T O P - - - - - - - - - - - - - - - - - - - - - - - - -
Marlene Dumas (Cape Town, 3. August 1953) is an artist, who was born in South Africa. She has lived and worked in Amsterdam since 1976 and therefore is considered as a Dutch artist.
The work of Marlene Dumas deals with the tension between watching and being watched – and in fact – with the problem of interpretation. She makes frequent use of existing depictions, from pornographic pictures and police photographs to art reproductions, which she collects for her own personal archive of visual material. This material reflects the social codes that determine how we look at things: Dumas enjoys undermining these codes and revealing their inconsistencies. Her uneasiness with the ideal of reducing the artwork to its essence can be explained from this point of view. To her, there is no single essence, no single truth.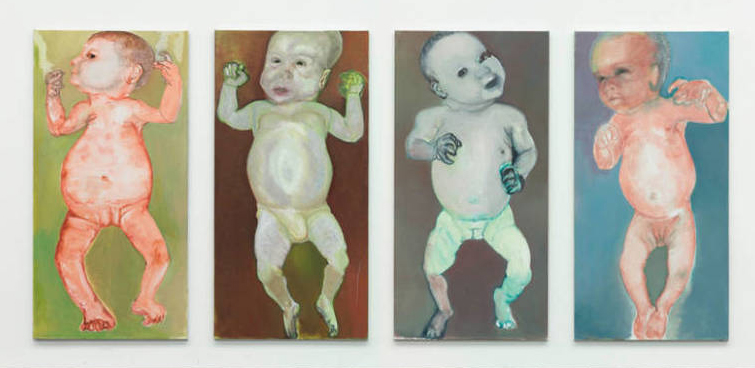 For example in The First People from 1990, that exists of four life-size baby portraits. Four newborn babies have been caught in awkward poses of uncoordinated helplessness, and blown up to the height of fully-grown adults. Dumas demonstrates both their vulnerability and the alien nature of their bulbous bodies and uncontrolled expressions. And look at the flesh of the babies. These babies are not painted very sentimental, are they?
The enlarged representation of their bodies are experienced as very shocking elements. These reactions seem to be influenced by cliché images of the babies from the commercial world, that seem to be the present day norm.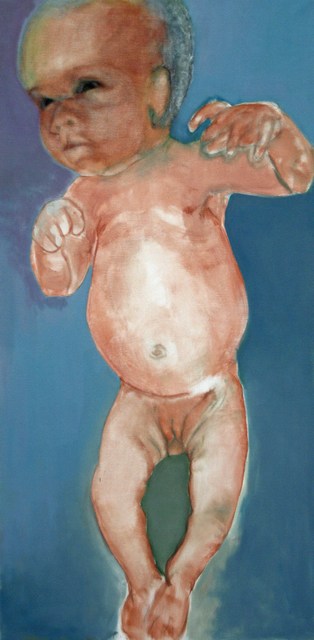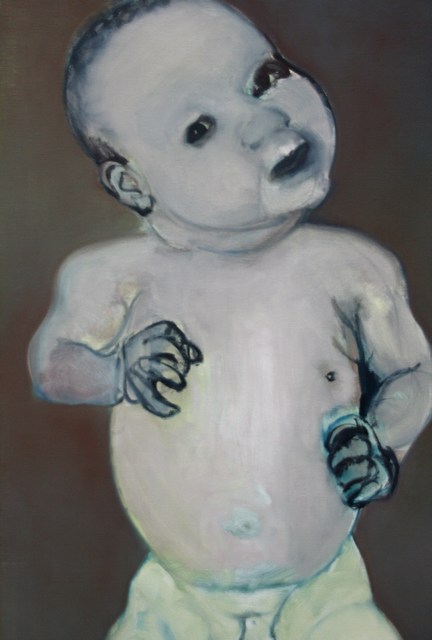 'Certainly no Pampers babies,' says Dumas. Why is the vulnerable and greatly enlarged rendering of these baby bodies shocking to many people? Responses seem to have been unconsciously influenced by the advertising cliché of the happy baby which has become the norm.
These paintings of Dumas are fairly realistic, precisely by way of several non-realistic measures, such as the use of scale enlargement and the technique by which she allows details to flow together or be accentuated. 'Motherhood is a shock,' says Dumas, 'because you haven't realized how the babies actually look.' Perhaps her 'first people' represents some aspect of that confrontation.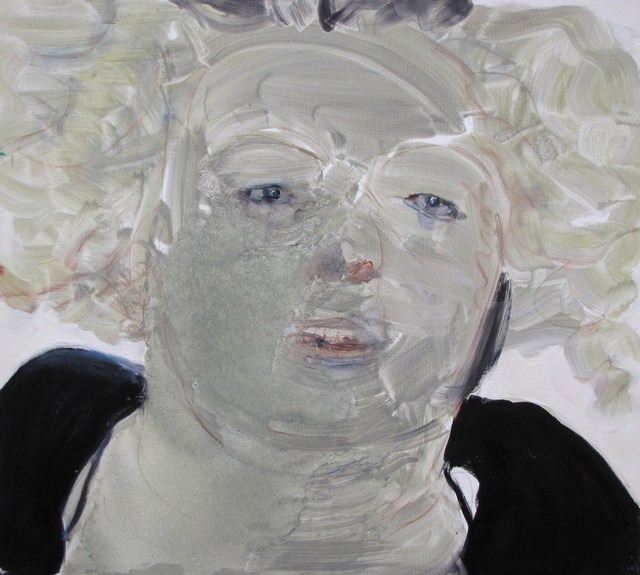 Selfportrait at noon, 2008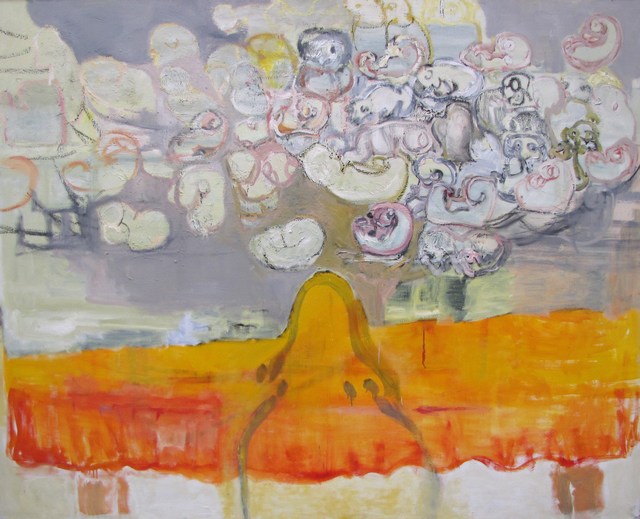 The Last Supper, 1985-1991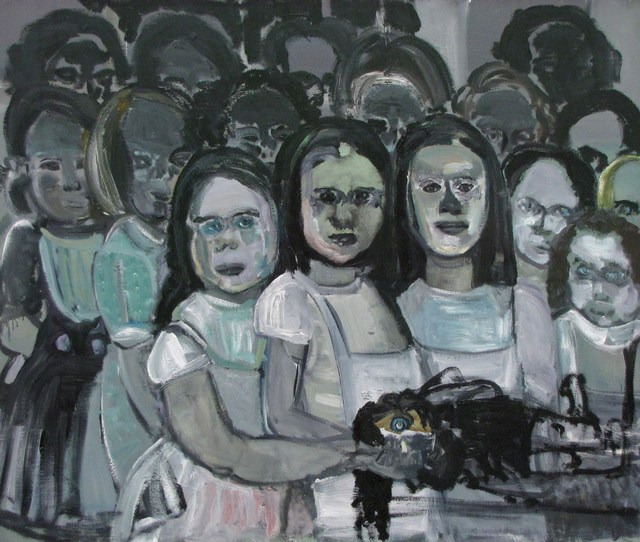 The ritual (with doll), 1992
- - - - - - - - - - - - - - - - - - - - - - - - - T O P - - - - - - - - - - - - - - - - - - - - - - - - -
So you are a painter too? In that case we invite you to introduce yourself and send us some pictures of your work.
All submissions will receive serious consideration.
We look forward to your participation.