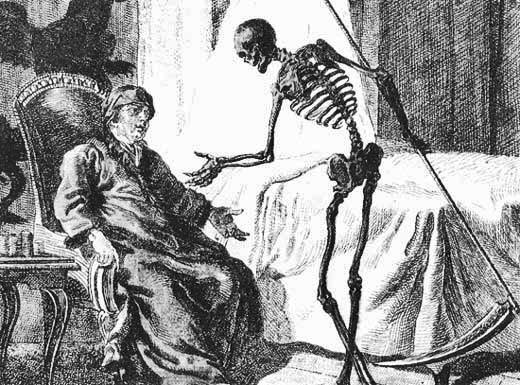 <![if !vml]>

<![endif]>

in English and German
"Death is not the greatest loss in life. The greatest loss is what dies inside us while we live."
- Norman Cousins (1915-1990)
anonymous - William Barnes - Eavan Boland - Jessica Care Moore - Lewis Carroll - John McCrae - Khalil Gibran - Rennyo - Rabindranath Tagore - Rainer Maria Rilke - Robert Service - Charles Simic - Wislawa Szymborska - Dylan Thomas


Any Soldier To His Son (anonymous poem, WWI)
What did I do, sonny, in the Great World War?
Well, I learned to peel potatoes and to scrub the barrack floor.
I learned to push a barrow and I learned to swing a pick,
I learned to turn my toes out, and to make my eyeballs click.
I learned the road to Folkestone, and I watched the English shore,
Go down behind the skyline, as I thought, for evermore.
And the Blighty boats went went by us and the harbour hove in sight,
And they landed us and sorted us and marched us "by the right".
"Quick march!" across the cobbles, by the kids who rang along
Singing "Appoo?" "Spearmant" "Shokolah?" throught dingy old Boulogne;
By the widows and the nurses and the niggers and Chinese,
And the gangs of smiling Fritzes, as saucy as you please.
I learned to ride as soldiers ride from Etaps to the Line,
For days and nights in cattle trucks, packed in like droves of swine.
I learned to curl and kip it on a foot of muddy floor,
And to envy cows and horses that have beds of beaucoup straw.
I learned to wash in shell holes and to shave myself in tea,
While the fragments of a mirror did a balance on my knee.
I learned to dodge the whizz-bangs and the flying lumps of lead,
And to keep a foot of earth between the sniper and my head.
I learned to keep my haversack well filled with buckshee food,
To take the Army issue and to pinch what else I could.
I learned to cook Maconochie with candle-ends and string,
With "four-by-two" and sardine-oil and any God-dam thing.
I learned to use my bayonet according as you please
For a breadknife or a chopper or a prong for toasting cheese.
I learned "a first field dressing" to serve my mate and me
As a dish-rag and a face-rag and a strainer for our tea.
I learned to gather souvenirs that home I hoped to send,
And hump them round for months and months and dump them in the end.
I learned to hunt for vermin in the lining of my shirt,
To crack them with my finger-nail and feel the beggars spirt;
I learned to catch and crack them by the dozen and the score
And to hunt my shirt tomorrow and to find as many more.
I learned to sleep by snatches on the firestep of a trench,
And to eat my breakfast mixed with mud and Fritz's heavy stench.
I learned to pray for Blighty ones and lie and squirm with fear,
When Jerry started strafing and the Blighty ones were near.
I learned to write home cheerful with my heart a lump of lead
With the thought of you and mother, when she heard that I was dead.
And the only thing like pleasure over there I ever knew,
Was to hear my pal come shouting, "There's a parcel, mate, for you."
So much for what I did do - now for what I have not done:
Well, I never kissed a French girl and I never killed a Hun,
I never missed an issue of tobacco, pay, or rum,
I never made a friend and yet I never lacked a chum.
I never borrowed money, and I never lent - but once
(I can learn some sorts of lessons though I may be borne a dunce).
I never used to grumble after breakfast in the Line
That the eggs were cooked too lightly or the bacon cut too fine.
I never told a sergeant just exactly what I thought,
I never did a pack-drill, for I never quite got caught.
I never punched a Red-Cap's nose (be prudent like your Dad),
But I'd like as many sovereigns as the times I've wished I had.
I never stopped a whizz-bang, though I've stopped a lot of mud,
But the one that Fritz sent over with my name on was a dud.
I never played the hero or walked about on top,
I kept inside my funk hole when the shells began to drop.
Well, Tommy Jones's father must be made of different stuff:
I never asked for trouble - the issue was enough.
So I learned to live and lump it in the lovely land of war,
Where the face of nature seems a monstrous septic sore,
Where the bowels of earth of earth hang open, like the guts of something slain,
And the rot and wreck of everything are churned and churned again;
Where all is done in darkness and where all is still in day,
Where living men are buried and the dead unburied lay;
Where men inhabit holes like rats, and only rats live there;
Where cottage stood and castle once in days before La Guerre;
Where endless files of soldiers thread the everlasting way,
By endless miles of duckboards, through endless walls of clay;
Where life is one hard labour, and a soldiers gets his rest
When they leave him in the daisies with a puncture in his chest;
Where still the lark in summer pours her warble from the skies,
And underneath, unheeding, lie the blank upstaring eyes.
And I read the Blighty papers, where the warriors of the pen
Tell of "Christmas in the trenches" and "The Spirit of our men";
And I saved the choicest morsels and I read them to my chum,
And he muttered, as he cracked a louse and wiped it off his thumb:
"May a thousand chats from Belgium crawl under their fingers as they write;
May they dream they're not exempted till they faint with mortal fright;
May the fattest rats in Dickebusch race over them in bed;
May the lies they've written choke them like a gas cloud till they're dead;
May the horror and the torture and the things they never tell
(For they only write to order) be reserved for them in Hell!"
You'd like to be a soldier and go to France some day?
By all the dead in Delville Wood, by all the nights I lay
Between our lines and Fritz's before they brought me in;
By this old wood-and-leather stump, that once was flesh and skin;
By all the lads who crossed with me but never crossed again,
By all the prayers their mothers and their sweethearts prayed in vain,
Before the things that were that day should ever more befall
May God in common pity destroy us one and all!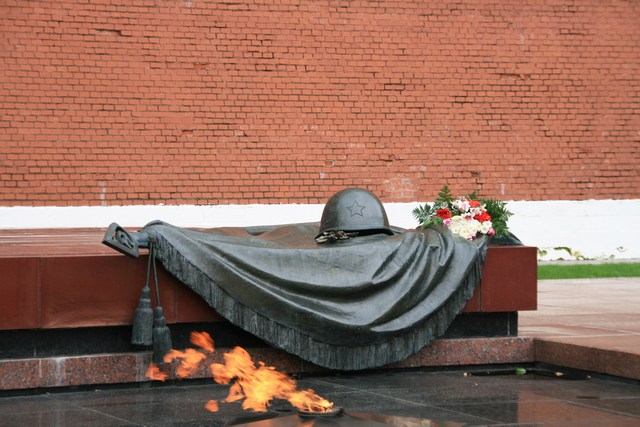 - - - - - - - - T O P - - - - - - - -
Woak Hill
When sycamore leaves wer a-spreadèn
Green-ruddy in hedges,
Bezide the red doust o' the ridges,
A-dried at Woak Hill;
I packed up my goods all a sheenèn
Wi' long years o' handlèn,
On dousty red wheel ov a waggon,
To ride at Woak Hill.
The brown thatchen ruf o' the dwellèn,
I then wer a-leävèn,
Had shelter'd the sleek head o' Meäry,
My bride at Woak Hill.
But now vor zome years, her light voot-vall
'S a-lost vrom the vloorèn.
Too soon vor my j an' my childern,
She died at Woak Hill.
But still I do think that, in soul,
She do hover about us;
To ho vor her motherless childern,
Her pride at Woak Hill.
Zoo--lest she should tell me hereafter
I stole off 'ithout her,
An' left her, uncall'd at house-riddèn,
To bide at Woak Hill--
I call'd her so fondly, wi' lippèns
All soundless to others,
An' took her wi' aïr-reachèn hand,
To my zide at Woak Hill.
On the road I did look round, a-talkèn
To light at my shoulder,
An' then led her in at the doorway,
Miles wide vrom Woak Hill

An' that's why vo'k thought, vor a season,
My mind wer a-wandrèn
Wi' sorrow, when I wer so sorely
A-tried at Woak Hill.
But no; that my Meäry mid never
Behold herzelf slighted,
I wanted to think that I guided
My guide vrom Woak Hill.
William Barnes (1801-1886)

- - - - - - - - T O P - - - - - - - -
Quarantine
In the worst hour of the worst season
of the worst year of a whole people
a man set out from the workhouse with his wife.
He was walking—they were both walking—north.
She was sick with famine fever and could not keep up.
He lifted her and put her on his back.
He walked like that west and west and north.
Until at nightfall under freezing stars they arrived.
In the morning they were both found dead.
Of cold. Of hunger. Of the toxins of a whole history.
But her feet were held against his breastbone.
The last heat of his flesh was his last gift to her.
Let no love poem ever come to this threshold.
There is no place here for the inexact
praise of the easy graces and sensuality of the body.
There is only time for this merciless inventory:
Their death together in the winter of 1847.
Also what they suffered. How they lived.
And what there is between a man and woman.
And in which darkness it can best be proved.
Eavan Boland (1944-2020)
From New Collected Poems by Eavan Boland

- - - - - - - - T O P - - - - - - - -Jessica Care Moore
For Ponchai forever
It's been 7 days since your murder
and i wonder if being in this plane means i am closer
how you wanted to eclipse with your brave shadow
28 and dead is sad and normal for black men
The state of Texas has sucked breath from so many of you
In broad day light they steal our sons
who claps for these magic shows?
who finds relief from the warmth of your blood
is this the heat that keeps governor george bush cozy
does he sip his morning coffee and think of your death?
where is your social unrest/as your name disappears from headlines
your are not a popular revolutionary/you a regula type nigga
with dimples and caramel skin
shouldn't been in possession of no gun
shooting somebody else's daddy
how dare you become what they've trained you to be
usual suspect/warrior/defiant renegade in the hood
concentrating in the camp
they send brothas and sistas like us
you wrote me beautiful words
fearless in the line of fire
heard you got thrown in the hole
for planting a vegetable garden in your cell
said you wanted to see anything grow, even a small flower
to remind you of all the times you missed watching your daughter
i tried to write today. your haiku's made me dance
your muddy river made me smile
reminded me why i write to live
why we must continue to fight
Jessica Care Moore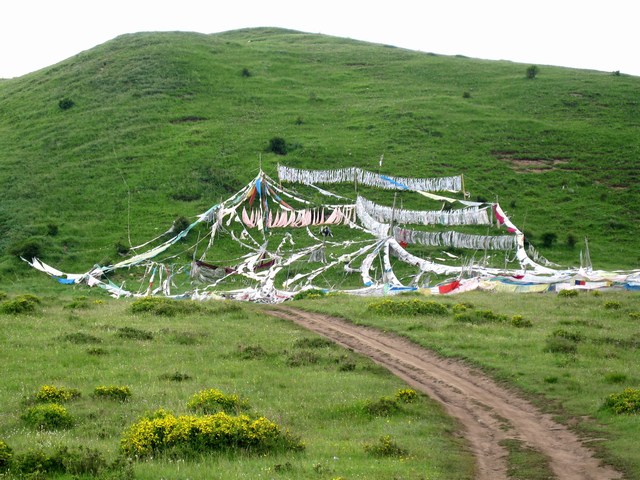 Sky burial place, Tibet
- - - - - - - - T O P - - - - - - - -
The Walrus and The Carpenter
The sun was shining on the sea,
Shining with all his might:
He did his very best to make
The billows smooth and bright--
And this was odd, because it was
The middle of the night.
The moon was shining sulkily,
Because she thought the sun
Had got no business to be there
After the day was done--
"It's very rude of him," she said,
"To come and spoil the fun!"

The sea was wet as wet could be,
The sands were dry as dry.
You could not see a cloud, because
No cloud was in the sky:
No birds were flying overhead--
There were no birds to fly.
The Walrus and the Carpenter
Were walking close at hand;
They wept like anything to see
Such quantities of sand:
"If this were only cleared away,"
They said, "it would be grand!"
"If seven maids with seven mops
Swept it for half a year.
Do you suppose," the Walrus said,
"That they could get it clear?"
"I doubt it," said the Carpenter,
And shed a bitter tear.
"O Oysters, come and walk with us!"
The Walrus did beseech.
"A pleasant walk, a pleasant talk,
Along the briny beach:
We cannot do with more than four,
To give a hand to each."
The eldest Oyster looked at him,
But never a word he said:
The eldest Oyster winked his eye,
And shook his heavy head--
Meaning to say he did not choose
To leave the oyster-bed.
But four young Oysters hurried up,
All eager for the treat:
Their coats were brushed, their faces washed,
Their shoes were clean and neat--
And this was odd, because, you know,
They hadn't any feet.
Four other Oysters followed them,
And yet another four;
And thick and fast they came at last,
And more, and more, and more--
All hopping through the frothy waves,
And scrambling to the shore.
The Walrus and the Carpenter
Walked on a mile or so,
And then they rested on a rock
Conveniently low:
And all the little Oysters stood
And waited in a row.
"The time has come," the Walrus said,
"To talk of many things:
Of shoes--and ships--and sealing-wax--
Of cabbages--and kings--
And why the sea is boiling hot--
And whether pigs have wings."
"But wait a bit," the Oysters cried,
"Before we have our chat;
For some of us are out of breath,
And all of us are fat!"
"No hurry!" said the Carpenter.
They thanked him much for that.
"A loaf of bread," the Walrus said,
"Is what we chiefly need:
Pepper and vinegar besides
Are very good indeed--
Now if you're ready, Oysters dear,
We can begin to feed."
"But not on us!" the Oysters cried,
Turning a little blue.
"After such kindness, that would be
A dismal thing to do!"
"The night is fine," the Walrus said.
"Do you admire the view?
"It was so kind of you to come!
And you are very nice!"
The Carpenter said nothing but
"Cut us another slice:
I wish you were not quite so deaf--
I've had to ask you twice!"
"It seems a shame," the Walrus said,
"To play them such a trick,
After we've brought them out so far,
And made them trot so quick!"
The Carpenter said nothing but
"The butter's spread too thick!"
"I weep for you," the Walrus said:
"I deeply sympathize."
With sobs and tears he sorted out
Those of the largest size,
Holding his pocket-handkerchief
Before his streaming eyes.
"O Oysters," said the Carpenter,
"You've had a pleasant run!
Shall we be trotting home again?'
But answer came there none--
And this was scarcely odd, because
They'd eaten every one.
Lewis Carroll
(from Through the Looking-Glass and What Alice Found There, 1872)
- - - - - - - - T O P - - - - - - - -
John McCrae (1872-1918) was a Canadian physician and fought on the Western Front in 1914, but was then transferred to the medical corps and assigned to a hospital in France. He died of pneumonia while on active duty in 1918.
In Flanders Fields

In Flanders fields the poppies blow
Between the crosses, row on row
That mark our place; and in the sky
The larks, still bravely singing, fly
Scarce heard amid the guns below.

We are the Dead. Short days ago
We lived, felt dawn, saw sunset glow,
Loved and were loved, and now we lie
In Flanders fields.

Take up our quarrel with the foe:
To you from failing hands we throw
The torch; be yours to hold it high.
If ye break faith with us who die
We shall not sleep, though poppies grow
In Flanders fields.

John McCrae, In Flanders Fields and Other Poems, 1919


- - - - - - - - T O P - - - - - - - -
On Death

Then Almitra spoke, saying, "We would ask now of Death."
And he said:
You would know the secret of death.
But how shall you find it unless you seek it in the heart of
life?
The owl whose night-bound eyes are blind unto the day
cannot unveil the mystery of light.
If you would indeed behold the spirit of death, open your
heart wide unto the body of life.
For life and death are one, even as the river and the sea
are one.
In the depth of your hopes and desired lies your silent
knowledge of the beyond;
And like seeds dreaming beneath the snow your heart
dreams of spring.
Trust the dreams, for in them is hidden the gate to
eternity.
Your fear of death is but the trembling of the shepherd
when he stands before the king whose hand is to be laid
upon him in honour.
Is the shepherd not joyful beneath his trembling, that he
shall wear the mark of the king?
Yet is he not more mindful of his trembling?
For what is it to die but to stand naked in the wind and to
melt into the sun?
And what is to cease breathing, but to free the breath
from its restless tides, that it may rise and expand and
seek God unencumbered?
Only when you drink from the river of silence shall you
indeed sing.
And when you have reached the mountain top, then you
shall begin to climb.
And when the earth shall claim your limbs, then shall you
truly dance.
Khalil Gibran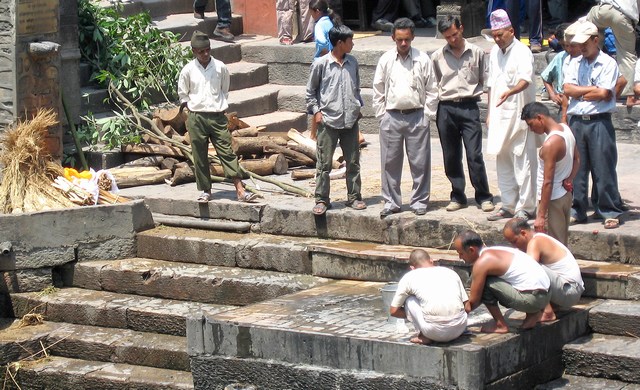 Pashupatinath, Nepal

- - - - - - - - T O P - - - - - - - -
Rennyo's White Ashes
When I deeply contemplate the transient nature of human life, I realize that,
from beginning to end, life is impermanent like an illusion. We have not yet
heard of anyone who lived ten thousand years. How fleeting is a lifetime!
Who in this world today can maintain a human form for even a hundred years?
There is no knowing whether I will die first or others, whether death will occur
today or tomorrow. We depart one after another more quickly than the dewdrops on the roots or the tips of the blades of grasses. So it is said. Hence, we mayhave radiant faces in the morning, but by evening we may turn into white ashes.
Once the winds of impermanence have blown, our eyes are instantly closed and our breath stops forever. Then, our radiant face changes its color, and the
attractive countenance like peach and plum blossoms is lost. Family and
relatives will gather and grieve, but all to no avail?
Since there is nothing else that can be done, they carry the deceased out to the
fields, and then what is left after the body has been cremated and has turned
into the midnight smoke is just white ashes. Words fail to describe the sadness
of it all.
Thus the ephemeral nature of human existence is such that death comes to young
and old alike without discrimination. So we should all quickly take to heart the
matter of the greatest importance of the afterlife, entrust ourselves deeply to
Amida Buddha, and recite the nembutsu.
Humbly and respectfully.
Rennyo

Rennyo (1415–1499) was the 8th Monshu, or head-priest, of the Hongwanji Temple of the Jōdo Shinshū sect of Buddhism, and descendant of founder Shinran. Jodo Shinshu Buddhists often referred to as the restorer of the sect (or, the second founder), and for this is also referred to as Rennyo Shonin ("eminent monk").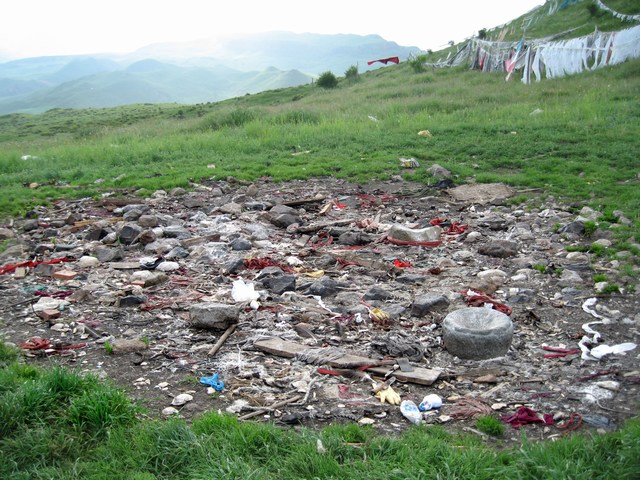 sky burial place
- - - - - - - - T O P - - - - - - - -

Der Tod der Geliebten
Er wusste nur vom Tod was alle wissen:
dass er uns nimmt und in das Stumme stösst.
Als aber sie, nicht von ihm fortgerissen,
nein, leis aus seinen Augen ausgelöst,
hinüberglitt zu unbekannten Schatten,
und als er fuhlte, dass sie drüben nun
wie einen Mond ihr Mädchenlächeln hatten
und ihre Weise wohlzutun:
da wurden ihm die Toten so bekannt,
als wäre er durch sie mit einem jeden
ganz nah verwandt; er liess die andern reden
und glaubte nicht und nannte jenes Land
das gutgelegene, das immersüsse -
Und tastete es ab für ihre Füsse.
Rainer Maria Rilke
- - - - - - - - T O P - - - - - - - -
The Cremation of Sam McGee
There are strange things done in the midnight sun
By the men who moil for gold;
The Arctic trails have their secret tales
That would make your blood run cold;
The Northern Lights have seen queer sights,
But the queerest they ever did see
Was that night on the marge of Lake Lebarge
cremated Sam McGee.
Now Sam McGee was from Tennessee, where the cotton blooms and blows.
Why he left his home in the South to roam 'round the Pole, God only knows.
He was always cold, but the land of gold seemed to hold him like a spell;
Though he'd often say in his homely way that "he'd sooner live in hell."
On a Christmas Day we were mushing our way over the Dawson trail.
Talk of your cold! through the parka's fold it stabbed like a driven nail.
If our eyes we'd close, then the lashes froze till sometimes we couldn't see;
It wasn't much fun, but the only one to whimper was Sam McGee.
And that very night, as we lay packed tight in our robes beneath the snow,
And the dogs were fed, and the stars o'erhead were dancing heel and toe,
He turned to me, and "Cap," says he, "I'll cash in this trip, I guess;
And if I do, I'm asking that you won't refuse my last request."
Well, he seemed so low that I couldn't say no; then he says with a sort of moan:
"It's the cursèd cold, and it's got right hold, till I'm chilled clean through to the bone.
Yet 'tain't being dead — it's my awful dread of the icy grave that pains;
So I want you to swear that, foul or fair, you'll cremate my last remains."
A pal's last need is a thing to heed, so I swore I would not fail;
And we started on at the streak of dawn; but God! he looked ghastly pale.
He crouched on the sleigh, and he raved all day of his home in Tennessee;
And before nightfall a corpse was all that was left of Sam McGee.
There wasn't a breath in that land of death, and I hurried, horror-driven,
With a corpse half hid that I couldn't get rid, because of a promise given;
It was lashed to the sleigh, and it seemed to say: "You may tax your brawn and brains,
But you promised true, and it's up to you, to cremate those last remains."
Now a promise made is a debt unpaid, and the trail has its own stern code.
In the days to come, though my lips were dumb, in my heart how I cursed that load.
In the long, long night, by the lone firelight, while the huskies, round in a ring,
Howled out their woes to the homeless snows — Oh God! how I loathed the thing.
And every day that quiet clay seemed to heavy and heavier grow;
And on I went, though the dogs were spent and the grub was getting low;
The trail was bad, and I felt half mad, but I swore I would not give in;
And I'd often sing to the hateful thing, and it hearkened with a grin.
Till I came to the marge of Lake Lebarge, and a derelict there lay;
It was jammed in the ice, but I saw in a trice it was called the "Alice May."
And I looked at it, and I thought a bit, and I looked at my frozen chum;
Then "Here," said I, with a sudden cry, "is my cre-ma-tor-eum."
Some planks I tore from the cabin floor, and I lit the boiler fire;
Some coal I found that was lying around, and I heaped the fuel higher;
The flames just soared, and the furnace roared — such a blaze you seldom see;
And I burrowed a hole in the glowing coal, and I stuffed in Sam McGee.
Then I made a hike, for I didn't like to hear him sizzle so;
And the heavens scowled, and the huskies howled, and the wind began to blow.
It was icy cold, but the hot sweat rolled down my cheeks, and I don't know why;
And the greasy smoke in an inky cloak went streaking down the sky.
I do not know how long in the snow I wrestled with grisly fear;
But the stars came out and they danced about ere again I ventured near;
I was sick with dread, but I bravely said: "I'll just take a peep inside.
I guess he's cooked, and it's time I looked"; ... then the door I opened wide.
And there sat Sam, looking cool and calm, in the heart of the furnace roar;
And he wore a smile you could see a mile, and said: "Please close that door.
It's fine in here, but I greatly fear, you'll let in the cold and storm —
Since I left Plumtree, down in Tennessee, it's the first time I've been warm."
There are strange things done in the midnight sun
By the men who moil for gold;
The Arctic trails have their secret tales
That would make your blood run cold;
The Northern Lights have seen queer sights,
But the queerest they ever did see
Was that night on the marge of Lake Lebarge
cremated Sam McGee.
Robert Service (1874-1958)


The above poem can be found, for example, in:
Service, Robert. The Spell of the Yukon and Other Verses. New York:
Barse & Hopkins Publishers, 1907.
Gross, John, ed. The Oxford Book of Comic Verse. New York:
Oxford University Press, 1995.
- - - - - - - - T O P - - - - - - - -
Eyes Fastened With Pins

How much death works,
No one knows what a long
Day he puts in. The little
Wife always alone
Ironing death's laundry.
The beautiful daughters
Setting death's supper table.
The neighbors playing
Pinochle in the backyard
Or just sitting on the steps
Drinking beer. Death,
Meanwhile, in a strange
Part of town looking for
Someone with a bad cough
But the address somehow wrong,
Even death can't figure it out
Among all the locked doors...
And the rain beginning to fall
Long windy night ahead.
Death with not even a newspaper
To cover his head, not even
A dime to call the one pining away,
Undressing slowly, sleepily,
And stretching naked
On death's side of the bed.

Charles Simic


- - - - - - - - T O P - - - - - - - -
Cat in an Empty apartment
Die – you can't do that to a cat.
Since what can a cat do
In an empty apartment?
Climb the walls?
Rub up against the furniture?
Nothing seems different here,
But nothing is the same.
Nothing has been moved,
But there's more space.
And at nighttime no lamps are lit.
Footsteps on the staircase,
But they're new ones.
The hand that puts fish on the
Saucer
Has changed, too.
Something doesn't start
At its usual time.
Something doesn't happen
As it should.
Someone was always, always
Here,
Then suddenly disappeared
And stubbornly stays
Disappeared.
Every closet has been
Examined.
Every shelf has been
explored.
Excavations under the carpet
Turned up nothing.
A commandment was even
Broken,
Papers scattered everywhere.
What remains to be done.
Just sleep and wait.
Just wait till he turns up,
Just let him show his face.
Will he ever get a lesson
On what not to do to a cat.
Sidle towards him
As if unwilling
And ever so slow
On visibly offended paws,
And no leaps or squeals at
Least to start.
Wislawa Szymborska
Translated by Stanislaw Baranczak and Clare Cavanagh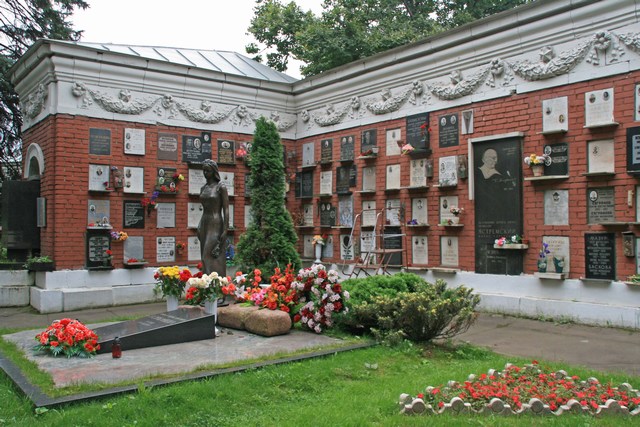 novodevichy cemetery, moscow

- - - - - - - - T O P - - - - - - - -

Peace my heart...
Peace, my heart, let the time for the parting be sweet.
Let it not be a death but completeness.
Let love melt into memory and pain into songs.
Let the flight through the sky end in the folding of the wings over the nest.
Let the last touch of your hands be gentle like the flower of the night.
Stand still, O Beautiful End, for a moment, and say your last words in silence.
I bow to you and hold up my lamp to light you on your way.
Rabindranath Tagore

- - - - - - - - T O P - - - - - - - -
Do Not Go Gentle Into That Good Night
Do not go gentle into that good night,
Old age should burn and rave at close of day;
Rage, rage against the dying of the light.
Though wise men at their end know dark is right,
Because their words had forked no lightning they
Do not go gentle into that good night.
Good men, the last wave by, crying how bright
Their frail deeds might have danced in a green bay,
Rage, rage against the dying of the light.
Wild men who caught and sang the sun in flight,
And learn, too late, they grieved it on its way,
Do not go gentle into that good night.
Grave men, near death, who see with blinding sight
Blind eyes could blaze like meteors and be gay,
Rage, rage against the dying of the light.
And you, my father, there on the sad height,
Curse, bless me now with your fierce tears, I pray.
Do not go gentle into that good night.
Rage, rage against the dying of the light.
Dylan Thomas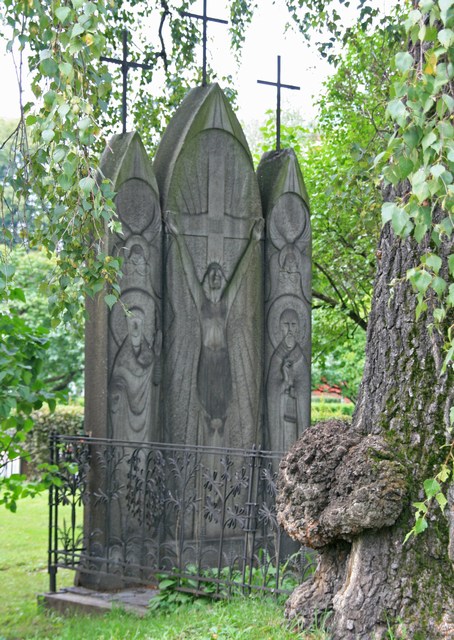 - - - - - - - - T O P - - - - - - - -
One of our primary goals at Cedar Gallery is to provide a public forum for both unknown and established poets to showcase their works. We particularly encourage contributions from unpublished aspiring artists, but are happy to consider all submissions.
Please, send your contributions to: cedars@live.nl
Poems are the property of their respective owners.
Cedar Gallery is a non-profit site. Poems are published on this site purely for educational reasons, for the purpose of information and with good intentions. If the legal representatives ask us to remove a poem from the site, this will be done immediately. We guarantee to fulfil such demands within 72 hours. (Cedar Gallery reserves the right to investigate whether the person submitting that demand is authorized to do so or not).
<![if !vml]>

<![endif]> <![if !vml]>

<![endif]>