Artists: architects
Tadao Ando - Paul Andreu - Antoni Gaudí - Adam Kalkin - Gerrit Rietveld


Tadao Ando was born in Osaka, Japan in 1941. Growing up there as Japan recovered from the war, Tadao Ando was raised by his grandmother and he spent a lot of time outdoors. When he was about twelve years old he started working at a local carpenter. Here he learned how to work with wood. When he was about 18, he started visiting temples, shrines and teahouses in Kyoto.
There is a lot of traditional architecture in Kyoto. Tadao Ando studied architecture mainly by looking at actual building and by reading books. He started with Le Corbusier.
Tadao Ando visited the United States, Europe and Africa in the period 1963-1969. In 1969, he established the firm Tadao Ando Architects & Associates.
He won many awards with his works.
Things that have influenced his work are the Pantheon in Rome and the 'Enso', an emblem of Zen Buddhism. The Enso is a simple circle drawn with a single, broad brush stroke. It's a symbol of infinity, and represents oneness, the 'no-thing', the perfect meditative state, and Satori (enlightenment).
Tadao Ando's first project was Row House in Sumiyoshi, Osaka in 1975, a simple block building.
The Koshino House was completed in two periods (1980-81 and 1983-84) and it is a masterwork. It has all the elements of Tadao Ando's architectonial vocabulary, especially the light.
Tadao Ando's most remarkable works are the religious buildings. He has built a number of Christian chapels and other places of religion and comtemplation. One of the most amazing examples is a 'simple' one: The church of the Light (Baraki, Osaka, 1988-89).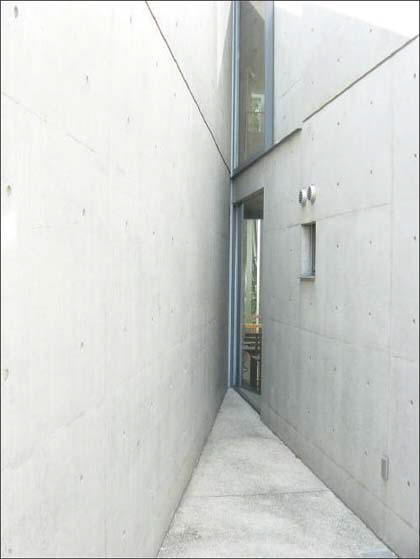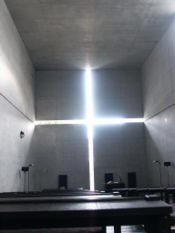 Church of the light
It consists of a rectangular concrete box crossed by a freestanding wall. The bisecting wall obliges the visitor to turn to enter the chapel. Entering a building requires an act of will and an awareness of the architecture.

Awaji is the largest island of the inland sea, set 600km to the south-west of Tokyo opposite Kobe in the bay of Osaka. Here, on a hill above a small port, Tadao Ando built his Water Temple. Following a small footpath, the visitor first sees a long concrete wall, 3m high, with a single opening. Through this door one does not find an entrance, but rather another wall, blank, but carved this time, bordered by a white gravel path. Having walked past this new screen of concrete, the visitor discovers an oval lotus pond, 40m long and 30m wide. In the centre of the pond, a stair way descends to the real entrance of the temple. Below the Lotus Fond, within a circle 18M in diameter, the architect has inscribed a 17.4 m square. Here, within a grid of red wood, a statue of buddha turns its back to the west, where the only opening admits the glow of the setting sun. In this place at sunset the words of Tadao Ando can be more clearly understood: "architecture," Tadao Ando says, "has forgotten that space can be a source of inspiration."
Some other religious buildings are: Water Temple in Hyiogo, Meditation space UNESCO in Paris, etc.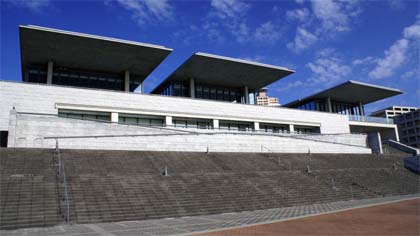 Museum of Art, Hyogo
The Children's museum (1988-1989) is located on a large wooded hillside site overlooking a lake near the city of Himeji. In this mature work of Tadao Ando, the visitor is invited to discover the architecture in relation to its natural setting. The main unit of the museum contains a library, indoor and outdoor theatres, an exhibition gallery, a multipurpose hall and a restaurant. The outdoor theater is located on the rooftop, with a spectacular view of the lake. A stepped waterfall and pool near the building also serve to make a connection between the museum and the scenery of the lake. A path, marked by a long concrete wall leads the visitor away from the main structure toward a workshop complex consisting of a two-story square building.
Along this path Tadao Ando has placed a surprising group of 16 concrete columns in a square grid. In their wooded setting, these 9m high pillars recall that the first columns in architectural history were inspired by trees. Just down the road from the children's museum Tadao Ando designed the Children's Seminar House (1991-92).

One of his works in Europe is situated in Germany. It is the Raketenstation, a museum close to the museuminsel Hombroich.
If you click here, you will find a page with information about the museuminsel Hombroich and the Raketenstation. There is also a video about the Raketenstation.
If the video has ended, there are a number of small pictures to be seen. If you click on these, you can watch videos of more works of Tadao Ando.
- - - - - - - - - - - - - - - - - - - - T O P - - - - - - - - - - - - - -
Paul Andreu was born on 10 July 1938,
in Bordeaux Caudéran. He was former pupil of the Ecole Polytéchnique (graduated 1958), Chief Engineer of Ponts et Chaussées in 1963 and got his Awarded Government's Architect Diploma (DPLG) in 1968.
Paul Andreu is well known for the more than 50 airports in Europe, Asia and Africa which he designed as head architect of the Aéroports de Paris, and for the Grande Arche de la Defense in Paris. For several years Andreu has been increasingly active in the Far East, responsible not only for the airport of Shanghai and the Guangzhou Gymnasium, but also the Canton Sports Centre, the Osaka Maritime Museum and the Shanghai Oriental Arts Centre. The Beijing Opera house, a futuristic dome in Tiananmen Square, is one of Andreu's most spectacular projects and crowning achievements.
National Grand Theater of China


The Beijing National Grand Theatre is a cultural island in the middle of a lake. The building is situated in the heart of Beijing on Chang An Avenue next to the Great Hall of the People and about 500 meters from Tian An Men Square and the Forbidden City.
It is a curved building, with a total surface area of 149,500 square meters, that emerges like an island at the center of a lake. It has a titanium shell.I t is divided in two by a curved glass covering, 100 meters wide at the base. During the day, light flows through the glass roof into the building. At night, the movements within can be seen from outside. The building houses three performance auditoriums – a 2,416-seat opera house, a 2,017 seat concert hall and a 1,040 theatre – as well as art and exhibition spaces opened to a wide public and integrated into the city. The building is connected to the shore by way of a 60-meter long transparent underpass. This entrance leaves the exterior of the building intact, without any openings and mysterious looking, while providing the public with a passage from their daily world to the world of opera, fiction and dreams.
The areas inside that are open to the general public take the form of an urban district with its succession of different spaces: streets, plazas, shopping areas, restaurants, restful spaces and waiting lounges. This public area is highly developed in order to endow the building with its open, popular character.
The opera house is at the center. It is the single most important element in the project, and by the art that is practiced there, it is the one that is most dependent on convention; most mysterious too. The concert hall and the theatre are situated on either side of the opera house. Access to the performance halls must never be brutal. It has to be something gradual, something that requires time and space, according to the architect.


The decision to build the Grand National Theatre in a place of such historical and symbolic import clearly testifies to the importance given to culture in its relationship with history and the contemporary world. In such a context, it was out of the question to make an obscure, less prominent building of lesser importance. But neither could it pretend to be an isolated structure onto itself. So they tried to create a building that shows respect for the buildings around it, each of which marks the history of architecture in China (pictures in the Dutch text), but that demonstrates the vitality of modern architecture by being as bold as they were in their time.
- - - - - - - - - - - - - - - - - - - - T O P - - - - - - - - - - - - - -
Antoni Gaudí (1852-1926)
Gaudí grew up in Reus. After having spent his youth there, he studied architecture in Barcelona. He was not an extremely good student, but compensated for this short coming by being single-minded. After he finished his studies, he began to develop his own personal style. The time was right. All over Europe people were seeking new ideas. After the classical period they wanted to free themselves from the stringent rules of classicism. Nowhere was this more evident than in landscaping. Compared to the linear and unimaginative French gardens, the English landscapes were a breath of fresh air.
Everything that carried promises of the Middle Ages became popular. Rediscovery of the Gothic age (end of the Middle Ages) blossomed all over Europe. Geometric expression and linearity gave way to flowing ornamental lines and the freedom of expression, that were so characteristic of Jugendstil.
In 1853, the English art theorist John Ruskin wrote: "The ornament is the origin of architecture".
Gaudi was strongly influenced by both the new trend in architectural freedom, and the Middle Ages.
Renewed interest in the Middle Ages, in the last decades of the 19th century, plus the rediscovery of the Gothic age, were not only a matter of art to the Catalans, but also a political signal. Gaudí was an enthusiastic nationalist. He shared an emotional bond with his people. He was interested in the great buildings, cathedrals and Moresque architecture of his native country, and they inspired him. He also devoted himself to improving the circumstances of labourers. His first big building project was intended to house young labourers in a factory. Although the final result was only a factory, it gained him recognition. The project was shown at the world exhibition in Paris in 1878, and resulted in a life long friendship with Eusebi Güell, the person for whom Gaudí would ultimately design several buildings.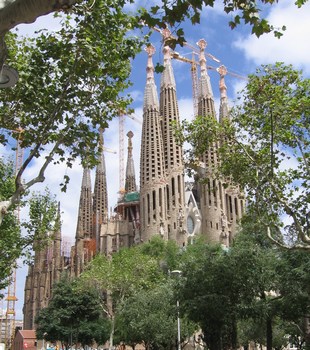 Sagrada Familia

Gaudí got his first important order, before he became famous. He was commissioned to build a church in honour of the holy family (Sagrada Familia). This building was intended as a protest against increasing industrialization and the erosion of traditional values. Another architect, Francisco de Paula de Villar started the project, and when he withdrew, in 1883, Gaudí took it over.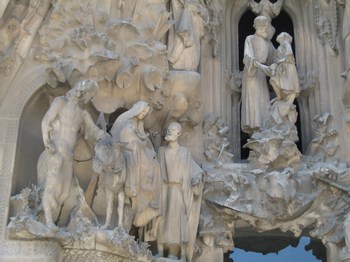 Sagrada Familia
During these years he was also awarded two other projects, one of which was Vicens house. Here Gaudí combined rough natural stone with ceramic tiles. In both these projects the Moresque influence is unmistakable.
It is probable that Gaudí's friendship with Güell had a majour impact on his work. We know that he met there with the first expressions of Jugendstil, while he listened to the poems of the pre-rafaelites. These propagated a return to the Middle Ages and they wished to get lost of severe classicistic rules by means of rich ornamentation. Especially Dante Gabriel Rossetti (1828 – 1882), an English poet and artist had a lot of influence on Gaudí's work. (for paintings of Rossetti, click http://www.liverpoolmuseums.org.uk/walker/exhibitions/rossetti/index.asp.)

Gaudí's first great project for Güell was a mansion for the industrialist in Barcelona, in 1886.
Here, his unique style can be clearly seen for the first time. Instead of starting with a set of blueprints, his buildings are a work in progress. Like plants in nature change during their growth, so do Gaudí's buildings. Common elements in his style are: numerous metal ornaments, as in Jugendstil, or pointed arches that catch the eye, reminding one of the Gothic.
A description of all the buildings of Gaudí would be beyond the scope of this article. An example of his genius though, can be seen in his inspired interpretation of an idea provided to him by his good friend Güell.
In England Güell had become enchanted with garden architecture. Wishing to develop something similar in Barcelona, he proposed that Gaudí create a garden city which would be in harmony with its landscape. The result was Park Güell, with some villas and a large terrace. The completion of this work was never realized, just like that of the Sagrada Familia.
Gaudí's vision for architecture ran along the same lines as the famous art critic, author and poet John Ruskin (1819-1900), whose contention was that architecture should be a synthesis of the arts; the architect shoud be not ónly an architect, but a painter and sculptor as well.
Ruskin's essays on art and architecture strongly influenced artists of his time. A vibrant interpretation of Ruskin's concept can be seen in the multi-coloured bench, decorated with ceramic tiles, that writhes like a snake over a large terrace, in Park Güell. An appliance, but also something delightful, as a colourful painting of the other famous Catalan, Joan Miró (1893-1983)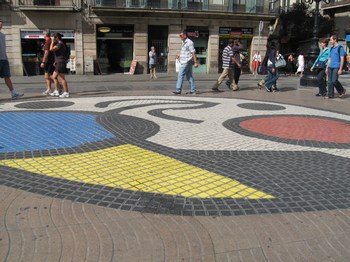 Miro, in Las Ramblas
(For work of Miró, click
http://www.insecula.com/us/contact/A009096_oeuvre_1.html )
Gaudí starts to design two living complexes. In the Passeig de Gràcia he builds a new living house, Casa Battlô, between 1904 and 1906. It's front is greenish blue, while the supporting pillars and roof are reminiscent of the feet of a mammoth and the scales of a dragon. It has marvelous curved balconies, that from a distance appear to be masks with empty eyes.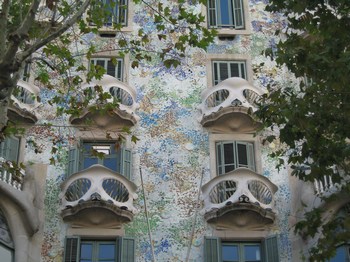 Casa Battlô
Straight lines and right angles are lacking, contrary to the adjoining premise, which roof reminds of an austere Dutch step-roofed house. It's difficult to imagine, that this fairy-tale like structure, was once an older house, renovated to produce such a work of art.
The second project, on the same street, Casa Milà is now better known by the nickname La Pedrera, the quarry. In these last two worldly buildings Gaudi's freedom from the constraints of traditional building forms, and his enormous imagination are manifest. In Casa Milà he constructed round inner court yards that become broader, wider toward the top. The building exists both inside and outside of curves and roundings, which at the roof form a kind of landscape with fantasy chimneys and air shafts, in the shape of sculptures.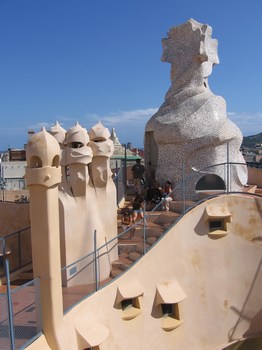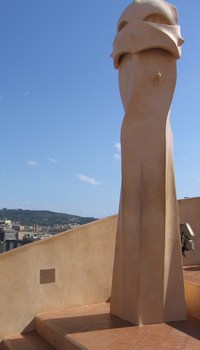 Chimneys Casa Milà
At the same time Gaudí is still at work at La Sagrada Familia.
From 1914 onward he refuses new projects and devotes himself exclusively to the church. Much has been written about the design and the building of the church. The church is a synthesis of Gaudí's creative art.

To conclude a quotation of Gaudí.
"Would you like to know where I found my example?" he once asked a visitor to his workshop. "In a real tree; it bears its branches and those the twigs and these the leaves. And each part grows in harmony, because the artist God has made it."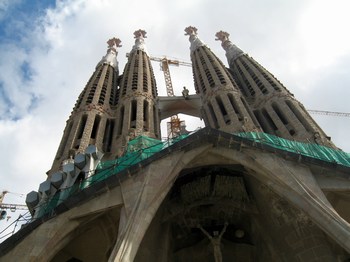 Sagrada Familia
More pictures on the Dutch page, click here.
- - - - - - - - - - - - - - - - - - - - T O P - - - - - - - - - - - - - -
Radical architect Adam Kalkin designed something called Quik House, a kit home built around five recycled shipping containers—"the chicest weekend retreat one can buy for $99,000," according to Vogue magazine. Winner of the P/A Young Architects Award in 1990, Kalkin created a customized version of the Quik House for an exhibition at Deitch Projects' Wooster Street gallery in SoHo. "Suburban House Kit" featured skylights, mahogany sliding doors, a stainless-steel kitchen, custom-designed carpeting, and a stainless-steel hearth.
Quik House is all the rage among the design elite (fashion designer Cynthia Rowley and interior designer Albert Hadley are among his clients). But Kalkin envisions another use for his Quik House, as well. He is currently collaborating with the Pingry School on a year-long project to build a disaster relief housing prototype on the school's Martinville, New Jersey, campus. "Our objective is to create an inexpensive, quick, and environmentally sustainable architectural system that could be used by millions of inadequately housed people around the world," says Kalkin. Students will work with Kalkin and faculty in the fine arts, computer science, and biology to address economic, agricultural, energy, health, and social issues relevant to disaster relief in addition to participating in the construction of the prototype. "This project will benefit the student community at Pingry," Kalkin says, "but more importantly it will contribute to the discourse surrounding the issue of adequate housing throughout the world."
Shipping container prefab houses certainly aren't anything new, but the latest incarnation from architect/artist Adam Kalkin is pretty darn slick. One of the examples to mention is The Push Button House. It is exactly that: it starts as a shipping container until a button is pushed, and it turns into a house. Motorized walls unfold like a flower, revealing a fully functional house, complete with refined, understated furnishings. Kalkin fancies himself a fusion of artist and architect: "I'm not into the container per se. It's what I can do with it emotionally; transforming a commodity into poetry."
For pictures click on the link below:
http://www.architectureandhygiene.com/12conHouse/12con_main.html
- - - - - - - - - - - - - - - - - - - - T O P - - - - - - - - - - - - - -
Gerrit Thomas Rietveld (24 June 1888–25 June 1964) was a Dutch furniture designer and architect. One of the principal members of the Dutch artistic movement called De Stijl, Rietveld is famous for his Red and Blue Chair and for the Rietveld Schröder House, which is a UNESCO World Heritage Site.
Four pictures of his Rietveld Schröder House you can find here: http://www.cedargallery.nl/nlarchitectuur_woningen.htm
Gerrit Rietveld concisely summed up his vision of architecture as follows: 'Empty space and light determine the value of architecture in, around and between the boundaries, which are there only to define the space.'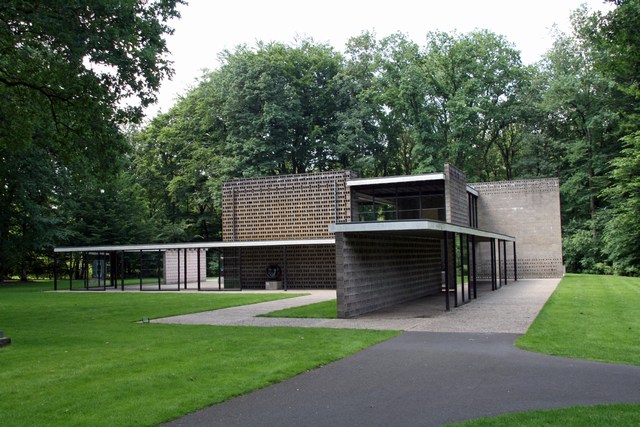 Rietveld-paviljoen, 2010
design 1954-1955
Concrete elements, wood, steel, can and glass
The Rietveld Pavilion (Hoge Veluwe, Holland) epitomises this approach to architecture as spatial art, with which Rietveld amazed the international worlds of art and architecture.
Before his open and elegant building was rebuilt in the sculpture garden in 1964-1965, it had enjoyed a short but legendary existence as an exhibition space for small sculptures at the Sonsbeek exhibition. in Arnhem in 1955.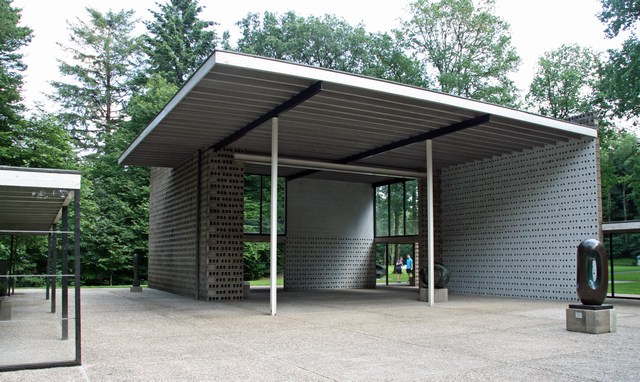 The Sonsbeek Pavilion, as it was then known, was intended to be a temporary structure and was dismantled after the exhibition. Thanks to a private initiative the building was reconstructed ten years later in the sculpture garden of the Hoge Veluwe. In this sculpture garden you can also find works of Sol LeWitt, Richard Serra, Chris Booth, Auguste Rodin, and others.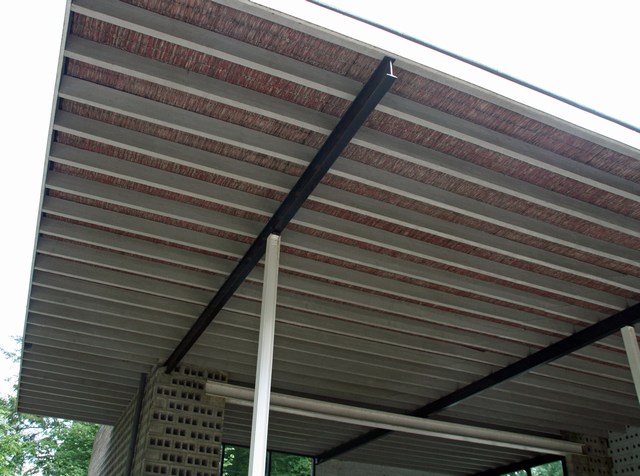 Rietveld supervised the rebuilding but died a few months before the opening. The pavilion that now stands in the sculpture garden is the second version of the Rietveld Pavilion after a thorough restoration in 2010.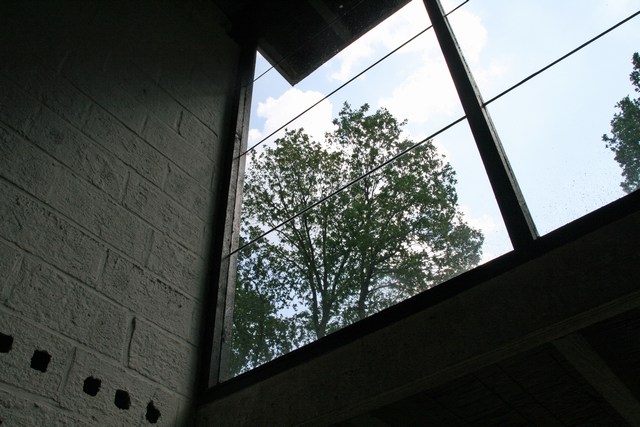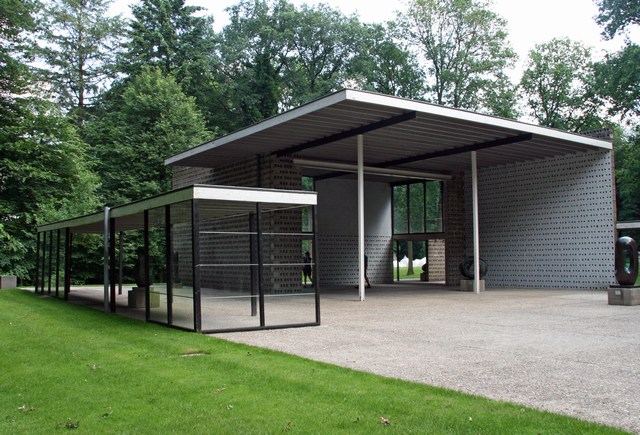 - - - - - - - - - - - - - - - - - - - - T O P - - - - - - - - - - - - - -