<![if !vml]>

<![endif]>
Here you can find information about (life and) work of famous and less well-known sculptors. It gives you an impressions of their work and often you will also find the names of museums in which you can admire examples of the work of the artists.

You are also invited to have a look at this Dutch section of Cedar Gallery:
http://www.cedargallery.nl/nlbeeldentuin.htm for many more beautiful and interesting sculptures.

Almost all of the pictures are taken by: C. & A. Wagenvoorde ©PAM PHOTOS Delden
Aly Wagenvoorde, 2012
(Photo corner left: Tree of Life, Sagrada Familia, Barcelona)
©.All Rights Reserved. NO!- Neither Facebook and Instagram nor any other visitor may use my name or any of my content without my permission.
You can contact me at cedars@live.nl
---
SCULPTORS:

Chris Booth - Tom Claassen - Anthony Gormley - Dan Graham - Anish Kapoor - Richard Long - Marisol - Andreas Rimkus - Auguste Rodin - Ulrich Rückriem
---
Tom Claassen was born in the Netherlands, in Heerlen, 1964.
He is well-known for his art in public space. Many people who visited Holland must have seen the elephants along the highway A6, near Almere.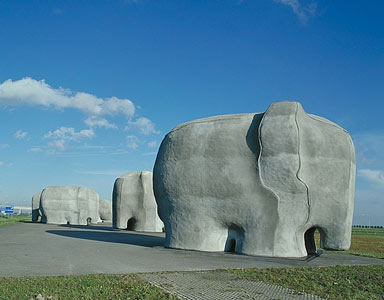 Visitors of museum the Kunsthal in Rotterdam probably saw the bronze rabbits near the building. And who did not see the two huge men at Schiphol Airport?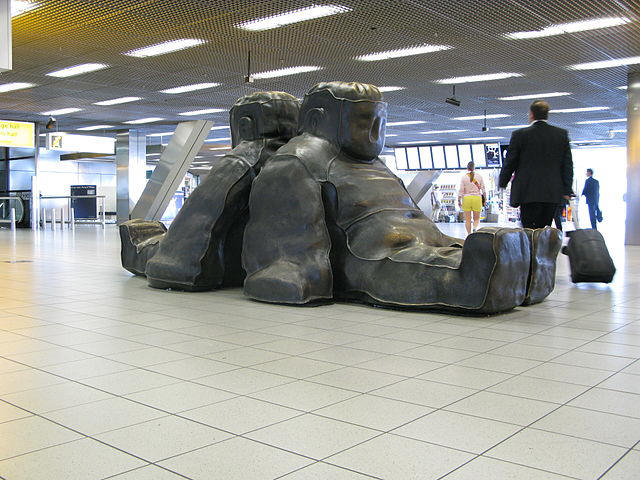 EDUCATION / AWARDS
1994
Charlotte Köhler Award
1993
Aanmoedigingsprijs, Stichting Amsterdams Fonds voor de Kunst, Amsterdam
1992
Prix de Rome (nominee)
1984-89
St. Joost, Academy of Fine Arts and Design, Breda


Rocky lumps
SOLO EXHIBITIONS since 2000
2007
Sabic Europe, Sittard, The Netherlands
2006
Tom Claassen, Beelden, Kunstfort, Vijfhuizen, The Netherlands
2005
'Tom Claassen', Rosarium, Winschoten
2004
Galerie Fons Welters, Amsterdam
2003
'Maliebeeld', Den Haag
2002
Galerie Olaf Stüber, Berlin, Germany
2001
Galerie Fons Welters, Amsterdam
'Hülle', Museum Kranenburg, Germany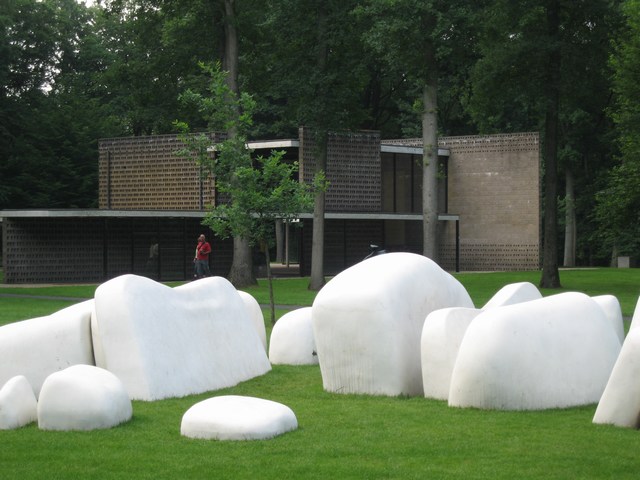 More interesting information about Tom Claassen and his work is welcome…

- - - - - - - - - - - - - - - - - - - - - - T O P - - - - - - - - - - - - - - -
Anthony Gormley
Anthony Gormley (1950), formally known as Sir Antony Mark David Gormley, is a famous British sculptor, whose works are spread all around the world.
Gormley's career began with a solo exhibition at the Whitechapel Art Gallery (London) in 1981.
Almost all his work takes the human body as its subject. Many of his works are based on moulds taken from his own body, or 'the closest experience of matter that I will ever have and the only part of the material world that I live inside.'
The Angel of the North is a contemporary sculpture, designed by Antony Gormley, located in Gateshead, Tyne and Wear, England.
Built in 1998, the Angel of the North is a majestic, giant figure of an angel placed in Gateshead, near the A1. It is huge and dominatest he skyline.
Completed in 1998, it is a steel sculpture of an angel, 20 metres (66 ft) tall, with wings measuring 54 metres (177 ft) across. The wings are angled 3.5 degrees forward to create, according to Gormley, 'a sense of embrace'. The angel, like much of Gormley's other work, is based on a cast of his own body.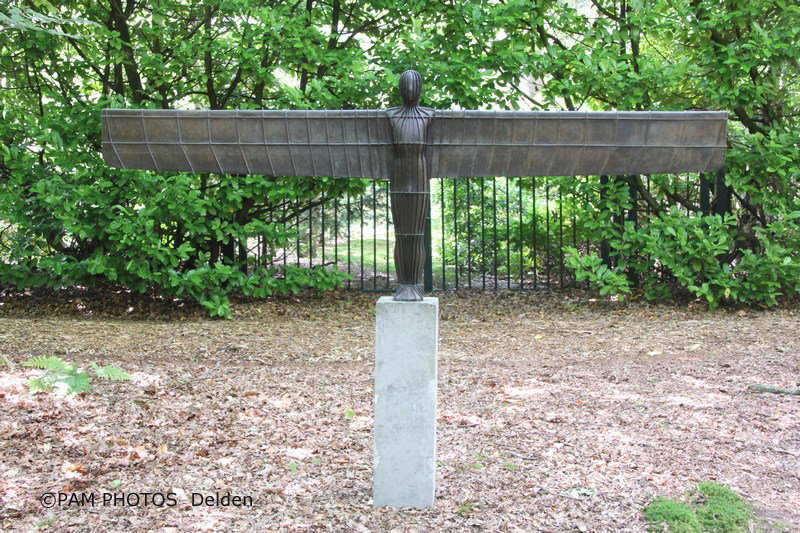 What I show here is a maquette of Angel of the North.
Angel of the North, Sculpture Garden Clingenbosch (Holland)
Brons – maquette 1995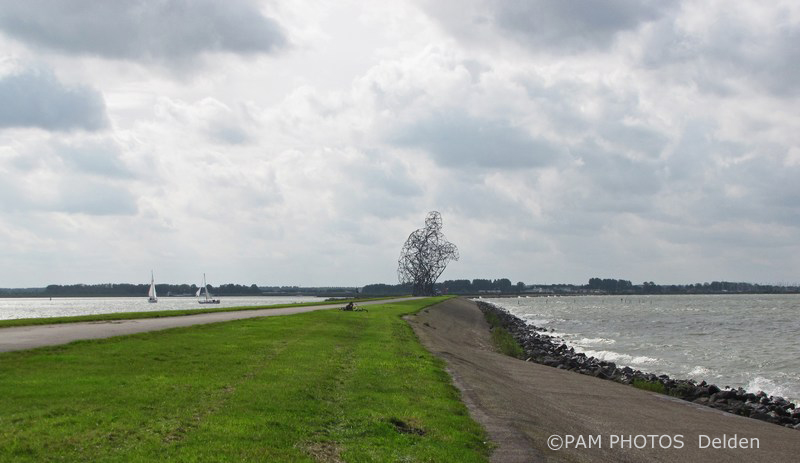 Exposure
Balancing on the border of land and water, this tall, squatted man looks out over the Markermeer with the polder behind him and the ever changing silhouet of Lelystad at the background. In the open landscape this human figure is a landmark in the Flevopolder.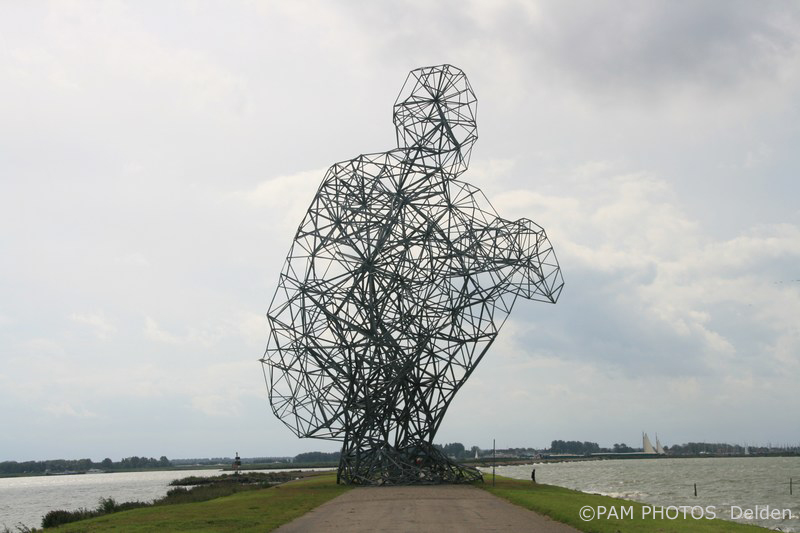 The figure is isolated, as there are no other constructions around it. This isolation makes it difficult to estimate the Exposure's size. It is 25 or 26 metres high (about 5 metres taller than The Angel of the North).
Fascinated by the malleability of the new polder, Gormley was inspired by the virgin landscape for this gigantic artwork.
Driving through the polder, Gormley discovered a landscape with a rhythm of straight lines of canals, fields and windmills. The high-voltage pylons were the source of inspiration for Exposure.
In sunny weather the blue sky reflects in the steel bars and at sunrise and sunset the image becomes a dark silhouette against the glowing horizon.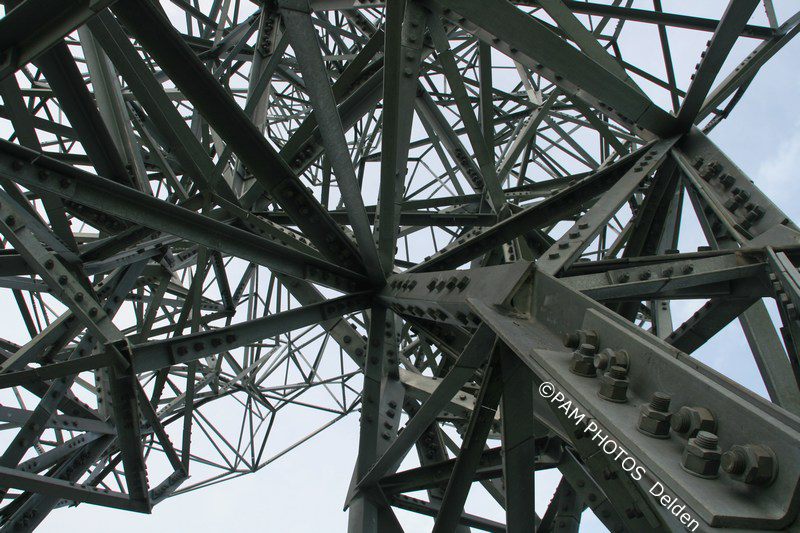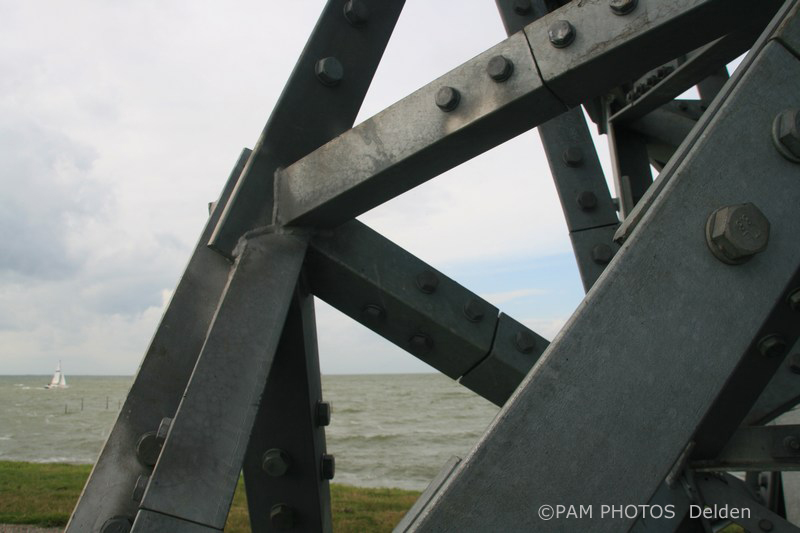 From a distance Exposure can be recognized as a transparent human form. The closer you get to the work, the more abstract and impressive it becomes. Looking up from underneath the enormous construction, only steel columns are visible and the human form can no longer be found.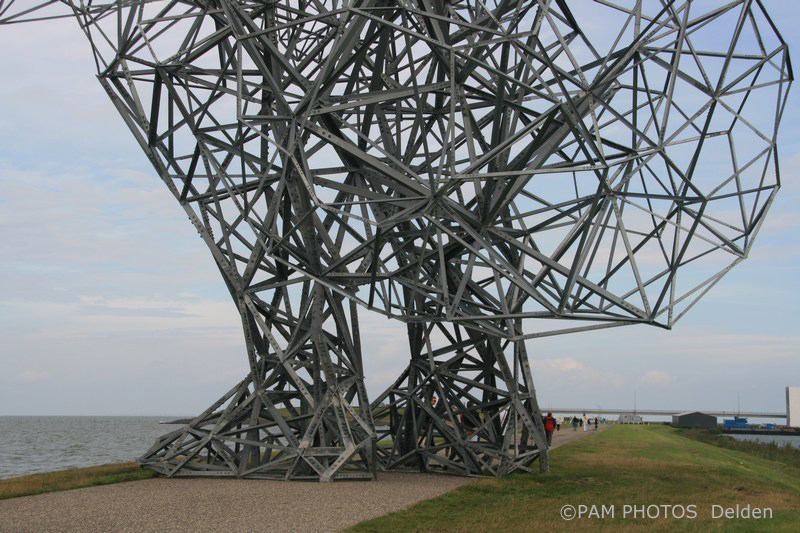 Exposure, detail
- - - - - - - - - - - - - - - - - - - - - - T O P - - - - - - - - - - - - - - -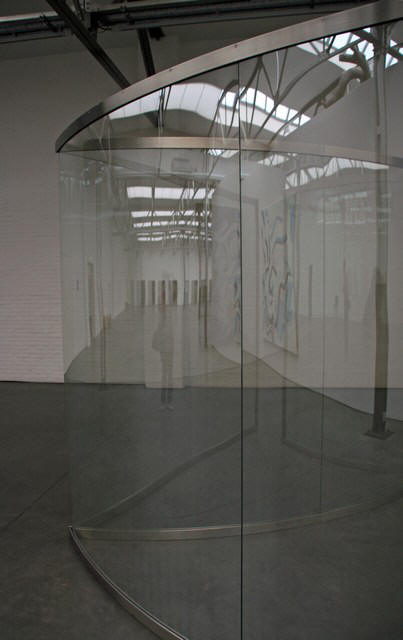 Pavilion 2005
Born in Urbana, Illinois in 1942, Dan Graham grew up in New Jersey.
In 1964 he began directing the John Daniels Gallery in New York, where he put on Sol LeWitt's first one-man show, and in groups shows, exhibited works of Donald Judd, Dan Flavin and Robert Smithson. Like these artists, Graham considered himself a writer-artist, publishing essays and reviews on rock music, Eisenhower's paintings, and Dean Martin's television show. His earliest work dealt with the magazine page, predating but often associated with Conceptual art. His work often focuses on cultural phenomena, and incorporates photography, video, performance, glass and mirror structures. He has exhibited and realized commissions all around the world, including participation at numerous international group exhibitions such as the Venice Biennale (1976, 2003, 2004 and 2005) and documenta V, VI, VII, IX and X (1972, 1977, 1982, 1992 and 1997). Major retrospectives of his oeuvre have been staged in Europe (2001–02) and in the U.S. (2009), showing at the Museum of Contemporary Art, Los Angeles; Whitney Museum of American Art, New York and the Walker Art Center, Minneapolis. Dan Graham lives and works in New York.
Graham began his art career in 1964, at the age of 22, when he founded the John Daniels Gallery in New York. He worked there until 1965, when he started creating his own conceptual pieces. During his time at the gallery, he exhibited works by minimalist artists such as Carl André, Sol LeWitt, Donald Judd, Robert Smithson, and Dan Flavin.
In Sarah Lehrer-Graiwer's publication Pep Talk in 2009, Graham gave "Artists' and Architects' Work That Influenced Me" (in alphabetical order): Michael Asher, Larry Bell, Flavin, Itsuko Hasegawa, LeWitt, Roy Lichtenstein, Robert Mangold, Bruce Nauman, Claes Oldenburg, Kazuo Shinohara, Michael Snow, Mies van der Rohe and Robert Venturi.
Dan Graham's artworks are said to blur the line between sculpture and architecture. Since the 1980s, Graham has been working on an ongoing series of freestanding, sculptural objects called pavilions.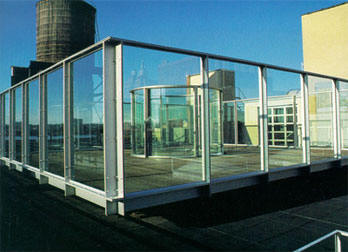 Rooftop Urban Park
He makes most of his sculptures with industrial materials, such as stainless steel and two-way mirrored glass. Due to their transparent character, they generally merge and interact with their surroundings. Among his best-known works is Rooftop Urban Park, a project located on the roof of the DIA Center for the Arts in New York City. Here in the Netherlands, his work titled Two Adjacent Pavilions stands on the lawn outside the entrance to the Kröller-Müller Museum.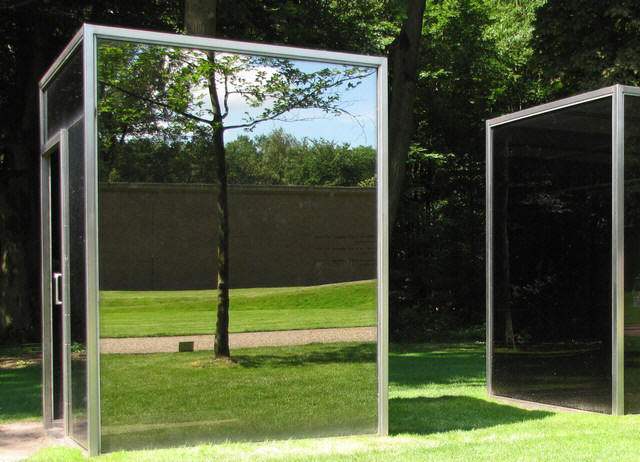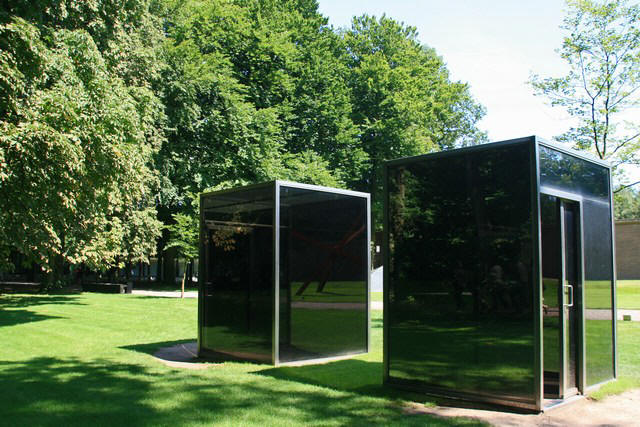 Two Adjacent Pavilions, ©PAM PHOTOS Delden

Light reflected off the glass, as well as the changing reflections of people and things surrounding the work, determine the ever-changing character of the sculptures. They appear to be solid and, at the same time, dissolve in their environment. This play of perception can be found in much of Graham's other work. One of his most ambitious projects has been the Children's Pavilion, from 1989, on which he worked together with Jeff Wall.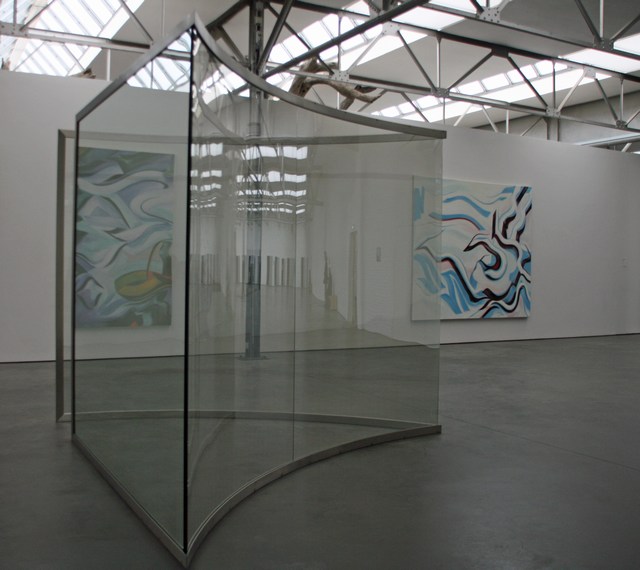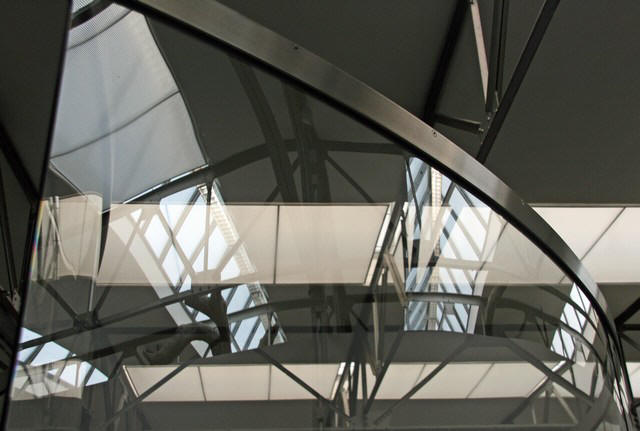 Text sources:
Wikipedia http://en.wikipedia.org/wiki/Dan_Graham
De Pont (museum), Tilburg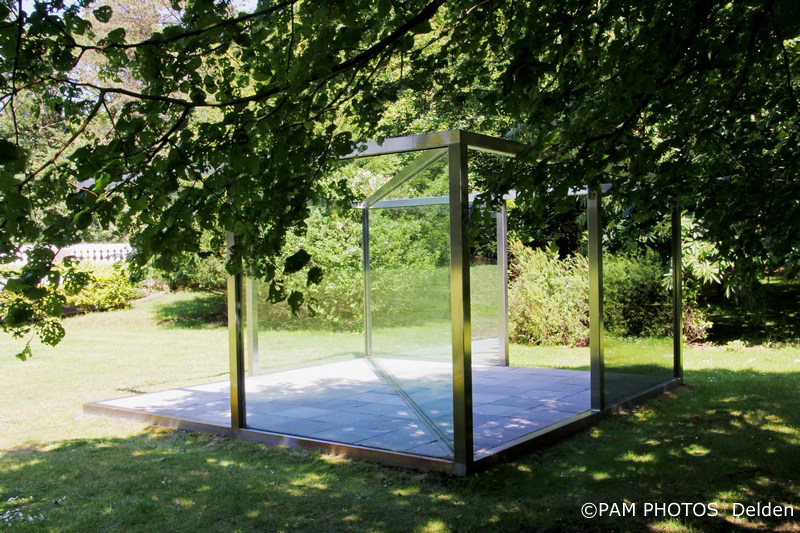 Dan Graham - Pavilion III for Joop, 2003
Sculpture Garden Clingenbosch, Holland

Stainless steel, glass, slate

Pictures: ©PAM PHOTOS Delden
- - - - - - - - - - - - - - - - - - - - - - T O P - - - - - - - - - - - - - - -
Anish Kapoor is an Indian-born British sculptor. He was born in Bombay, to a Jewish mother whose family immigrated from Baghdad when she was a few months old. "She had an Indian-Jewish upbringing. Her father, his grandfather, was the cantor in the synagogue in Pune. At the time, the Jewish community in Mumbai was quite large, mostly consisting of Baghdadi Jews." His father, from a Hindu Punjabi family, was a hydrographer in the Indian Navy.
Kapoor spent his early years first in Mumbai, and then in Dehra Dun at the Doon School. In 1971-1973, he traveled to Israel with one of his two brothers, initially living on a kibbutz. He began to study electrical engineering, but had trouble with mathematics and quit after six months. In Israel, he decided to become an artist.
Kapoor has lived and worked in London since the early 1970s when he moved to study art, first at the Hornsey College of Art and later at the Chelsea School of Art and Design.
Anish Kapoor became known in the 1980s for his geometric or biomorphic sculptures made using simple materials such as granite, limestone, marble, pigment and plaster. These early sculptures are frequently simple, curved forms, usually monochromatic and brightly colored, using powder pigment to define and permeate the form.
"While making the pigment pieces, it occurred to me that they all form themselves out of each other. So I decided to give them a generic title, A Thousand Names, implying infinity, a thousand being a symbolic number. The powder works sat on the floor or projected from the wall. The powder on the floor defines the surface of the floor and the objects appear to be partially submerged, like icebergs. That seems to fit inside the idea of something being partially there."
Such use of pigment characterized his first high profile exhibit as part of the New Sculpture exhibition at the Hayward Gallery London in 1978.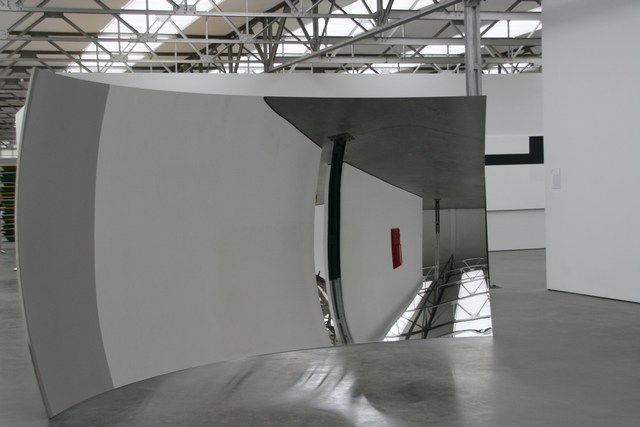 Kapoor represented Britain in the XLIV Venice Biennale in 1990, when he was awarded the Premio Duemila Prize. In 1991 he received the Turner Prize and in 2002 received the Unilever Commission for the Turbine Hall at Tate Modern.
Notable public sculptures include Cloud Gate, Millennium Park, Chicago, Sky Mirror exhibited at the Rockefeller Center, New York in 2006 and Kensington Gardens in 2010, Temenos, at Middlehaven, Middlesbrough, Leviathan at the Grand Palais in 2011 and ArcelorMittal Orbit commissioned as a permanent artwork for the Olympic Park and completed in 2012.
Anish Kapoor was elected a Royal Academician in 1999 and in 2003 he was made a Commander of the British Empire. In 2011 he was made a Commander in the French Ordre des Arts et des Lettres and was awarded the Japanese Praemium Imperiale.

Descent into Limbo 1992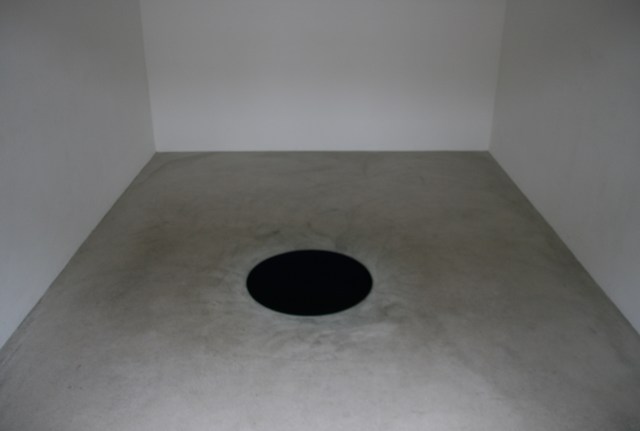 In the center of this room's floor lies a black circle, about sixty centimeters in diameter: it immediately draws our attention but does give rise to questions at the same time. Are we looking at a flat surface or at unfathomable depths? Doubt as to what we are observing causes us to approach it with some caution. Only with our eyes can we attempt to explore the work.
Gradually there grows an awareness that what we see is a black hole. The black 'disc' is, in reality, a dark globular cavity beneath the floor – so dark that we no longer are able to discern any perspective or space in it.
Anish Kapoor has achieved this effect by lining the entire cavity with dark-blue pigment. This pure pigment absorbs all light and thereby prevents us from perceiving depth. What remains is the illusory image of a flat, black circle.
With the title Descent into Limbo, the artist aptly tells us that our sense of adventure in the experience of his work mainly lies with the very act of observation. By his work we are visually misled and are made aware that we should not always believe our eyes.

Untitled 1994-1995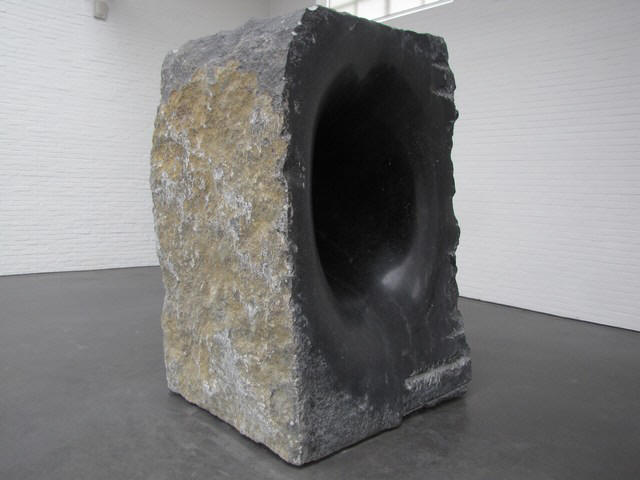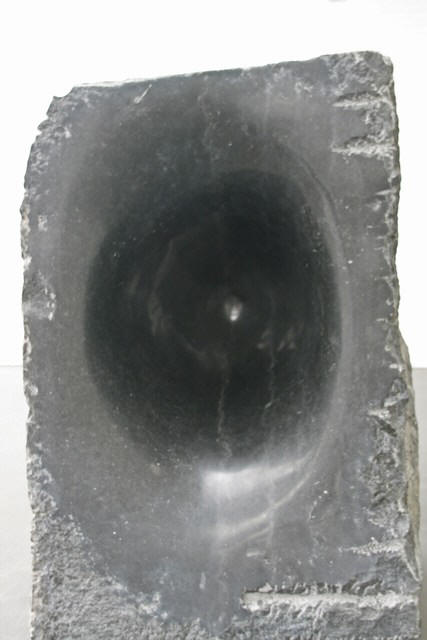 Various Works by Anish Kapoor can be seen in De Pont's collection (Tilburg, Holland).
Unlike the works that he has made with pigments, this work has a more robust and traditional appearance. The enormous block of limestone holds a number of remarkable oppositions. Its cubical, angular exterior shape contrasts with its large, round cavity. The same can be said with regard to its rough outer surface as opposed to its smoothly polished inner one, where the dark stone mirrors reflected light.

And even in the reflection of that light we see the world in reverse: top becomes bottom, left becomes right. The massive sculpture seems to pivot around a small and elusive patch of light. With a stone of about 6000 kilos, Anish Kapoor thus gives us an intangible and enigmatic image of the world upside down.

Vertigo 2008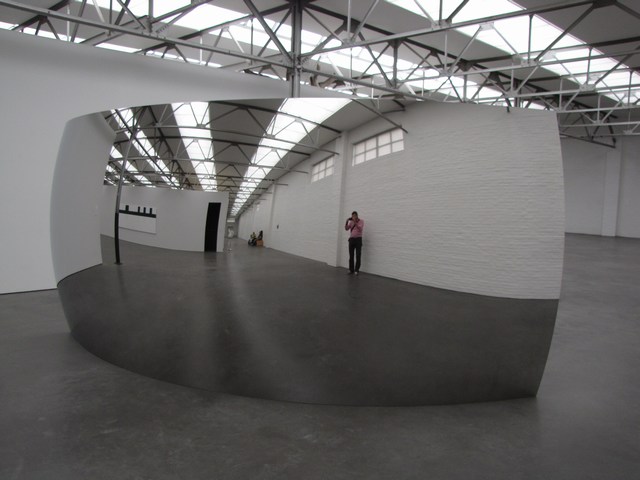 Stainless steel - ©PAM PHOTOS Delden
It takes time to understand how the surfaces of this shiny sculpture reflect their surroundings. The images are flipped upside down, and this plays games with the viewer and his or her visual perception. Alfred Hitchcock's 1958 psychological thriller Vertigo contains a famous scene in which James Stewart becomes dizzy and loses his balance at the top of a high bell tower. The ground seems to loom up towards him and he desperately tries to keep his balance. Hitchcock zooms in and out and focuses back and forth with the camera to create a sense of disorientation and danger in the shot. Kapoor has discussed the cinematic nature of his work in a similar vein.
Kapoor's best known public artwork Cloud Gate (2004), in Chicago, (picture and info: http://www.billslater.com/cloudgate/ ) uses the same material as Vertigo. It is possible to walk under it and be completely engulfed by the piece. It acts as an enormous mirror in which the surrounding park and audience can see themselves It disorientates the viewer and is affected by Chicago's ever-changing lights and weather conditions.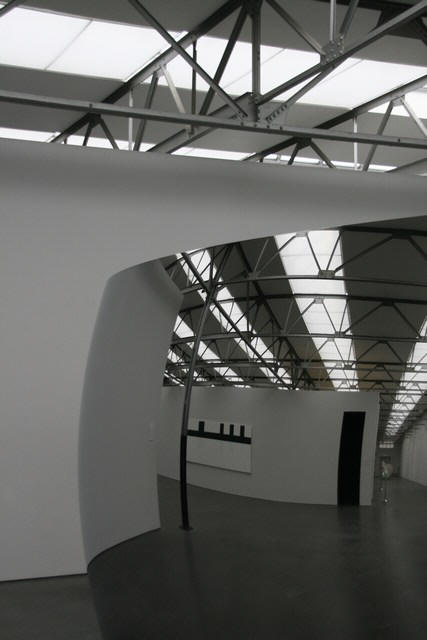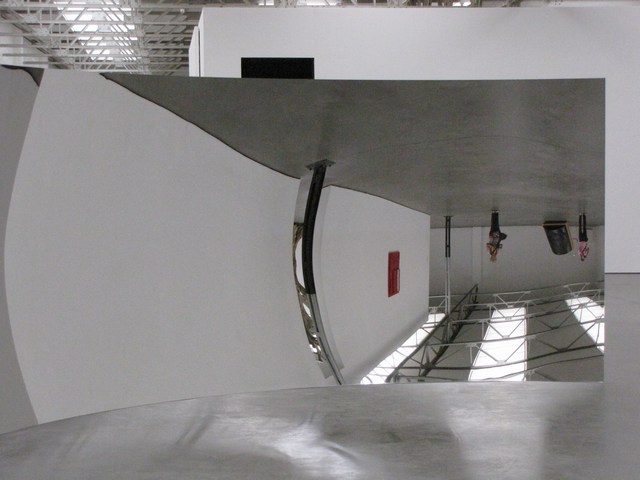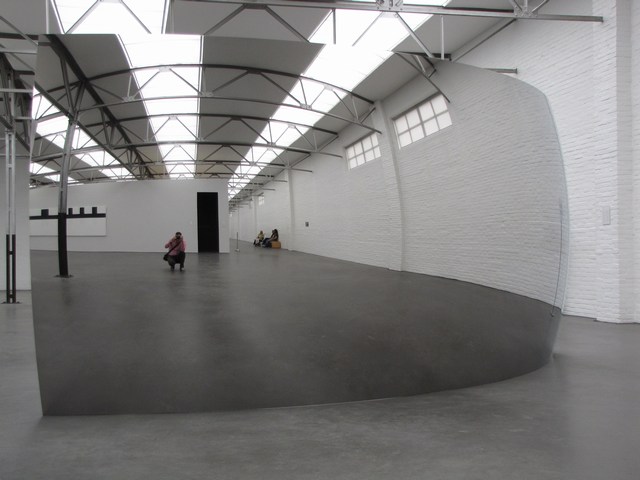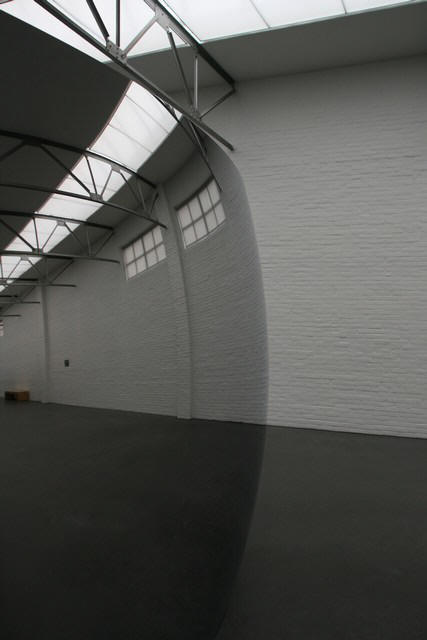 Text sources:
Wikipedia
De Pont (museum), Tilburg
Pictures: ©PAM PHOTOS Delden
(c and a wagenvoorde)
- - - - - - - - - - - - - - - - - - - - - - T O P - - - - - - - - - - - - - - -
The British artist Richard Long has been walking the world for over half a century. Along the way he leaves 'sculptures', made of stone or wood or sand.
Walks
Richard Long (Bristol, 1945) was the first artist who made art when he was walking, together with his fellow student Hamish Fulton in the late 1960s.
It started in 1967 with the now iconic artwork A Line Made by Walking, for which the then 22-year-old art student took the train from London to the Surrey countryside. When he got out of the train, he spotted an indefinable piece of grassland. There he started walking back and forth, until after about twenty minutes a straight path of flat-topped grass had emerged. Long took some pictures of it, then took the next train back, and had the roll developed at a local drugstore.
It was the starting point of an endless series of walks that took him from the South Pole to Alaska and from the Himalayas to Australia. During those trips, he sometimes makes art in the landscape on the spot, by rolling stones in a circle, or sliding branches into a straight line and capturing them in a photograph. Sometimes the result of a walk is merely its austere description, applied to the museum wall in a few words.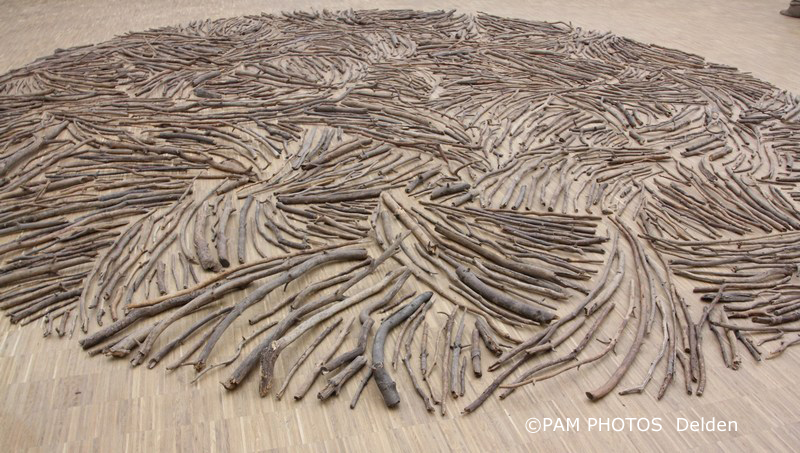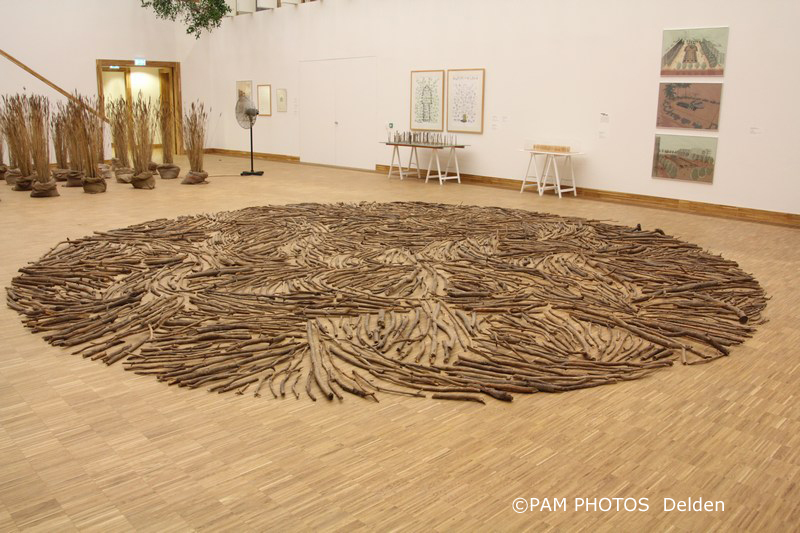 Richard Long, Wood Circle 1977
700 cm diameter, wood
Van Abbemuseum, Eindhoven
The Sixties
In those turbulent sixties, in Europe the artists of Arte Povera started to make art of found materials.
In America, land art artists such as Robert Smithson and Michael Heizer went into the desert to make art.
Minimalists such as Robert Morris and Carl Andre built their geometric sculptures without a base directly on the museum floor.
And what did Long? His work had elements of performance art and conceptual art, but was more playful and poetic. And very minimalist.
In London Long studied together with the Dutch artist Jan Dibbets and the British couple Gilbert & George. They were the first who saw the pictures of Richard Long.
Land Art
The art of Long is called Land Art, but Long himself has some doubts about that label.
Land art is more an American phenomenon. Those artworks are made with machines. So an artist needs to have a lot of money to realize his work of art. Long is a British artist, who works in nature. That makes a difference.
And Long likes to keep the location secret. He is not interested in creating monuments, or places, where people can come to watch his art. Photography gives him the freedom to create art in complete solitude, on top of a mountain or in the middle of the Sahara.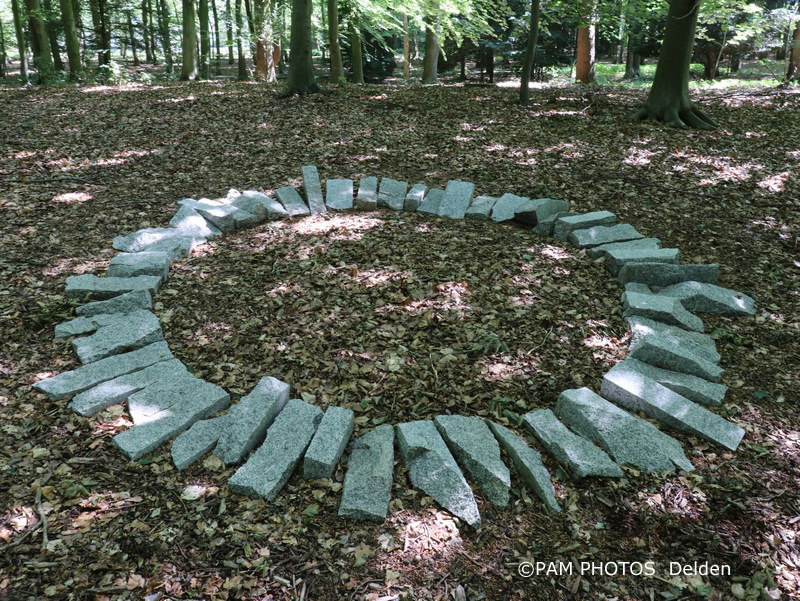 Richard Long, Merrivale Ring 1994
Dartmoor granite
Sculpture Garden Clingenbosch
Dartmoor
As a child, Long often took long walks with his parents. His grandparents lived on the edge of the Dartmoor Nature Park, an area full of stone circles and megaliths. The bare, rocky landscape, where the cattle is surrounded by walls of stacked stones, has deeply influenced him. The Merrivale ceremonial complex is probably one of the second most important ritual landscapes on Dartmoor. The curious ones amongst you will find many references to it in many books.
- - - - - - - - - - - - - - - - - - - - - - T O P - - - - - - - - - - - - - - -
Marisol Escobar is a French sculptor of Venezuelan descent. After studying painting at the Ecole des Beaux-Arts, Paris (1949) and then at the Art Students League (1950) she moved to New York. There she continued her study at the Hans Hofmann School (1951–4), and she developed an interest in Mexican, Pre-Columbian and American folk art . She turned her attention to sculpture. In her early work she fashioned small, animated figurines out of bronze, terracotta and wood, often placing these pieces in compartmentalized, glass-fronted boxes.
Her sculptures made of metal and wood which were strongly influenced by precolombian art, were exhibited in 1958 by Leo Castelli in New York.
Marisol's religious beliefs might very well have had a great deal of influence upon her tendencies toward and character for the arts. She began practice in painting and drawing during her teen years. It was during these years that she admitted self-inflicted acts of penance upon herself (Westmacott, p. 20 ). She walked on her knees until they bled, kept silent for long periods and tied ropes tightly around her waist in emulation of saints and martyrs.
From 1951 to 1954 she took courses at the New School for Social Research while studying under her most influential mentor, the so-called 'dean of Abstract Expressionism,' Hans Hofmann. During this period, Marisol was introduced to New York's Cedar Tavern, the place to be for many of the leading Abstract Expressionists, with whom Marisol became friends, particularly with Willem de Kooning.
It was in the following decade of the 1960s that Marisol began to be influenced by pop artists such as Andy Warhol and Roy Lichtenstein. She even appeared in two movies by Andy Warhol, "The Kiss" and "13 Most Beautiful Girls". One of her best-known works from this period is The Party, a life-size group installation of figures at the Toledo Museum of Art.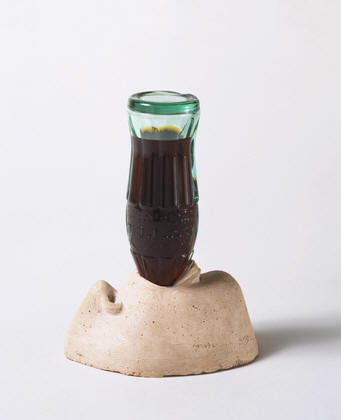 Love, 1962
plaster and bottle of coca cola

Marisol began to incorporate drawing, painting, and objets trouvés into complex, life-size figure arrangements. Cast fragments of her own body and images of her face frequently appear in her works from this decade, many of which address the position of women in modern society. Women and Dog (1964; New York, Whitney) depicts a group of fashionable middle-class housewives parading in public wearing blank, masklike expressions; other works depict farm women and socialites in similarly constrained poses.
Marisol's images of contemporary culture were produced in the context of Pop art; the personal, often primitive elements of her work, however, set it apart from the mainstream of the movement. In the early 1970s she carved small, exotic fishes out of mahogany, with her own face on their polished, colourful bodies, and produced a series of prints and drawings with erotic, often violent overtones, such as Double Flower. In the 1980s she returned to large-scale figural assemblages, creating a series of portrait 'homages' to well-known contemporary artists and personalities.
Marisol concentrates her work on three dimensional portraits, using inspiration "found in photographs or gleaned from personal memories" (Gardner, p. 15).
She had several solo exhibitions in New York, London, Rotterdam, Philadelphia, etc.
Sources:
Wikipedia
Gardner, Paul "Who is Marisol?" ARTnews 88 May 1989: 12 –15.
Westmacott, Jean. Marisol Escobar, Pop Art. New York: W. W. Norton & Company, 1989.
1000 geniale beelden
- - - - - - - - - - - - - - - - - - - - - - T O P - - - - - - - - - - - - - - -
Chris Booth, (born 30 December 1948) is a New Zealand sculptor. Born at Kerikeri in the Bay of Islands, he was the 1982 recipient of the Frances Hodgkins Fellowship.
Booth studied at the University of Canterbury's school of fine arts before taking two years of specialist sculptural study with such prominent sculptors as Barbara Hepworth and Denis Mitchell.
Booth's work – largely made on commission – is usually monumental in form, and can be found throughout New Zealand, Australia, Europe, and North America.
Booth was featured in the 1991 documentary film When A Warrior Dies which focused on his construction of a very large and imposing sculpture at Matauri Bay overlooking the Cavalli Islands for the Ngati Kura people of the district. The sculpture stands before the resting place of the MV Rainbow Warrior which was bombed and sunk by French Government DGSE secret agents in Auckland on 10 July 1985. The Rainbow Warrior propeller is in the centre of the sculpture, surrounded by an arch of large basalt boulders recovered from a local beach.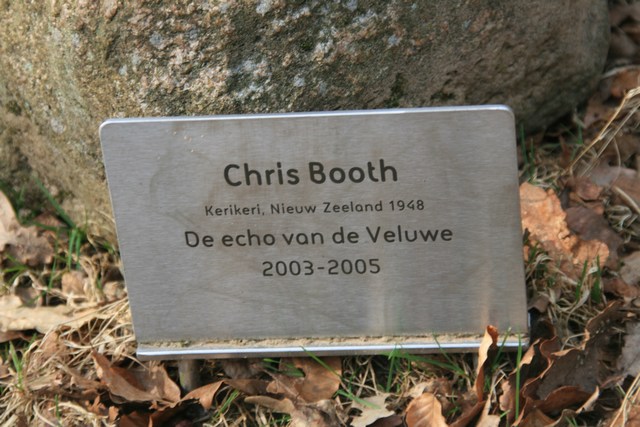 ©PAM PHOTOS Delden
- - - - - - - - - - - - - - - - - - - - - - T O P - - - - - - - - - - - - - - -
Who is Andreas Rimkus???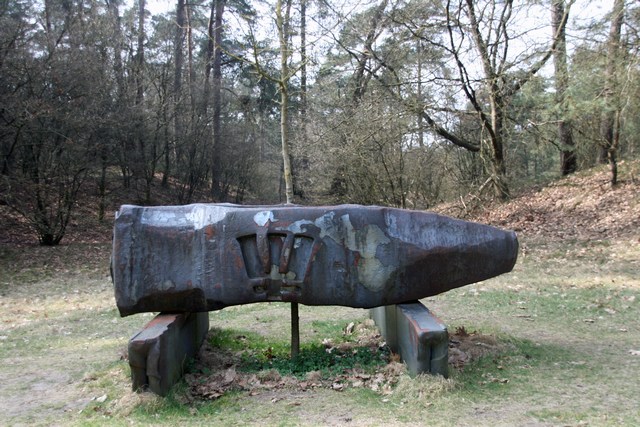 EuropaHammer - ©PAM PHOTOS Delden

The Generational Work of Art, 1/7
Seven hammer heads are being forged. The hammer heads will be placed on all seven continents: Europe, Asia, Africa, Oceania, South America, North America and the Antarctic. Seven spades have also been forged. They will journey together with the hammer heads.
Seven times the spades will cut into the ground, to plant seven (Ginkgo) trees which will grow inside the eyes of the hammer heads.
In about two hundred years time each hammer will have its own handle.*
And Andreas Rimkus's Generational Work of Art will be completed.**
*except for one
**almost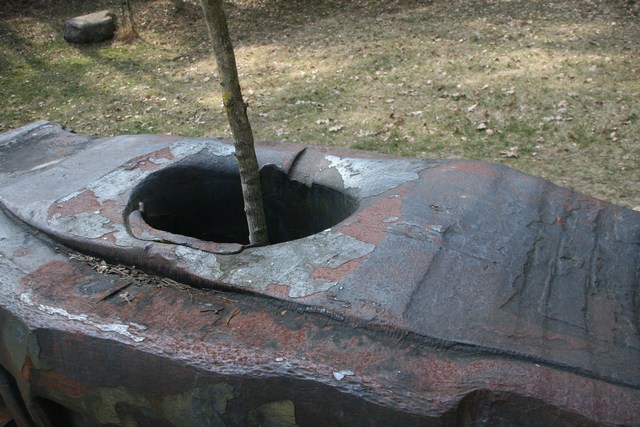 EuropaHammer

Das GenrationenKunstWerk, 1/7
Sieben Hammerköpfe warden geschmiedet. Auf allen sieben Kontinenten finden die Hammerköpfe ihre Plätze: In Europa, in Asien, in Afrika, in Ozeanien, in Südamerika, in Nordamerika und in der Antarktis.
Sieben Spaten sind dafür geschmiedet worden, sie werden mit den Hammerköpfen reisen. Siebenmal ein erster Spatenstich, um sieben Bäume zu pflanzen.
Sie werden in den Hammeraugen wachsen. In vielleicht zweihundert Jahren hat dann jeder Hammer seinen Stiel.* Und das GenrationenKunstwerk von Andreas Rimkus ist vollendet.**
* bis auf einen
**fast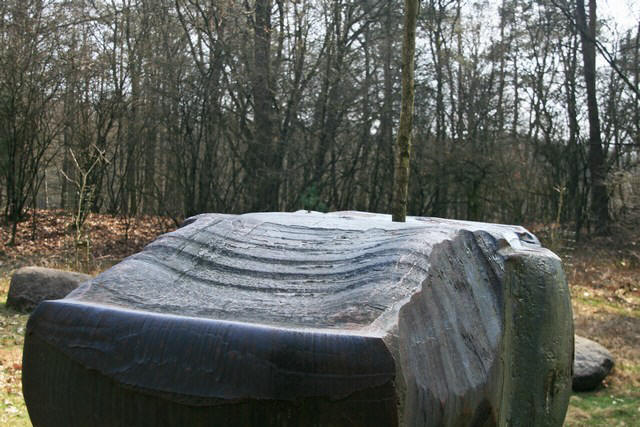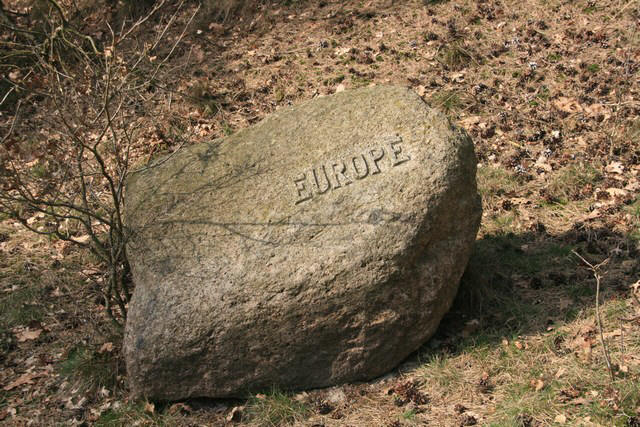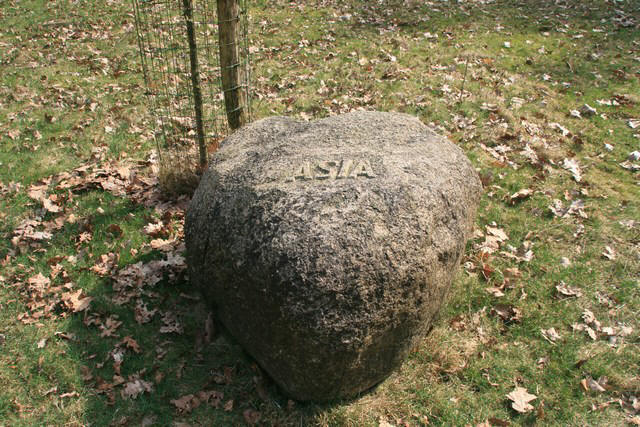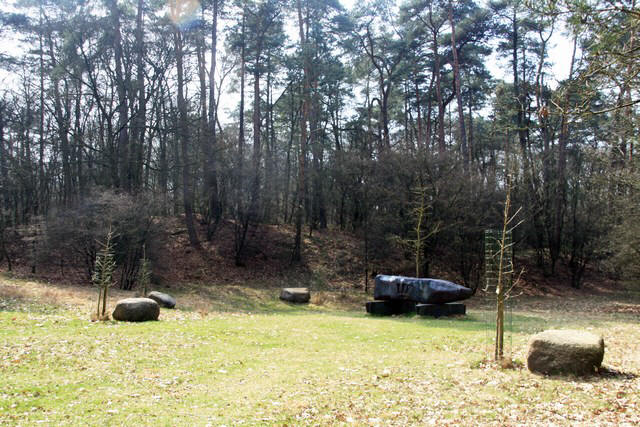 ©PAM PHOTOS Delden

- - - - - - - - - - - - - - - - - - - - - - T O P - - - - - - - - - - - - - - -
Auguste Rodin

Auguste Rodin (French, 1840–1917) dominated sculpture at the end of the 19th century and introduced modernistic elements. His works, that remind us of the expressionism of antiquity and the 16th century, are complex. His work links with the non finite-statues, the unfinished of Michelangelo.
Rodin brought monumental public sculpture into the modern era. Though he was well acquainted with the academic traditions and idealized subjects of classical and Renaissance sculpture, Rodin's aim in his work was to be absolutely faithful to nature.
Rodin was rejected from entering the Ecole des Beaux-Arts three times, due to his earlier training at a technical school of drawing and mathematics. So instead, at the age of 24, Rodin studied under Barye, and several years later studied with Carrier-Belleuse.
He finally made an appearance at the Salon in 1875, and sculpted his first major piece, 'The Age of Bronze', in 1876.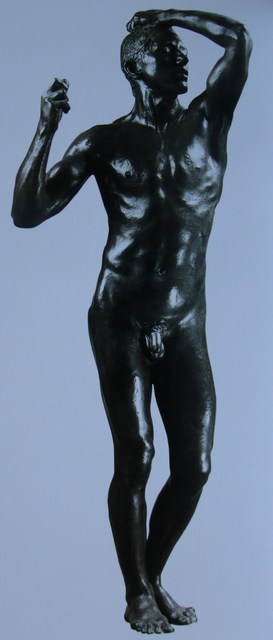 The age of bronze, 1876
In 1844 the town of Calais opened a competition for a monument commemorating the resistance of the town for eleven months against the King Edward in 1346-47. Rodin worked for ten years (1876-86) on a composition of the six burghers that were held hostage. The Municipality felt that the figures were not heroic enough, and many of his contemporaries did not understand his group. Rodin preferred to have the group stand on the soil, to become part of the population again, but this plan was not adopted.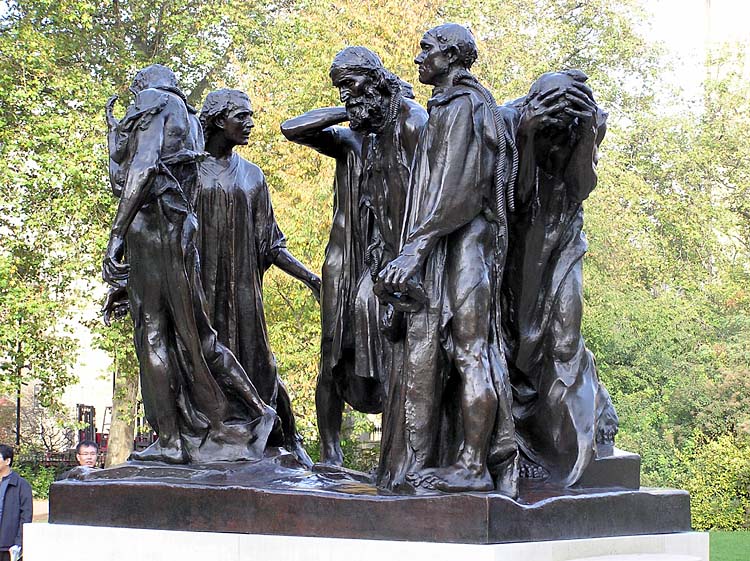 The burgher of Calais, 1876-86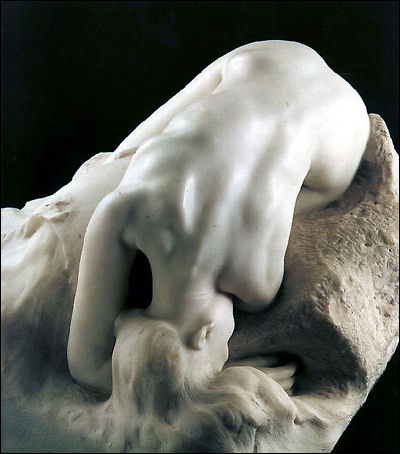 La Danaide, 1885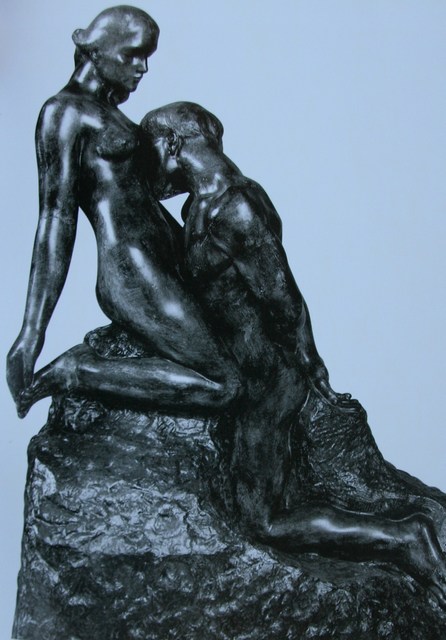 Eternal idol, 1889

The most remarkable event of Rodin's career was his work on the statue of Balzac. In 1888, the Societe des Gens de Lettres (the president was Emile Zola) had wanted the statue of the great romanticist for a site in Paris. Chapu had begun the project but had died in 1891. Rodin offered to deliver a statue in 18 months. Many years went by, and the delay became the butt of many jokes. There was a lawsuit, and in exchange for no time limit, he had to return the 10,000 francs advanced for materials. Rodin found that this was the most difficult sculptural interpretation he had ever undertaken. He wanted to create the great thinker in action, with all of Balzac's intensity. After years of various interpretations and studies of his subject, the statue was finally exhibited at the Salon of 1898. The Societe refused to recognize it as a statue of Balzac. The current president, poet Jean Aicard, resigned as a result. The commission for a new statue was awarded to Alexandre Falguiere. Rodin did not fight the Societe, and was invited to exhibit it in London and Brussels. He refused generous offers to sell the piece, but stated that it belonged to Paris.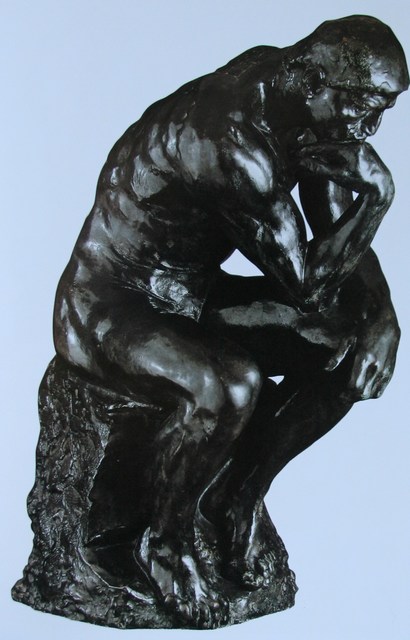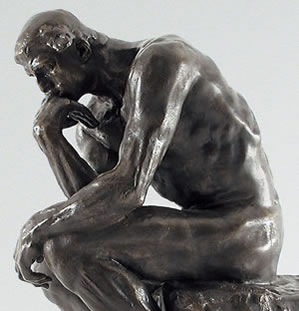 The Society didn't recognize the importance of Rodin's statues. His uncanny ability to convey movement and to show the inner feelings of the men and women he portrayed, the bravura of his light-catching modeling, and his extraordinary use of similar figures in different mediums, have established him as one of the greatest sculptors of all time.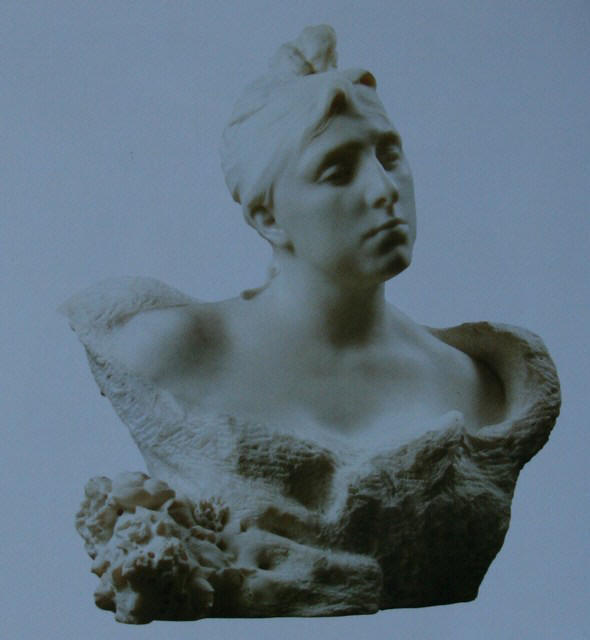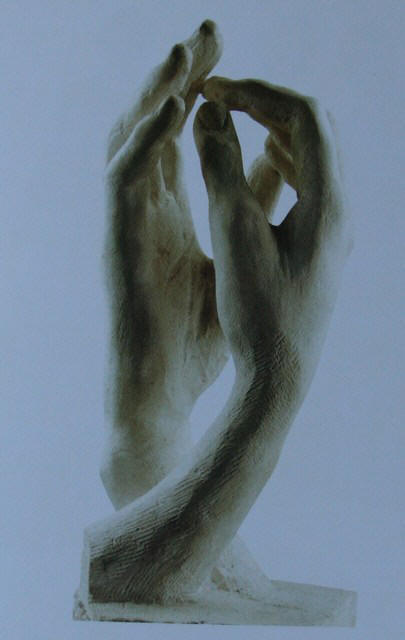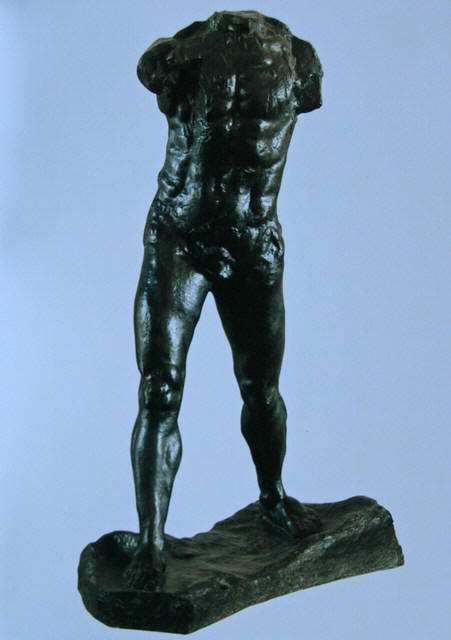 From left to right:
Madame de Morla Vichuna, 1884
Cathedral, 1909
Walking man, 1900-1907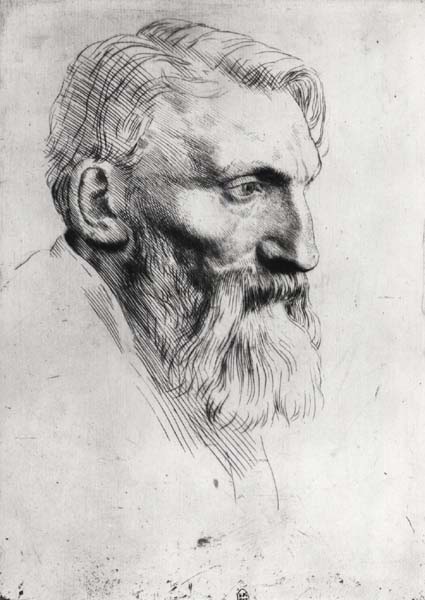 More Rodin? Click HERE

Legros, bust of Rodin
- - - - - - - - - - - - - - - - - - - - - - T O P - - - - - - - - - - - - - - -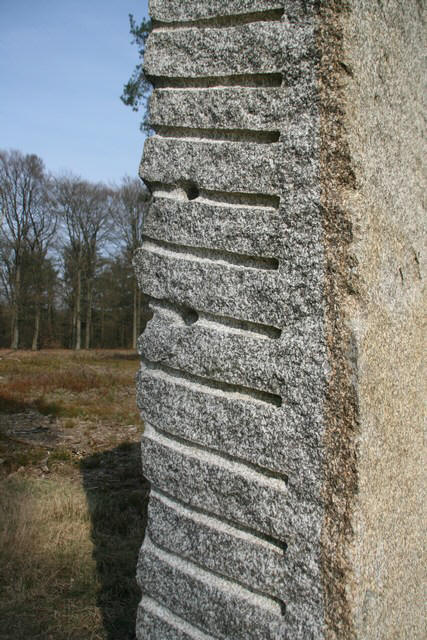 The German sculptor Ulrich Rückriem was born in Düsseldorf on September 30, 1938. From 1957 to 1959 he did an apprenticeship as a stonemason in Düren, and is assistant at the Cologne Dombauhütte in 1960-61. During this period he studies at the Cologne College of Art for two semesters under Ludwig Gies. From1961 he works as a free sculptor. In 1962 he travels through Southern Europe, Morocco and Tunisia. After having returned he lives in Nörvenich near Düren. His first one-man show takes place in the Leopold-Hoesch Museum in Düren in 1964.
Ulrich Rückriem's early works are open constructions of forms made of steel and wood. Later, mid 1960s he begins to use stone. In 1968 Ulrich Rückriem develops the method of separating and reassembling basic forms, alternating rough and smooth surfaces that reveal the work process as such, a method that is an integral part of his work. His stone sculptures were exhibited at the gallery Konrad Fischer in Düsseldorf for the first time in 1969.
Ulrich Rückriem moves to Mönchengladbach the same year where he shares a studio with Blinky Palermo, a German abstract painter. Rückriem participates in numerous exhibitions. The great appreciation of Rückriem's work and the fact that he is regarded as one of the most important German sculptors of the post-war era is also demonstrated by his participation in several Documenta exhibitions.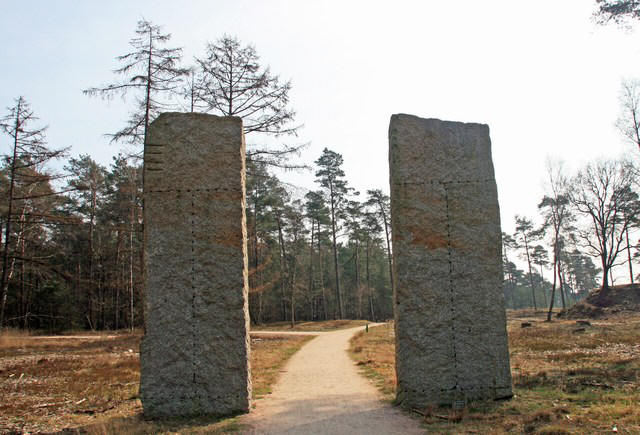 Ohne Titel, 1988
Ulrich Rückriem
granite
2 parts, each about 480 x 175 x 58 cm
Rückriems material is natural stone, his tools drills, chisels and saws. With great devotion he selects the rough stone at the quarry based on its colour, structure and shape. He then applies his well-known 'divisions' to the stone's mass: horizontal splits in layers, vertical cuts, or a combination of the two.
By splitting and cleaving, and sometimes also polishing, he reveals the stone's innate beauty. He then reassembles the cleaved or sawn parts – either entirely or partially – in their original shape. He leaves the traces of this process untouched, as they tell a story of the sculptor and the transformation from rough stone to work of art.
In 1988 Ohne Titel was created for the Sculpture Garden entrance (Hoge Veluwe, Holland) but now also marks the start of the walk.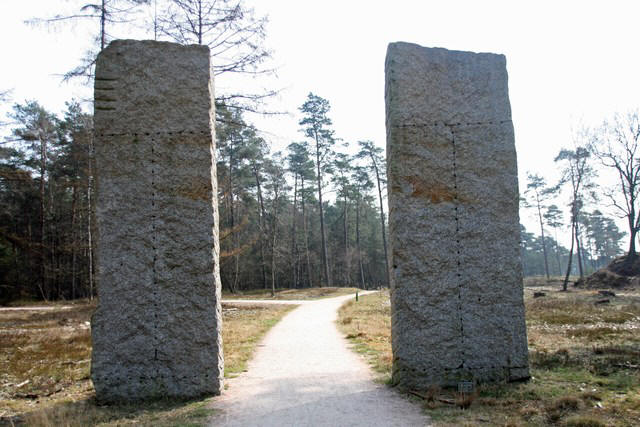 - - - - - - - - - - - - - - - - - - - - - - T O P - - - - - - - - - - - - - - -
---
Sculptures are the property of their respective creators and owners.
Cedar Gallery is a non-profit site. Sculptures are published on this site purely for educational reasons, for the purpose of information, for the pleasure of our visitors and with good intentions. If the legal representatives ask us to remove a picture of a sculpture from the site, this will be done immediately. We guarantee to fulfil such demands within 72 hours. (Cedar Gallery reserves the right to investigate whether the person submitting that demand is authorized to do so or not).
For contact: cedars@live.nl